The Rays enter their final series against the Yankees in a virtual dead-heat with the Angels and Cubs for the best record in the majors. Everyone saw the Angels and Cubs coming, but even the bold prediction made by Nate Silver's PECOTA only had the Rays winning 88 games, a total they can achieve with a victory over the Yanks tonight. So what happened? How did a franchise that had never won more than 70 games in a single season and had finished in last place in the AL East in all but one of it's previous ten seasons suddenly find themselves atop not just the most competitive division on baseball, but challenging for the best record in the game?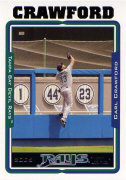 The short answer is pitching and defense and just enough offense to make the first two count. A year ago, the Rays went 66-96 while enduring by far the worst defense in the majors according to defensive efficiency. This year they have the majors' best defensive efficiency. A year ago they turned just 65 percent of all balls put in play against them into outs. This year, they're turning 70.9 percent of those balls into outs. That's no small matter. The Rays had roughly 4,500 balls put in play against them last year (not counting home runs, which are typically not playable by the defense). The difference between a 65 percent and 70.9 percent defensive efficiency on 4,500 balls in play is about 265 outs, or the equivalent of nearly ten shutouts. Taken another way, the improvement in the Rays defense has shortened their opponents scoring opportunities by an average of 1.6 outs per game over the entire season. There's a lot of rounding going on in those numbers, but the impact is clear and impressive, and quite reminiscent of how the Rockies got to the World Series last year.
This improvement was no accident. It is exactly what the Rays had in mind when they asked that shortstop Jason Bartlett be included in the deal that sent Delmon Young and others to the Twins for Matt Garza and another pitching prospect. Bartlett has disappointed in the field, but the team's decision to move Akinori Iwamura to second base and (eventually) install Evan Longoria at third base has had a lot to do with their improved defense, and the overall effect of an infield of Longoria, Bartlett, Iwamura, and Carlos Peña has done wonders for the Rays' pitching staff, as has having B.J. Upton in center field for a full season to complement Carl Crawford in left.
One might suspect that superior pitching deserves some of the credit for this statistical improvement on defense, but research has shown that good pitchers to not consistently post above-average numbers on balls in play. Rather, I offer that it's the defense that has helped the pitching improve. If a pitcher knows that his defenders are more likely to catch up with his mistakes, he's more likely to pitch with the confidence necessary to challenge hitters, which is a key to success in the major leagues. (Don't take my word for it, click the Rockies link above and see what Brian Fuentes had to say about the Rockies' defense last year).
Consider the improvement made by former Dodger prospect Edwin Jackson. Last year he walked 4.92 men per nine innings and posted a 5.76 ERA. This year his walks are down by more than one per nine innings and his ERA is down to a league-average 4.06. Consider also sophomore Andy Sonnanstine, a pitcher who walks almost no one to begin with. Sonnanstine has seen his strikeout rate dip by more than a K per nine innings this year and has been handsomely rewarded for his increased reliance on his defense as his ERA had dropped from 5.85 to 4.47.
Opposing batters are having roughly league average success on balls in play against Jackson and Sonnanstine this year, which is a huge improvement over what happened last year when Sonnanstine's BABIP was .333 and Jackson's was .349. Put those two behind lefty ace Scott Kazmir, James Shields, who emerged as a solid number two last year, and Garza, and the Rays have one of the best rotations in baseball. In fact, the Blue Jays, led by Roy Halladay and A.J. Burnett, are the only American League team with a lower starters' ERA than Tampa this season. A year ago, the Rays had the third-worst starters' ERA in baseball.
The Rays have experienced a similar turnaround in their bullpen, which was baseball's worst last year with a staggering 6.16 ERA but has shaved more than 2.5 runs off that mark this year to post the third-best pen ERA in the AL. One big reason for that has been the emergence of 25-year-old lefty J.P. Howell, a failed starter victimized by a .381 BABIP a year ago. Coming into this season, Howell hadn't pitched in relief since rookie ball, but with that improved defense behind him, he's thriving in his new role. With veteran Trever Miller around as a match-up lefty (southpaws are hitting .207/.313/.280 against him this year), Joe Maddon has used Howell for longer stints. Howell has responded with a 2.44 ERA and more than a strikeout per inning while leading the Rays' pen in innings pitched.
Veteran Dan Wheeler, acquired at last year's trading deadline for utility man Ty Wigginton, has been another boon to the pen, filling in ably when rejuvenated closer Troy Percival has gone down with injuries. An even lower-profile acquisition from last year's deadline, Grant Balfour, picked up from Milwaukee for Seth McClung, didn't hit the major league roster until the end of May, but he's been a revelation ever since, posting a 1.63 ERA and striking out 12.87 men per nine innings. After missing most of 2005 and 2006 due to both elbow and shoulder surgery, former Twins prospect Balfour was similarly dominant in the minors last year and could prove to be a real find, provided he doesn't get hurt again.
Combine those drastic and related improvements in pitching and defense, and the end result is a tremendous decrease in the number of runs the Rays have allowed. Last year, the then-Devil Rays allowed 944 runs. This year, with just 18 games left to play, they've allowed a mere 582. That's an average of nearly two runs less per game (1.79 to be exact). With their opponents scoring just 4.04 runs per game, the Rays offense has had a much easier row to hoe, which is good, because the offense is the one thing that's gone backwards this year, though that was the bargain the team intended to strike when it traded Young.
That's why the Rays have gone from worst to first, but now that they've done that, they seem to have a momentum of their own. They've won six games more than their run differential would suggest, and early August injuries to stars Longoria and Crawford haven't slowed them down a lick. In fact, August was their best month of the season as they went 21-7 (.750). You can credit manager Joe Maddon with some of that. As the Yankees saw in spring training, this Rays team has fight. Indeed, after opening September with a 1-6 skid against intradivision opponents (including dropping two of three to the Yankees at home), the Rays staged a pair of late-game rallies to fend off the charging Red Sox at Fenway. On Tuesday they staged a ninth-inning comeback against Jonathan Papelbon to keep the Red Sox from passing them in the standings, and Wednesday night they matched the Sox zero-for-zero for 13 innings before dropping a three-spot in the top of the 14th to push the Sox back another game.
The Rays haven't changed much since we last saw them. Longoria has been activated, but has yet to return to action (though he could do so this weekend). Former A's first baseman Dan Johnson has been added to the Rays stock of September call-ups and made an immediate impact with the game-tying home run off Papelbon on Tuesday night in his first at-bat in the majors since April 2. The Rays have also called up former Yankee farmhand-turned-minor league journeyman Michel Hernandez. Hernandez has been with five organizations in five years since making his major league debut as a Yankee in 2003, and has yet to see major league action for any of them. This is his second stint in the Rays' organization in that span.