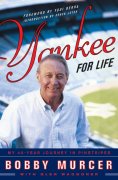 As has been discussed in numerous Banter posts over the years, Bobby Murcer was one of the few bright spots for the Yankees during the initial post-Mantle years. Murcer wasn't Mantle, but he had enough similarities and attributes to merit the comparisons.
Murcer's affiliation with the Yankees lasted over 40 years, from his being drafted by them in 1964, through his call-up to the big club for good in 1969, to his 2nd tour of duty with the Bombers beginning in 1979 and then his ascension into the broadcast booth in 1983.
What made Murcer so likable? Undoubtedly it was his easy-going, self-effacing manner. He rarely spoke poorly of anyone. His love for the Yankees was always easy to see. His voice was certainly Southern, but easy on the ears of those tuned to the games.
So, when news of his brain cancer diagnosis and surgery hit the wires in late 2006, it made what was planned to be his relatively straight-forward autobiography into something much more spiritual and intimate.
Released on his 62nd birthday, "Yankee for Life: My 40-Year Journey in Pinstripes" reveals the soul of the man who wouldn't be (and couldn't be) Mantle. We open with Bobby and his wife Kay recounting his headaches, forgetfulness and the lethargy during the latter part of 2006, and after numerous tests, the shocking diagnosis, delivered to him on Christmas Eve. Though Murcer is understandably rocked by the news, his upbringing helps him see through the darkness and begin the fight.
With that foundation, the book takes us back to his Oklahoma City roots, and the seemingly classic sports fable. A boy from the not-quite-well-to-do part of town, born with a seeming congenital desire to play baseball for the Yankees. A natural athlete .... a multi-sport star in high school and college. He marries the quintessential girl next door / high school sweetheart Kay. He signs with the team of his dreams.
Of course, if you have seen Murcer's CenterStage or Yankeeography, and/or you've followed Murcer's career to some extent, you know most of the rest of the story. Nonetheless, "Yankee for Life" is a candid, humorous and forthright insight into a man whose passions can be boiled down to family, God and baseball.
Part of what keeps this book from being a stale read is the almost conversational style of writing throughout. As assisted by Glen Waggoner, Murcer laces his stories with "let me tell you"s and "you know how ...".
In terms of new material, Murcer devotes entire chapters to
"Pinstripe All-Stars 1969 to today"
Recollections of his announcing partners
An entire chapter to his favorite partner, Phil Rizzuto
His love of New York City
His opinions on various hot-button issues in baseball (he's got some interesting thoughts on the Mitchell Report, vis a vis Andy Pettitte and Roger Clemens)
Late in the book, Murcer states his ultimate goal of throwing out the first pitch at the new Stadium in 2009. Sadly, that won't happen. But "Yankee for Life" will keep Murcer in our memories long after they tear down the old ballpark, and is a worthwhile addition to the library of every Bomber fan.