The Yankees are 5-7 since opening the second half with an eight-game winning streak and have lost the first two games of each of their last three series, including last weekend's four-game set against the Angels at the Stadium. Then again, they rallied to earn four-game splits in their last two series, and given the Angels' .644 winning percentage on the road, splitting four against them in the Bronx was perfectly acceptable.
Facing a three-game set in Anaheim this weekend, the Yankees don't have the option of a split. For all of the Angels' success on the road, the Halos still have a .600 winning percentage at home and are 11-3 in Anaheim since July 1. The Yankees righted their ship against the Angels last weekend by dropping a six-spot on Jered Weaver, who starts again tonight, but Weaver's home ERA is more than a run lower than his road mark and his home run and walk rates are way down in his home park.
This series will be a real test for the Yankees, but the biggest test will be for tonight's starter, Ian Kennedy. Kennedy's already been tested quite a bit this season, by his manager, who challenged the young righty to throw strikes during his early season struggles, by the organization, which farmed him out to triple-A in early May when he failed to meet Girardi's challenge (7.61 BB/9 in his first six games), and by the team doctors after he left his third start following his recall with what proved to be an oblique strain.
Kennedy returned to action at the end of June with a pair of dominant rehab outings in the low minors and has since made seven appearances (six starts) for triple-A Scranton, posting a 2.60 ERA and walking just 3.08 men per nine innings, an exact match of his minor league walk rate last year. In his last four starts for Scranton he has compiled this line: 27 IP, 14 H, 4 R, 5 BB, 20 K, 3-0, 1.33 ERA, 0.70 WHIP.
Given his struggles in the majors at the start of the year and his 0-3 record on the season, it's easy to forget that Kennedy did turn in two quality starts in his seven opportunities, both games the Yankees went on to win after his departure. Still, the gap between Kennedy's minor league dominance (career: 17-5, 1.90 ERA, 214 K in 203 1/3 IP) and his pitching in the majors earlier this year was wide and more than a little bothersome.
After straining his oblique at the end of May, Kennedy was replaced in the rotation by Joba Chamberlain. With Chamberlain on the DL due to rotator cuff tendonitis, Kennedy is being given his third chance to establish himself in the Yankee rotation. Beating Weaver and the Angels tonight while keeping his walks down would be a huge victory, not only for the team, but for Kennedy, who needs to stand atop major league mounds with the same confidence and command he's shown throughout his brief minor league career.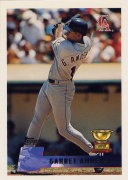 The Angels' roster is largely unchanged. Darren O'Day has been farmed out in favor of retread righty Shane Loux, last seen pitching for the Tigers in 2003 when he was Kennedy's age. They're also expected to activate catcher Mike Napoli before tonight's game. If they do, third-stringer Ryan Budde will be optioned to make room. Napoli is an upgrade over Jeff Mathis at the plate as he's something of a Three-True-Outcome guy. In 757 major league plate appearances, Napoli has 38 homers, 104 walks, and 199 strikeouts, giving him a career line of .229/.345/.455.
Melky Cabrera returns to center field tonight as Bobby Abreu gets a turn at DH and Xavier Nady shifts over to right field. Jose Molina will catch Kennedy with Ivan Rodriguez still nursing his knee. Chris Britton, of course, was optioned to Scranton to make room for Kennedy on the roster.