My favorite part about asking people for their list of ten essential baseball books was not learning that "Ball Four" or "Glory of Their Times" are so popular. We already knew that. What really turned me on were the titles I had never of like Man on Spikes, or the ones that I knew precious little about like The Celebrant and The Great American Baseball Card Flipping, Trading and Bubble Gum Book. I was over at Jay Jaffe's new crib in Brooklyn last Friday and he showed me his copy of the card book which looks like terrific fun. Dig this: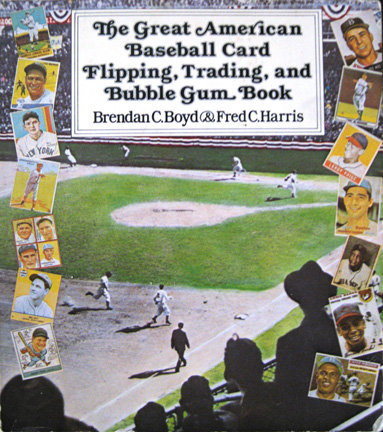 "Earl Torgeson's two favorite activities were fist-fighting and breaking his shoulder, both of which he did whenever he got the chance. On the back of this card it says, "Torgy likes a good practical joke" - which is the biog writer's subtle way of suggesting that he enjoyed knocking people's teeth out. He is probably also the only left-handed hitting first baseman over 6'2" who ever stole 20 bases in one season."
Brendan C Boyd and Fred C. Harris.
Back to the essentials...here is Derek Jacques' list, which I accidentally lost and did not post with the original ballots:
Bill James, Politics of Glory -- Wonderful exercise in applied sabermetrics: James takes a dash of numbers, a huge dollop of historical research, and systematically ticks off the problems with baseball's most revered institution.

Steve Goldman, Forging Genius -- Has all the things you'd expect in a bio--fun anecdotes, character sketches, historical details--and throws in a strong dose of logic on top of it, to explain how Casey Stengel became the guy that led the Yankees to all those pennants. I suspect it would be interesting to read this back-to-back with the next book, because the authors' styles are so different.

David Halberstam, Summer of '49 -- It's like the movie Apollo 13: even if you know exactly how the 1949 pennant race ended, you still probably won't be immune to the suspense that Halberstam builds up in this book. Essential read for Yankee fans.

Alan Schwarz, The Numbers Game -- Great history of the game, told through the eyes of statheads from era to era.

Bill James, Historical Baseball Abstract -- It's a bit like Disneyland, huge and easy to get lost in. There are maybe three great books' worth of work in there.

Baseball Prospectus, Baseball Between the Numbers -- Excellent primer on a broad range of stathead topics.

Michael Lewis, Moneyball -- Cliche? Maybe. A bit dated, just five years after it was published? Sure. Doesn't matter. Moneyball drags you into the collective mind of a MLB front office better than any book I've ever read.

Peter Gollenbock and Sparky Lyle, The Bronx Zoo -- Sentimental pick. I was still a kid with illusions to shatter when I read Gollenbock's story of what really happened with the 1978 World Champs. You never get your innocence back.

William Goldman and Mike Lupica, Wait Till Next Year -- Can you remember when Mike Lupica actually liked baseball? I think this book was the beginning of the end of that. The NFL and NBA, peek in here, but Goldman (of Princess Bride fame) and Lupica mainly focus on the 1987 Mets with a decent side helping of Yankees stories. The essential parts for baseball fans are Goldman's humor, and Lupica's glimpses into how sports journalism works.

Rob Neyer and Bill James, The Neyer/James Guide to Pitchers -- Probably the most unique baseball reference book out there--I mean, how many times do you think of a pitcher, but can't quite remember all the pitches he threw, or what his best pitch was?
And here, a late addition, are Richard Sandomir's selections:
1. The Great American Novel, Philip Roth. The furious energy and wit are so Rothian in this account of a third major league that's been largely forgotten. The narrator Word Smith's flights of alliteration will make you miss your subway stop.

2. Ball Four, Jim Bouton. Close your eyes and it's still kind of a dirty book, but not a dirty as Peter Golenbock's Mickey Mantle novel, "7."

3. Crazy '08, Cait Murphy. A wonderful evocation of a pivotal pennant race.

4. The Boys of Summer, Roger Kahn. Retains its emotional power amid the waves of nostalgia for the Brooklyn Dodgers that Kahn did so much to create.

5. The Catcher Was a Spy, Nicholas Dawidoff. A surprise because so little was known about Moe Berg. Vin Scully said the other night that in 1956 he took pictures during a trip to Tokyo; I reminded him that Moe preceded him.

6. The Teammates, David Halberstam. It's tempting to say that his other baseball books should be in this spot, but this is such a hamish book that I can't help loving it.

7. Underworld, Don DeLillo. If only for the tour de force chapter that combines Bobby Thomson with J. Edgar Hoover, Frank Sinatra and Jackie Gleason on Oct. 3, 1951, the day the Soviets detonated an atomic bomb.

8. The Glory of Their Times, Lawrence Ritter. No fan can afford to be without it.

9. The Celebrant, Erik Rolfe Greenberg. A gem of a novel.

10. Can't Anybody Here Play This Game, Jimmy Breslin. If I didn't laugh so much on recently rereading this, I might have chosen "The Natural," "Eight Men Out," or "Joe DiMaggio: The Hero's Life."
Also, check out Roger Kahn's Golden Dozen: (excerpted from his book, Memories of Summer)
1. Nice Guys Finish Last by Leo Durocher with Ed Linn (Simon and Schuster, 1975). This book proceeded stormily from a magazine collaboration. Durocher was not comfortable with Linn, an author he could not intimidate. Linn, who had enjoyed working with Bill Veeck, found Durocher difficult and devious. Perhaps that spiky relationship is what gives this book its marvelously pugnacious tone. I've never read a baseball life story, biography or autobiography, that I enjoyed as much.

2. (Co-winner) Bang the Drum Slowly by Mark Harris (Alfred A. Knopf, 1956). A moving and magical novel, the story of Bruce Pearson, a third-string catcher, dying across a baseball season. The narrator is pitcher Henry Wiggen. The dying man is not a character of the dimensions usually assigned to Lou Gehrig. Nor is Wiggen as limited as Ring Lardner's Jack Keefe. Pearson's greatest pleasure is chewing Days O Work tobacco and spitting out of hotel windows. As death intrudes into the lives of Pearson and Wiggen, both grow in poignant ways. The end is spare, haunting, quite beautiful.

3. The Glory of Their Times by Lawrence Ritter (Macmillan, 1966). This oral history, compiled by a university professor, consists of twenty-two taped interviews with ballplayers prominent in the first two decades of the century. Their memories and Ritter's craft describe the game and the country, the way things were, the way they remain in the glorious country of memory.

4. Baseball America by Donald Honig (Macmillan, 1985). Creating a one-volume history of baseball is a job made difficult by the abundance of material. For some reason, the wheat surplus comes to mind. Honig's solution is to focus on the great stars. As the twentieth century began, he suggests, America had run out of heroes. Earlier generation admired adventurers (Davey Crockett, Daniel Boone) and men of action (Wild Bill Hickok, Buffalo Bill Cody). With the frontier gone, the country turned to baseball and the new heroes -- Cobb, Ruth and the rest -- were found not in "unpathed wilderness" but "playing America's own game on the bright green grass of home."

5. A False Spring by Pat Jordan (Dodd, Mead, 1975). A memoir of Jordan's Life and torment in the low minors where his pitching career comes to an end. Depressed and despairing in one extraordinary scene, Jordan and his wife take to bed for solace. But their accommodations are minor league. The bed collapses. The title comes from Hemingway's A Moveable Feast. (Hemingway was referring to his attempt to revive a marriage that was done.) Jordan is focused on the death of his dream. He never will pitch in the major leagues.

6. Lords of the Realm by John Helyar (Ballantine Books, 1995). The author, a reporter for the Wall Street Journal, provides a smooth, well-research account of Organized Baseball's struggles over some twenty years. In the wrong hands, this could be dry and academic. But Helyar is a lively narrator of a story in which the people who run baseball collectively shoot themselves in the crotch.

7. Cobb, a Biography by Al Stump (Algonquin Books of Chapel Hill, 1996). Raw and real. Stump signed on to write Cobb's life story and found himself joined at the hip with a man equally brilliant and terrifying. Cobb was rich, mean, and menacing. He had been a portrait in rage since his mother murdered his father, who suspected her of cuckolding him. Unforgettable and not for children.

8. A Whole Different Ball Game (Simon and Schuster, 1991). Mild-mannered Marvin Miller is the architect of that powerful union The Major League Players Association. In this book, he dropped the "mild" and came out swinging from the ankles. Commissioner Bowie Kuhn was not terribly bright. Commissioner Peter Ueberroth was not much interested in baseball. Commissioner Bart Giamatti disgraced himself with his neo-fascist persecution of Pete Rose. Fay Vincent might have become a good commissioner but after the 1989 San Francisco earthquake interrupted the World Series, it was Vincent who ordered the Series resumed. Subsequently, Miller feels, Vincent began to confuse himself with Jehovah. Extreme? None of this seems extreme if you take the time to hear out Marvin Miller.

9, 10. Any collection of pieces by John Lardner or Red Smith. You can find Lardner's stuff in It Beats Working and Strong Cigars and Lovely Women. Two Smith favorites are Out of the Red and Strawberries in the Wintertime. Mostly you'll find columns in these books; two better columnists never lived.

11. Fathers Playing Catch with Sons by Donald Hall (Farrar, Straus, 1984). Renowned for his poetry, Hall brings a passion for baseball to wonderful short pieces on the game. Funny, insightful, charming and, oh yes, no surprise, poetic as hell.

12. Man on Spikes by Eliot Asinof (McGraw Hill, 1955). Better known for his nonfiction study of the Black Sox, Eight Men Out, Asinof poured youthful passion into this novel about a ballplayer who was not quite good enough to stick in the major leagues, but close enough to cling to his dream. Asinof bases his protagonist on Mickey Rutner, who played twelve games at third for the 1947 Philadelphia Athletics, hit a homer, knocked in four runs and never got to play another big-league inning. Rutner was Jewish; apparently Connie Mack held that against him. Asinof's hero is not Jewish. He wears eyeglasses. The techniques of novelists can be every bit as fascinating as the techniques of lefthanded pitchers and center fielders.
Finally, peep Lawrence Ritter's 50 essential baseball books.