"[Hughes] does not know how [the injury] happened," GM Brian Cashman said. Hughes, on Wednes day, said the first time he felt the problem was last week. "It wasn't like one specific pitch where I felt it," he said. "It was just one of those things. I woke up one morning and it was a little discomfort but nothing major, and then after [Wednesday] night there was significantly more discomfort." (Mark Hale, NY Post)
Phil Hughes is gone until July and Ian Kennedy can't get through five innings. Kennedy did show some improvements last night but they weren't nearly enough. The Yankees, once again, were in the game but could not come up with enough offense or pitching to win as they were swept by the Tigers (something that hasn't happened in the Bronx since 1966). YES analyst John Flaherty correctly got all over the Yankee hitters in the seventh inning as they took their Connan-sized hacks instead of working the count and trying to build a rally. At one point during his post-game interview, Joe Girardi let out a heavy sigh. It got the attention of my wife, Emily, who was sitting on the couch reading a book. "Wow, he sounds stressed."
It rained from the third inning on. It was really heavy at times. Props to the fans who stuck around for the entire mess. Final score: Tigers 8, Yanks 4.
This weekend doesn't get any easier for the enemic offense what with Bedard and Felix Hernandez on the hill for the visiting Seattle Mariners tonight and tomorrow. What's the old saying about praying for rain?
Hey, at least I'm eating well.
About five or six years ago, my aunt Bis introduced me to ramps, a wild leek that tastes like a cross-breed between the garlic and onion families. Ramps are only around for a few precious weeks each spring. They look like green onions but have a subtle and distinct flavor that is all their own. Frankly, I think they are a little overrated--maybe my palet isn't sophisticated enough--but they are fun to use when they around, just to mix it up. Last night, I made a shotgun version of my favorite dish--I had four slices of guanciale stored in a ziplock in the freezer, and I used the ramps and a leek instead of onions.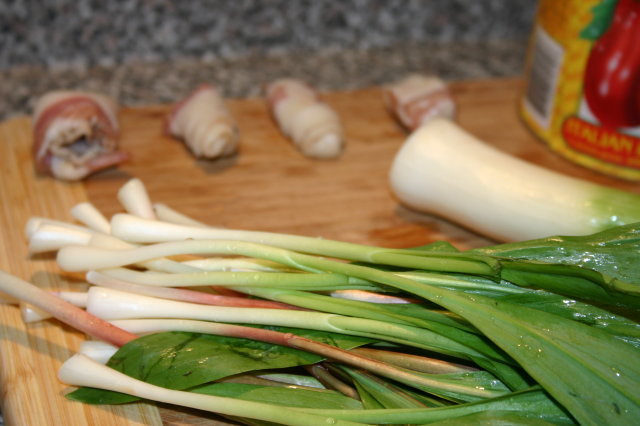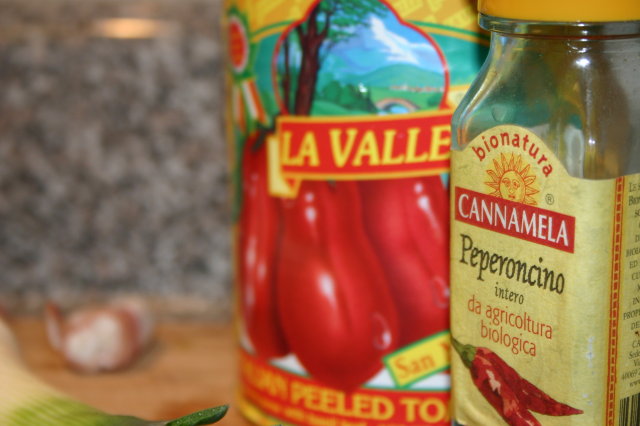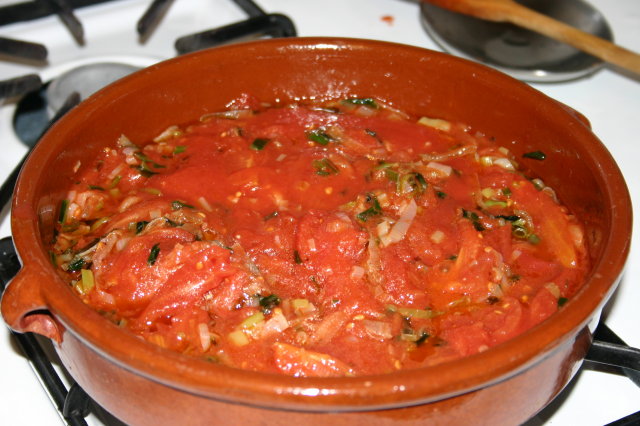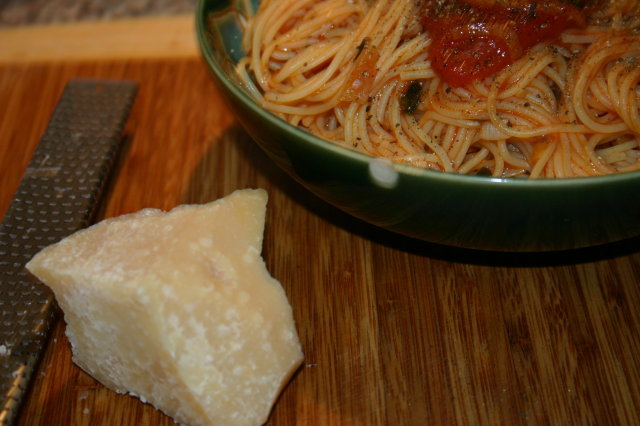 There are several ways to make this dish. But here is a very solid recipe from the queen of Italian home cooking, Marcella Hazen.
Adapted from Marcella Hazen's Essentials of Classic Italian Cooking
2 tablespoons vegetable oil
1 tablesppoon butter
1 medium onion chopped fine
A 1/4 inch thick slice of pancetta (or guanciarli or bacon), cut into strips 1/2 inch wide and 1 inch long
2 cups canned imported tomates, drained and cut up
chopped hot red chili pepper, to tase
Salt
3 tablespoons freshly grated parmigiano-reggiano cheese
2 tablespoons freshly grated romano cheese
1 pound pasta
Recommended pasta (according to Marcella): "It's impossible to say "all'amatriciana" without thinking "bucatini." The two are as indivisible as Romero and Juliet. But other couplings of the sauce, such as with penne or rigatoni or conchiglie, can be nearly as successful."
1. Put the oil, butter, and onion in a saucepan and turn on the heat to medium. Saute the onion until it becomes colored a pale gold, then add the pancetta. Cook for about 5 minutes, sitrring every so often. Add the chili pepper and then the tomatoes, and salt and cook in the uncovered pan at a steady, gentle simmer for 25 minutes. Taste and correct for salt and hot pepper.
2. Boil pasta and cook until al dente. Toss the pasta with the sauce, then add both cheeses, and toss thoroughly again.
Tips from AB: Don't be afraid to liberally salt your pasta water. It'll give your pasta plenty o flavor. Also, it's always a good idea to reserve about a cup of the pasta water before you drain the pasta. This way if your sauce is too thick, you can always thin it out some with the water. I know Marcella doesn't use olive oil here, but I often do with this dish. The olive oil along with the pork fat gives the dish plenty of flavor. And if I do use olive oil, I will generally drizzle a bit of olive oil on the pasta and the sauce just before serving--maybe a couple of teaspoons worth. Also, I generally use about 3 cups of tomatoes, or a 28-oz. can (here's another version of the recipe that calls for more tomatoes than Marcella uses). Make sure when you buy canned tomatoes that they are whole peeled and not crushed, and make sure to get a can that says San Marzano, which isn't necessarily a brand but a variety of plum tomatoes.
Mmm, mmm, good.