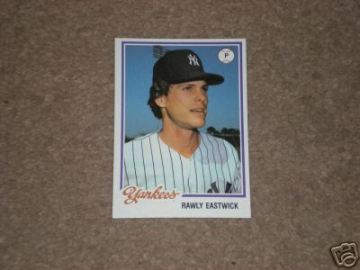 Rawly Eastwick—Topps Company and Burger King—1978
Other than Kent Tekulve, I can't think of anyone who looked less like a ballplayer than Rawly Eastwick. At six feet, three inches and 175 pounds, Eastwick bested Tekulve by a few pounds, but he still looked more like the 98-pound weakling than the second coming of Jack LaLanne. Eastwick's face didn't give him any additional toughness either. The antithesis of Clint Eastwood, Eastwick had the kind of baby face that would have made Barbara Stanwyck jealous.
And then there's the name. Rawly Eastwick, short for Rawlins Jackson Eastwick III, which makes me think of English royalty, or might even conjure up memories of that clever 1987 film, The Witches of Eastwick. It sure as heck doesn't sound like the kind of name that we should be seeing on the front of a 1978 baseball card.
In this case, Eastwick provides a good example of the variations in Yankee cards that were issued that spring and summer. The Eastwick card depicted here is the only one ever issued that shows him wearing the colors of the Yankees. It's not part of Topps' official 1978 set; that card shows him sporting the airbrushed colors of the Cardinals, for whom he had finished out the 1977 season after a mid-year trade from Cincinnati. (The Reds, having given up hope of re-signing Eastwick, traded him for the likes of Doug Capilla.) No, this card is part of a special Yankees set, fully authorized by the Pinstripers, but sponsored by a third party—Burger King.
With the full cooperation and permission of Topps, the Yankees and Burger King used the same basic card design—both front and back—that the venerable card company featured in its 1978 set, but the photograph on the front of the card posed a problem. Rather than airbrush Yankee colors over the airbrush of Cardinals colors, the Yankees snapped a new photo of Eastwick, by now wearing an authentic Yankees uniform, and provided it to the card designers for transferal onto the Topps design.
In most cases, the 1978 Yankee cards used the same photo as the regular Topps set, but variations were produced for Eastwick and Rich "Goose" Gossage. Gossage's Topps card shows Yankee colors airbrushed onto a Pirate uniform while the Yankee/BK card features a new photo with "The Goose" wearing an authentic Yankee uniform. As with Gossage, the Yankees and Burger King decided that a fresh photo would be a better place to start.
Unlike Gossage, Eastwick wasn't the most integral member of the 1978 World Champion New York Yankees. He made only eight appearances for New York that season before being traded to the Philadelphia Phillies for flaky backup outfielder Jay "Moon Man" Johnstone. (Chapter and verse could be written about the Moon Man, but that will have to wait for a later date.) Eastwick's early-season presence in pinstripes, however, did provide one of the first controversies of that tumultuous summer. With Eastwick, Gossage, and Sparky Lyle all on the '78 roster to start the season, Billy Martin had an overload of ace relievers. Martin picked Gossage to close most of the time (sticking with him despite an early season slump), employed Lyle in a late-inning set-up role, and predictably had little use for Eastwick.
At one time, Eastwick had been a standout relief ace for the Reds, using a three-quarters delivery, an overwhelming fastball, and a hard slider to head up a championship bullpen in 1975 and '76. But he had been mediocre in 1977, and didn't have the pedigree of either Goose or Sparky. For Martin, it was an easy choice to bury Eastwick in his doghouse of underuse. Eastwick didn't pitch badly in his eight Yankee appearances; he merely became a hood ornament in Billy Martin's game plan, where starting pitchers piled up loads of innings and only Billy's best relievers received the ball in meaningful situations. If only Eastwick were pitching in today's game; he would have been the ideal "seventh-inning man" in what has become the ludicrous fragmentation of the bullpen.
Unfortunately for Eastwick, the Phillies' bullpen was almost as crowded as New York's. With Gene Garber, Tug McGraw, and Ron Reed available to soak up the late innings, opportunities for Eastwick continued to dwindle—as did his fastball. Perhaps done in by the 204 innings he logged in 1976 and '77, Eastwick never regained his dominance and found himself out of baseball by 1981.
Outside of his meteoric success with the Big Red Machine (not to mention the failure of that 1975 home run he surrendered to Bernie Carbo), the pencil-thin right-hander created interest both because of his offbeat habits. Eastwick practiced transcendental meditation, considered a fad during the decade of the 1970s but something he had done ever since childhood. During his first spring with the Yankees, Eastwick bragged about a new diet that he had started. It was a regimen that eliminated red meat and foods with preservatives or dyes, which was a relatively radical diet for the time period. Now exactly why the reed-thin Eastwick felt he needed to lose more weight remains a question for another day.
During the winters, Eastwick spent much of his time collecting antiques, such as a 100-year old ring and Persian money clips. Perhaps most notably, Eastwick also liked to create paintings on canvas. An accomplished artist, Eastwick once said his best painting was a still-life that he gave to Johnny Bench and his wife as a wedding gift.
It was just another aspect of Eastwick's life that made him anything but the stereotypical ballplayer.
Bruce Markusen writes "Cooperstown Confidential" for MLB.com