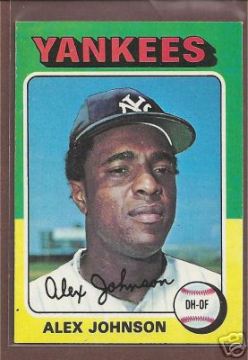 When one hears the name "Alex" associated with the current day Yankees, the identity of Alex Rodriguez comes to mind. (Or perhaps even Alex Belth.) Three decades ago, another Alex patrolled the outfield for the Yankees. Though not as talented as Rodriguez, he was very controversial, even more so than the man who has become the lightning rod for the Yankees of the new millennium.
This 1975 Topps card (No. 534) is the only one that depicts Alex Johnson as a Yankee, albeit featuring the airbrushed cap colors of the Bronx Bombers. (The cap, oddly fitted onto his head, matches the oddity of Johnson's facial expression.) Troubled and talented, Johnson didn't last long with the Yankees, playing only 62 games for them across parts of the 1974 and '75 seasons. He missed out on the glory years of 1976 to 1978, which is fitting for a player who never had the fortune of participating in the postseason. At times a productive player—he won the American League batting crown in 1970--Johnson fit the description of a journeyman, bouncing from the Phillies to the Cardinals to the Angels and Rangers, before finishing his career with the Yankees and Tigers. Given his talent, he should have played his entire career in one or two places. With a sweet right-handed swing, brute strength, and the kind speed that allowed him to run home to first in under 3.8 seconds—simply remarkable for a right-handed hitter—Johnson possessed All-Star talent.
Chiseled like a museum statue (think of someone with the build of a Glenallen Hill or Mark Whiten), Johnson possessed the kind of physical force that earned him the nickname, "The Bull." Sadly, Johnson's repeated confrontations with teammates and the media also brought on such less complimentary names as "Awful Alex" and "Alex The Angry." More than 30 years after his retirement in 1976, that is how Johnson tends to be remembered by most fans.
Johnson didn't like conversing with sportswriters, whom he didn't trust. He nicknamed one particularly heavy-set writer "The Oblong Jerk." (For all of his faults, Johnson was intelligent; I mean, how often do you hear an athlete using the word "oblong?") He felt even more strongly about another writer, once pouring coffee grounds into the gentleman's typewriter. Johnson also criticized official scorers for intentionally tabulating his statistics incorrectly, such as failing to give him proper credit for runs batted in or outfield assists. "One of them in particular is Dick Miller," said Johnson, referring to the Southern California writer who covered the Angels. "I don't think he can even count when it comes to scoring me."
Johnson's personality quirks carried over to the playing field. Since he believed that his body would become "stale" if he used excessive amounts of energy, he didn't hustle to his position in the outfield, making him the anti-Pete Rose. On more than one occasion, he told reporters that "I'm just paid to hit," and that full effort in other parts of the game was simply not necessary. He also paced himself by failing to run hard on routine infield grounders and pop-ups, a habit that became especially problematic in 1971. That summer, "Awful Alex" was benched five times by manager Lefty Phillips for a failure to hustle. Johnson also chose not to partake in one of baseball's time-honored rituals, refusing to shake hands with his teammates after hitting a home run. "I don't want to waste time running up and down the bench," Johnson explained, "shaking hands for everything that happens."
In actuality, Johnson suffered from mental illness and would have benefited from counseling of some kind. The Angels probably should have arranged psychiatric service, but that sort of thing just wasn't done very often in professional sports at the time. So Johnson fell deeper into the cracks, seemingly unable to improve his behavior even as the Angels' attempts at discipline mounted.
As antisocial as Johnson could be, he could also be kind to the point of being saintly. He once donated $500 to a fund earmarked for his former Angels teammate Minnie Rojas, who had been paralyzed in a horrifying car crash. Not wanting to publicize his charitable effort, Johnson denied making the contribution. From a public relations perspective, Johnson could have used all the good will that the donation would have generated, but all that mattered to him was helping a friend.
Johnson also took time to attend the funeral of his former friend, infielder Hiraldo "Chico Ruiz," who lost his life in a 1972 car accident. The two had become estranged, often arguing with each other during that tumultuous 1971 season with the Angels. Putting hard feelings aside, Johnson was one of the few ballplayers to attend the funeral service for Ruiz.
Based on the comments of friends and family, Johnson's off-the-field persona was far different from the angry public image that he often portrayed. He could be generous, warm, and considerate. Sadly, the baseball world saw too little of that side.
Since his playing days, Johnson has remained reclusive, rarely granting interviews. I've never seen him profiled as part of a "Where are they now?" piece. I don't know if he's still "Angry Alex," or if he has found a way to move past that stage of his life. Perhaps only Alex knows.
Bruce Markusen writes "Cooperstown Confidential" for MLB.com.