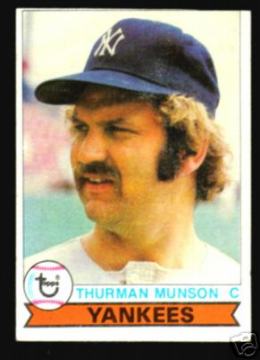 This is the second of a two-part series.
August 2, 1979. I remember that day too well.
In the midst of one of my bad habits, I was staring at the television while eating dinner. I was watching "Gilligan's Island," of all things, a show that I wouldn't watch today if you paid me at a rate of $10 a hour. Suddenly, Metromedia Television in New York (Channel Five, for those who grew up in or near the city) interrupted the program with a news update. (I used to hate those updates, especially when they happened to interrupt one of the funniest scenes in a show.)
Within a few moments, the annoyance turned to disbelief. The announcer—I believe it was veteran newscaster John Roland—described a plane crash. I assumed that it involved a politician or someone like that. It didn't. This crash had killed Thurman Munson.
I had trouble finishing that dinner. Each gulp became more difficult than the last. The meal just didn't seem to matter. All that seemed important was the real tragedy of a Yankee hero lost. My favorite Yankee, no less.
I remember telling my father when he came from work a little bit later that night. I couldn't even wait until he had entered the house; I shouted the news from a window that overlooked our driveway. I don't think my father heard me at first. Maybe he thought I was making it up, but I've never had that kind of sense of humor. Or maybe he just couldn't believe what had happened
I couldn't believe it for days. Munson's death—that's all I thought about for the next three days. It still didn't sink in—not even in those three obsession-filled days.
Most of the summer, my father and I watched baseball games together on TV. Back then, it was pretty much WPIX, with a few nationally televised games on Saturday afternoons and Monday nights. We might attend a game or two at the Stadium per season, usually not more than that. Simply by happenstance, my dad had bought two tickets several weeks earlier to the game scheduled for the night of Friday, August 3. That happened to be the first game the Yankees played after Munson's death.
Prior to the game, the Yankees honored Munson by showing a video tribute on the old black-and-white replay scoreboard at the Stadium. As images of Munson flashed by, the fans cheered, then stood, then cheered more and more loudly. The cheers came in waves, medium and then large, becoming less and then rising in volume again. At first, my father and I remained seated. But it just didn't seem right for us to do that, so we stood up and joined the rest of the Stadium in paying homage to the fallen Yankee.
Even when the video on the scoreboard came to an end, the fans continued to stand and cheer. Standing as part of that Yankee Stadium crowd, I couldn't believe the length of that applause. That standing ovation lasted for at least ten minutes, maybe 12. It lasted so long, it was hard to keep track.
The length of that cheer—along with the energy and the intensity that sustained throughout—reflected the admiration we had for Munson. He was no longer the best player on the Yankees—he had long since given up that title to Reggie Jackson, Ron Guidry, Goose Gossage—but he was still the most beloved. That was partly because he had played so well for so long, bridging the gap to those years of mediocrity in the early seventies. More importantly, it was because of the way that he played, often racked with pain in his knees, yet never failing to make his best effort at blocking a pitch and never—not once that I can remember—failing to hustle his way on the basepaths. To this day, Munson remains one of the main reasons I get mad watching a healthy ballplayer fail to run hard on a groundball or a pop-up.
Moments before that Friday night game, I remember seeing Reggie Jackson crouched over in right field, crying openly. He and Munson had clashed badly at first, just two seasons earlier, but by now they had reconciled. Make no mistake about it, they weren't friends, but they respected each other as teammates. Given how Jackson felt the loss of Munson, the other Yankees, the ones who had played with him much longer, must have endured nothing short of devastation.
I remember Luis Tiant pitching beautifully that night, but losing to the Orioles, 1-0. Ordinarily, I might have lost my temper watching a frustrating game like that. Not this night. It was heartbreaking to lose that game, but not as heartbreaking as losing Thurman Munson.
Bruce Markusen writes "Cooperstown Confidential" for MLB.com.