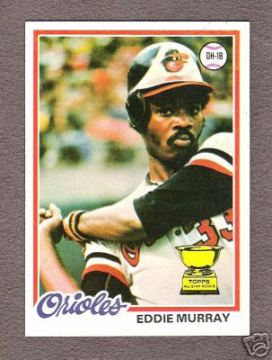 From time to time throughout the year, I'll be spotlighting cards that were issued as part of Topps' colorful 1978 set. Featuring a nice mix of profiles and action shots, the set remains one of my favorites. It also helps that the 1978 season worked out pretty well for the Yankees, too.
Elected to the Hall of Fame in 2003, Eddie Murray burst onto the baseball card scene some 30 years ago, when his rookie card came out as part of Topps' 1978 set (No. 36). While there's nothing grossly unusual about this card, it features a few subtleties. There's one of my old favorites, the classic Topps trophy cup, which is represented through a logo placed on one of the card's corners, honoring each player who earned selection to Topps' all-rookie team. By the way, I've always wondered, is that cup really yellow?
Murray's primary position on the card is listed as DH, while his secondary position on the card is first base. And that's no mistake, since Murray actually served as the Orioles' designated hitter 111 times in 1977, while surprisingly playing only 42 games at first base. (Quick now, who was the Orioles' regular first baseman in 1977? Boog Powell? Terry Crowley? Or perhaps Sabermetric whipping boy Tony Muser, the failed manager? No, it was actually slugging Lee May, who hit 27 home runs that season. May wasn't a favorite of Sabermetric types for his playing, largely because of his inability to draw walks, but he had legitimate power and was a much better player than either Crowley or Muser.) Murray even appeared three times in the outfield his rookie season, though that position isn't mentioned on the front of the card. In retrospect, this positional breakdown seems rather strange, since Murray ended up becoming a very competent first baseman, to the point that he won three straight Gold Gloves from 1982 to 1984.
The Topps card, while picturing a young Murray finishing a left-handed practice swing, also shows him wearing a cap underneath his helmet, a Murray trademark. Is it just me, or does no one in baseball do this anymore? It seems like more players used to wear both a cap and a helmet in the seventies and eighties—former Yankees Dion James and Bobby Murcer come to mind, along with 1970s icons Willie Davis, Al Oliver, and Willie Stargell—but the trend has become lost, perhaps because of the mandate that players use the ear-flapped helmet. Or maybe it's because major league rules no longer allow players to run the bases wearing only a soft cap. Or perhaps it's just not fashionable anymore.
In regards to Murray the player, few hitters were as consistent as the Orioles' first baseman was from the late 1970s through the early 1990s. From 1978 to 1993, Murray emerged as a lock to hit at least 20 home runs, draw 70-plus walks, and collect 90 RBIs each season. The nickname "Steady Eddie" didn't just occur because of his first name and the convenient rhyming pattern; it fit his even-handed level of production to perfection.
Some critics of Murray have knocked him for never achieving a level of superstardom; he never put together the kind of monster season that we have become accustomed to seeing from power-hitting Hall of Fame types. Murray never hit more than 33 home runs in a season, never drove in more than 124 runs, never slugged higher than .549. The criticism is legitimate to an extent, but it doesn't do enough to detract from his year-to-year excellence and his inspiring career totals: 504 home runs, 3255 hits, and 1,333 walks. Those, dear friends, are Hall of Fame numbers.
While few would debate Murray's Hall of Fame worthiness, many would argue about Steady Eddie's character. For years, baseball writers have lobbed insulting words at Murray, who refused to talk the media for most of his career. They've called him surly, uncooperative, and downright callous. Others have gone so far as to call him a clubhouse cancer, citing his negative effect on the New York Mets' clubhouse in the early 1990s.
So it was with considerable trepidation that I prepared for an interview with Murray in 2003. As part of my duties at the Hall of Fame, I used to conduct an in-depth videotaped interview with each newly elected member of Cooperstown. Expecting the worst, I began to talk to Murray. Within a few seconds, Murray shunted aside all of my fears. He was thoughtful, polite, and to the best of my knowledge, sincere. Rather than answer each question with some cliché of immediacy, Murray took a few moments to ponder my words before providing a reflective, meditative answer. Though not particularly smooth in his delivery, Murray did his best to give me some insight as to his patterns of thought, his philosophies on baseball and life. I learned about he had overcome a childhood of poverty, as one of 12 brothers and sisters living in the ghetto. (One of his sisters had died only a week before the interview, yet Murray retained his composure throughout our talk.) After about 20 minutes of discussion, I concluded the interview, not only glad to have been spared Murray's supposed surliness but wholly impressed with the newest Hall of Famer.
Prior to our sit-down, I had never been a particular fan of Murray. In short, I believed the writers, without stopping to assess why Murray had chosen not to talk to them. (The running feud stemmed from a 1979 article, in which sportswriter Dick Young discussed members of Murray's family. Murray considered the article intrusive and unfair. ) I believed the stories that claimed Murray led the league in laziness, selfishness, and lack of hustle. Plus, he had made the mistake of never playing for my team, the Yankees.
Thankfully, our opinions of others can change. Now I look at that rookie card of Eddie Murray a little bit differently.
Bruce Markusen writes "Cooperstown Confidential" for MLB.com.