Real Life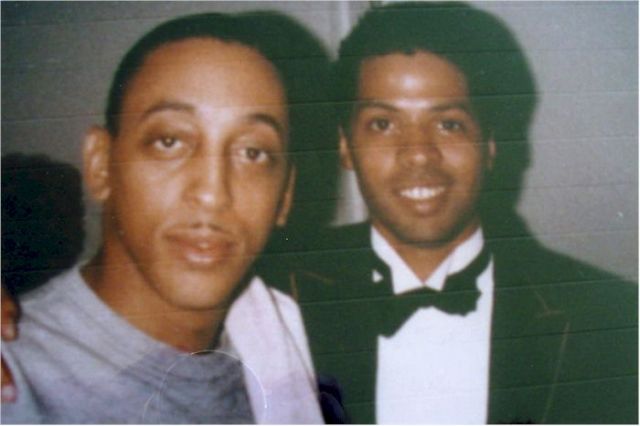 When Reggie Jackson left New York, Ray Negron's glory days came to an end. Now, he had to adjust to a more mundane reality, and a greater challenge—how to advocate for himself. Negron had defined himself by what he could provide to other, more famous men.
"Growing up is hard," says Negron. "In baseball, you are a kid forever. When I left the Yankees, I didn't have the players to protect me anymore." Negron married his longtime girlfriend Barbara Wood in 1981; they got an apartment in Far Rockaway, had a son four years later, and were divorced before the end of the decade. "It was hard to give my heart and soul to a situation when I didn't really want to be there," he says.
While he was with the Yankees, Negron gradually lost touch with his half-brothers who were caught up in the street life, junkies while they were still teenagers. "It wasn't until the eighties that we got back together again," says Negron. "To them, I was wealthy. When they reached out it would be out of desperation or need. Then my brothers started having kids all over the place, and I couldn't handle it, I couldn't handle it." Negron is shy when talking about them because he doesn't want to embarrass them. "They think that I think that I'm bigger than them. I mean, it becomes very tough because they are still your blood, you understand?"
Negron's two cousins who had been with him the day he first met Steinbrenner, Edwin and Christopher Perez, died within a year of each other during the mid-eighties; Edwin, in what Negron calls "a gang-related incident," and Christopher, from AIDS, which he got through a dirty syringe. Negron was with Christopher the night Edwin was murdered in Brooklyn. They drove to the Perez home in Brooklyn and were greeted outside of the house by Christopher's father, and a group of cousins and neighborhood friends.
"My uncle had a cardboard box in his arms filled with guns. He said, 'Take one, let's go.' That wasn't my style, so I stayed at the house with my aunt. 'She's going to need somebody to be with her,' I said. I wasn't going to get caught up in that. That wasn't me. I loved Billy the Kid," he says remembering Martin, "but I wasn't that Billy the Kid."
It wasn't until he got a minor acting gig in Francis Coppola's Cotton Club that Negron heard from his father again. "That meant something to him," says Negron. "All those years with Reggie and I never heard from him. But movies were different. Now, he thought I had money." Negron spent six months working on the Cotton Club at Astoria Studios in Queens, hanging around actors like Richard Gere, Gregory Hines and Nic Cage. "It was the greatest six months of my life. I thought I was going to be a star. But when the movie finally came out all of my scenes were left on the cutting room floor. There were a lot of cuts and edits with that movie, remember? You see me—don't fucking blink—cause you see me walk from Richard Gere's table for a second. Thank God they still had that shot."
Negron moved to L.A. briefly, had a small part in an early Andy Garcia movie, Liquid Sky, and the baseball movie, The Slugger's Wife. He auditioned for the Spanish boyfriend in the Rodney Dangerfield vehicle, Easy Money, and the Tubbs role in the Miami Vice TV show. "When I did the reading with Don Johnson, who was just out of rehab, I couldn't remember a line. He was so pissed off. It was one of the most embarrassing experiences of my life. I completely froze."
In 1984, Negron segued out of acting into the agent business. With a child on the way, he needed to find a way to earn more money. Negron's first client was veteran outfielder Juan Beniquez, who was teammates with Jackson in California. He later represented Jose Rijo, Junior Ortiz and Ruben Sierra, and a handful of others. But Negron was small potatoes, the Broadway Danny Rose of Latin agents, unable to compete with the high rollers.
"I wasn't the typical attorney-agent," says Negron. "The big agents had what I couldn't offer. I didn't have any money, I was poor. I didn't have cars, I didn't have the luxury offices on 5th Avenue. I was winging it. I was representing players out of my basement."
"Ray would get these guys started," recalls childhood friend, Jimmy Madorma. "Then they'd split for the big money."
But Negron did not begrudge Rijo when the pitcher left him after four years for a more prominent agent. "He just wanted to create a bigger life, one that I couldn't give him," says Negron, "We are friends to this day."
In 1986, Negron took a job with the Yomiuri Giants, and served as a scout and a coordinator for the Japanese team. Negron would compile scouting reports of big league players—mostly veterans looking to extend their careers—who the Giants wanted to recruit. For the next seven years, Negron worked for the Giants, making two, two-week-long visits to Japan each year, where'd he'd escort players, including Lloyd Mosby, Jesse Barfield, and Mickey Brantley, and get them acclimated to the new culture.
By the late '80s, Negron was a general manager in the short-lived Senior League in Florida when he met Brenda Bonini, a waitress at a country club. He moved to St. Petersburg, and the two were married. They had three children and though they are now divorced, they still speak regularly. Negron says, "I love the game more than the aspect of true romance. I'm a bachelor. I need to be a bachelor. With all my projects I don't have the time. Girls want you to sit down and watch TV with them. I ain't got time for that."
A few years later, Negron was introduced to Darryl Strawberry when the troubled slugger was suspended by the San Francisco Giants for substance abuse. Negron soon became involved with Strawberry, then later, Dwight Gooden, as they tried to rehabilitate their images and remain sober. "I was like their older brother," says Negron, who spent an entire year with Gooden in Florida, making sure he attended his A.A. and N.A. meetings.
"Dwight was difficult," recalls Negron, "he was much tougher than Darryl. He had a beautiful façade, but the disease had a strong hold on him. Whenever he'd call me a 'motherfucker' or a 'cocksucker,' or 'I'll beat your ass,' or all that kind of shit, I never took it personally, because I knew that was the disease talking that wasn't the person."
Negron acted as Dwight Gooden's representative, but since he had never become an officially credited agent, the Players Association protested his role. When Gooden signed the contract papers in Steinbrenner's suite at the owner's Florida Hotel, however, Negron was right there with him. After the deal was completed, Steinbrenner turned to Negron and said, "Well, what are you going to do? You are a Yankee, and I think you should be a Yankee." And with that, Negron's troubles with the union disappeared as he went back to work for the Boss for the first time in fifteen years.
Much had changed since Negron had last been in New York, but he was still important to Steinbrenner and he kept close tabs on Gooden and Strawberry. Today, Negron wears his World Series ring from 1996 (he also has one from 1978), which reads "Negron: Courage, Heart" on the side. "This ring represents the pain of that year with Darryl and Doc which was my true comeback from the standpoint of life."
Gooden and Negron lasted two seasons in the Bronx. When Gooden signed as a free agent with Cleveland, Negron was part of his contract, Tom Giordano made sure of that. A longtime scout of great distinction, Giordano got to know Negron while he scouted Gooden during a few minor league re-hab games at the end of the '97 season.
"After the second time I saw Gooden pitch," said Giordano recently, "I was just so impressed with the way Ray talked about Doc. Then I saw them together and Doc absolutely trusted Ray, wouldn't do anything without him. When I went to my boss John Hart and told him that Doc could help us as a back-of-the-rotation pitcher, I told him the catch was that we had to have Ray Negron included in the deal. As a matter of fact, I wanted Ray almost more than I wanted Doc."
"Ray had a reputation as a guy who got things done," says John Hart. "But the Yankees are different from other teams so people weren't sure about him when he first came over. But once I got to know him, I got to trust him quickly. I like to be pro-active and Ray was a guy who knew a player had issues before anyone else. That was his defining quality for me. He was able to pick up problems before anyone else so we could address them quickly."
"Ray was somebody who had a good intuitive sense of what major league players were and what they needed," says Charlie Maher, the Indians team psychologist, who eventually made Negron part of his staff. "Ray was helpful not only in giving me feedback about which players might need help but also helping the players prepare for meeting with me."
Maher schooled Negron in his working methods—teaching athletes how to be comfortable being uncomfortable, how to separate themselves from their performance, etc—and Negron responded in kind. "He was particularly valuable with Latin minor leaguers. If there was a kid having trouble and I couldn't get to them, Ray would go to Kingston, North Carolina or Columbus, Georgia and give me a report."
"Ray had been there," says Giordano, who goes out of his way to mention that Negron had an impact on all the players, white, black and Latin (as do Hart and Maher). "He knew what it was like to be a young kid just starting out in the game with nobody to look out for him. I think he took his own experience, his own failure as a player and used it as motivation to give young players some guidance. And they loved him. He saved a lot of guys who might not have made it otherwise, like Danys Baez."
"I consider him a baseball guy," says Hart. "He has a feel for baseball, a feel for people, a feel for the troubled player. There are so many dynamics in pro sports, and only a portion of it is connected with a player's talent."
Negron worked for several seasons in Cleveland before moving with Hart and Giordano to the Texas Rangers where he served in a similar capacity with Don Kalkstein. He was especially close with Robbie Alomar, whom he had known since Robbie visited his father, Sandy, in the Yankee clubhouse in the mid-'70s. When Robbie Alomar was traded to the Mets in 2002 he lobbied the Mets to bring Negron in as a liaison capacity but was rebuffed.
Negron flourished under the guidance of Hart and company and earned the respect and trust of his employers. He also proved that he could succeed away from the Yankees. Still, Cleveland and Arlington were a long way from New York. "When he was with Cleveland," says Maher, "he was professional. I supervised him and he did everything I asked him to do. He never talked about the Yankees. But he's a New York guy at heart. Hey, he grew up with the Yankees." It was impossible for Negron not to pine for the Yankees, no matter how productive or successful he was elsewhere.
In the summer of 2003, Negron was at the Stadium with the visiting Rangers. He had his youngest child Rickey with him and uncharacteristically let the boy slip out of his sight while they were in the press box. Ray found his son in Steinbrenner's office wearing a new Yankee jacket.
"Boss, I can't have him take that jacket," says Negron.
"He doesn't work for the Rangers, you do!"
After the 2003 season, when Negron's contract with the Rangers had expired, Negron went to visit the Boss one day in Tampa. According to Negron, Steinbrenner said, "When are you coming back to work for me?" And with that, Negron returned home once again.
Photographs appear courtesy Ray Negron.

Part Four, tomorrow