Prince of the City
Ray Negron was only supposed to work a couple of games to re-pay his debt, but then one of the regular bat boys got sick, and in no time, Negron had himself a steady job. He moved on the field with the languid movements of a professional, his uniform fitting tightly, his stirrups pulled up just so. At 145 lbs, Negron was too skinny to be confused with a big leaguer though the players occasionally tried to pass him off as one of them when he was on the road with them, to get him laid. "You said it, not me," Negron squeals with delight, remembering today.
When the Yankees took batting practice, Negron was busy with the daily clubhouse chores, but he would sneak in a couple of swings in the batting cage or hang around at shortstop and take ground balls while the visiting team came to hit. One day, the Texas Rangers were in town and Negron was playing short against live bp when he made a couple of good fielding plays. Billy Martin, the Rangers manager, a man rarely without a fungo bat in his hand, was standing on the third base side of home plate. He turned his attention to the boy, motioned with his hand and then tossed a ball up and cracked a hard groundball at him.
"Billy noticed that I could play," Negron recalls. "Later, he introduced me to two of his middle infielders, Lenny Randle and Davey Nelson. Every time Texas came to town, I would ball boy down the right field line so I could hang with them. They taught me and to this day, I can honestly say that I'm still friends with both of them."
"I was impressed by his etiquette and his manners," recalls Lenny Randle today. "A lot of kids are annoying at that age, they just want stuff from you. But Ray wasn't pushy, he was honest and had an innocence and genuine enthusiasm about him. He was the kind of little brother you wanted to have. Hey, when he was a teenager he was booking us to speak at the Y, at local Little Leagues for a couple of hundred bucks here and there. He had moxie."
The Yankees kept Negron when they moved across town the following year; the team played their home games at Shea Stadium while Yankee Stadium was being refurbished. Like their ballpark, the '74 Yankees were a team in transition. Steinbrenner, general manager Gabe Paul, and field manager, Bill Virdon, were busy changing the culture of the organization. Flowers were no longer permitted on the secretaries desks in the front office. When Paul traded four well-liked pitchers in May to Cleveland for first baseman Chris Chambliss and two relievers, Yankee players moaned. Tough. Virdon drilled the outfielders mercilessly—the Yankees ran more in spring training that year than they had in years. The message was clear: the country club is closed.
By the middle of the summer, the Yankees, dubbed "The Band on the Run" by outfielder Elliott Maddox, were making a run for the division. The team adopted Negron as a good luck charm; Steinbrenner sanctioned the move. Ray was to travel with the team on all road trips. When Steinbrenner learned that Negron missed a trip to Chicago, he found the kid, got him to the airport and on the next flight out of town. It was the beginning of a relationship where Steinbrenner trusted Ray's ability to ingratiate himself with the players and report back to him. In turn, Ray felt wanted, and was pleased to help the Boss.
Second baseman Sandy Alomar, picked-up in June from the California Angels, immediately took Negron under his wing. Ray regularly made diving plays for foul balls during the game, and was noticed in the broadcast booth. Bill White interviewed Negron several times on the Yankee pre-game show.
Old Timer's Day was held at Shea that year and Negron arrived early. "My hero and my god was Mickey Mantle," recalls Negron. "Remember Old Timer's Day was gigantic back then. DiMaggio was alive, so were Mrs. Ruth and Mrs. Gehrig, Casey Stengel." Mantle arrived late, with his cronies Martin and Whitey Ford. Some of the young players on the team were too shy to ask Mantle for an autograph so they sent Ray over instead. Mantle was telling stories in the auxiliary clubhouse, which was the Yankees home at Shea, and he signed a couple of balls for Negron. But the third time Ray approached, holding out a baseball, Mantle barked, "Get the fuck out of here with these baseballs."
Negron ran into a back room, devastated. "I was there crying," he remembers. "All of a sudden I feel a hand on my shoulder. It was Billy Martin. He said to me, 'I saw what happened out there. Mick doesn't mean it. Sometimes it's tough because everyone is on him for autographs. Come back out here with me. We're gunna talk to the Mick and you're gunna apologize. Because if you don't, you know what? Mickey will always have a hard-on for you.' So he took me back over there and said, 'Hey, Mick, this is the kid you told to get the fuck out of here.' So Mickey laughs, cause Billy was saying it in a you-shouldn't-have-done-that kind of tone. Remember, Billy was the leader. If Mantle, Ford and Martin were the Rat Pack, Billy was Frank Sinatra.
Negron mimics Mantle's Oklahoma drawl. "'Well, damned Billy, how many times are they going to come up to me with baseballs?' I said, "I'm sorry, Mr. Mantle." He smiled and that was it. And after that we always had a very nice relationship. I won't say that we were friends per se. That's a powerful word. Friends is a powerful word, you understand? But we were always very cordial to each other."
Negron, 18 now, had been an average high school student, and only applied himself in his senior year when he was faced with an ultimatum by Steinbrenner that he graduate or else not work for the Yankees. "I had a fear of taking tests," says Negron, who failed the written portion of his driving license exam four times before he finally passed. But he continued to play baseball in three different leagues, one in Long Island, one in Queens and the other in Brooklyn.
"I'm practicing with the New York Yankees and then I'm going to my league games and playing with a bunch of chumps, hey, you know I'm thinking I'm fucking Joe DiMaggio," says Negron. "I'm Bobby Murcer, I'm Lou Piniella. That's why I hit so well in all the leagues I played in, and that's why the scouts came to see me in those leagues, because I was a very confident kid."
Negron showed enough promise to be signed in the second round of the amateur free agent draft by the Pittsburgh Pirates in January, 1975. Dutch Duetch, the Pirates scout who had inked a thin kid from Brooklyn named Willie Randolph several years earlier, also nabbed Negron, a slick defensive infielder. "I had really good hands," says Negron. "I could really field."
Negron reported to spring training with the Yankees first, to work out before he joined the Pirates. His mother and step-father, his sisters and his girlfriend saw him off at the airport. "Everybody was crying," Negron told New Yorker writer Roger Angell that spring, "I'm not afraid of what is going to happen. I know I can pick it in the infield, so the only question is whether I can hit the pitching." The question was answered soon enough; Negron was cut from the Pirates Rookie A team in August, hitting just .143.
"I played terribly," he recalls. "I was scared. Defensively, I held my own. I just didn't hit. I didn't blow-out my shoulder, I didn't break my dick, I didn't twist my tongue, I just didn't hit. No excuses. Guys always have a reason why they didn't make it. I just couldn't hit. Dutch Duetch later said to me, 'You weren't the same kid that I saw in those leagues in New York.' And he was right. I was insecure in my ability. In my mind, I was like, 'Who the fuck am I?' A lot of times I've said to myself, 'If I had psychologically prepared myself better I could have hit.' But back then, it was always, 'Who are you?' Deep down, I didn't think I was shit."
For the first time since he was 11, Negron knew that he was not going to be a major league ball player. It was, a "revelation, a kick in the ass." When he returned home, there was a letter from the Texas Rangers inviting him to join their A club. But instead of being encouraged, Negron became more anxious. "I got nervous to the point of 'Why?' I'm only going to go there an embarrass myself some more."
Negron stayed with his mother in Queens, too mortified to show his face back at Shea, where Billy Martin had replaced Virdon as Yankee manager. But Sandy Alomar had kept tabs on Negron's minor league career and when it fell apart, he approached Martin, "He's back in New York, and hasn't left the house in two weeks."
Alomar managed to get a hold of Ray's number. Then Martin called and said, "You little cocksucker, get down here tomorrow, I got something for you to do."
"Billy had a punching bag in his office," says Negron. "He taught me how to hit the bag. I decided to train so that I could try playing again. I figured if Texas wanted me, I could get my head in shape. When I went to spring training in '76, the Yanks were going to give me a shot to stay on with the club. I had to make a choice: I could go to A ball with Rangers as a player or I could stay with the Yankees and work for them. I didn't want to take the gamble, I wanted the sure thing. In my mind, I didn't ever think I was going to be a major league hitter, so I stayed with Billy and George. Billy saw himself in me. The fact that I relied on my mom the way I did, that's the way he was. 'You are a nicer kid than I was,' he'd tell me. 'I don't want you to get into the kind of trouble I got into. Even if I'm not with the Yankees you can always go wherever I am.' And one day, the Boss and I were driving, and he saw that I was down. 'I have plans for you,' he tells me. 'You never have to worry about a thing, not as long as I own the New York Yankees.'"
* * * *
When the '76 season began, Negron tried to pitch batting practice, but he was so inept that back-up catcher Rick Dempsey threw a bat at him one day. Then he cursed Negron out to manager Billy Martin. "The next day, when I walked into the clubhouse," recalls Negron, "Pete Sheehy told me, 'Don't put on the uniform, you gotta go see Billy.' I'm thinking, 'I'm done.' So when I walk in there, he says, 'Take these boxes in the back---its video equipment. Learn how to use it, and when you learn how to use it, start filming the hitters and start filming the pitchers and show it to them.'" According to Negron, the Yankees were the first team to videotape their hitters. Though there was no art to it, no plan, it fit in perfectly with Steinbrenner's football mentality of gaining advantages through technology.
"You could see that Ray was an attentive young man that wanted to learn about the baseball business." Lou Piniella said recently. "He was quiet. He listened well, and Mr. Steinbrenner had a particular liking for Ray."
Negron taught himself how to use the machinery. "I had to learn to be creative. I was always into the arts'n' shit. I loved movies. I just made believe I was a film producer. We had one camera. I would go to different guys, like if a guy was slumping, or Lou Piniella, Lou would tell me what he wanted. And I would get it. Behind the plate, third base, whatever. Then I would show it to them the next day."
The Yankees won the pennant that year, on a thrilling ninth-inning home run by Chris Chambliss against the Kansas City Royals in the fifth game of the American League Championship Series, but were quickly dispatched by the defending World Champion Cincinnati Reds in four games. That winter, the first free agent draft was held and the Yankees got their first choice of pitchers, Don Gullet, a left-hander from Cincinnati, but lost out on their number one position player, infielder Bobby Grich. Martin pined for Oakland's left fielder Joe Rudi. But Steinbrenner wanted somebody with more star appeal and he found his man in Rudi's former Oakland teammate, Reggie Jackson.
Jackson's arrival in New York began The Bronx Zoo years in New York, which brought championship rings and tabloid sensation. Martin immediately resented Jackson and the attention and money that Steinbrenner lavished on his new star. Thurman Munson, the Yankees' rugged catcher and team captain, wasn't thrilled about Jackson either. By the time spring training concluded, hardly any of the Yankee players even spoke to Jackson, with the exception of back-up catcher Fran Healey, a laconic guy who was not threatened or put-off by the superstar.
"I had very few people to talk to," remembers Jackson. "I just kind of gravitated towards Ray. He was Latin, I was part Puerto Rican; he spoke the language, I spoke the language. I've always spoken a broken Spanish. Talking to him helped me learn a little bit. We just hit it off. I guess we were two peas in a pod."
By the middle of the '77 season, with Steinbrenner's permission and Martin's blessing, Negron became Jackson's gopher away from the park.
"Reggie always liked a valet type of person to attend to his needs," Piniella recalls with a smile. "He chose Ray and Ray handled it very well."
"I knew that was my value to the owner," says Negron. "The Boss knew I was going to get a positive reaction from his superstar. The manager used me properly. I was a tool for him."
Jackson and Martin used Negron as a kind of salve, a buffer. "They trusted Ray," says Billy Martin Jr. "They would say things to him in confidence." Negron used to pick up Billy Jr. when he came to town to see his dad. "He was able to help put out those fires or at least keep them at low embers."
"Ray was the kind of guy who thought that everybody should get along," says veteran New York sportswriter, Phil Pepe who covered the Bronx Zoo Yankees for the Daily News. "He tried to make peace as best as he could without being overbearing about it."
When Martin wanted to convey something to Jackson, he'd send word through Negron. As awkward as the situation was, Negron handled it well; he was used to keeping his composure amidst antagonists.
Jackson provided Negron with extra cash and the opportunity to hang out with a real star. He paid Negron $500 a month, which is what Negron also received from the Yankees. "Financially I barely made ends meet," says Negron, "but," he raises his finger, "but, Reggie, for instance, had an endorsement deal with Volkswagen. Now you know Reggie ain't driving no Volkswagen Rabbit. So I would have a Volkswagen Rabbit to drive around. When Reggie hit a home run and he'd get a package of Getty coupons. That would pay for my gas. Reggie was more than generous. A lot of the guys were more than generous with me. In essence, they took care of me, cause I took care of them.
"For instance, I always had Thurman in check. If I knew he was going to the airport, I'd offer to drive him. I'd offer to park his car. If it was a cool night, we're in the dugout during the game and Reggie said to me, "Hey Ray, go get me a coffee.' I'd get Reggie's coffee and then I'd bring Graig Nettles back a coffee. I knew exactly how Nettles liked it, exactly how much sugar he liked, and that's without him asking me. If you ask Ron Guidry, who was from that time, about Ray Negron, he'd say, 'You know why I really love Ray, because if I grabbed him and threw him in a garbage bin, he knew how to take it.' He threw me in the garbage plenty of times. Plenty of times. Cause we-were-hav-ing FUUUUN. We knew how to have Fuuun. In those days guys hung out better than they do today. On the road, a lot of times guys wouldn't have to leave the hotel they'd just go room to room, and guys would be five, six in a room, playing cards, watching TV. I would be the guy who, in turn, would get the food and stuff and I loved doing that too, I'm not going to bullshit you, because it was a nice tip."
Negron provided Jackson—a new comer to New York—a streetwise perspective of the city. "He helped me with things that I needed," says Jackson. "I needed a cook, I needed to know where to park, I needed to know where to go eat. He took care of the phones, he took care of a lot of miscellaneous things to help me out. He took care of my house. After mid-season, it became kind of a big brother/younger brother kind of relationship because I was only nine, ten years older than Ray."
Jackson, in turn, showed Negron how to carry himself with care and respect. After the '77 World Series, Negron bought a car with the bonus money given to him by Jackson. One day during the off-season, Reggie was headed to the Vertigo club to work out with his friend, Ahmad Rashaad, the star wide receiver. But Jackson didn't feel like driving either of his cars--the Mercedes or the Rolls—so he asked Negron to drive him.
"He got into my car, which was parked outside on the street, and he saw it was dirty. He said, 'Ray, if you want me to ride in your car, you'd better clean this motherfucker.' He looked into my eyes and I saw that he meant it. He was the first guy I knew who made me care about my appearance, how I dressed, how clean I kept my house. He showed me the importance of caring about how you look."
Saturday Night Fever was released that summer and Negron was living his own version of the Borough-Kid-Making-it-Big-in-Manhattan fairy tale. "'If I'm the King of New York,' Reggie would say to me, 'then you're the prince of the city.' And I was."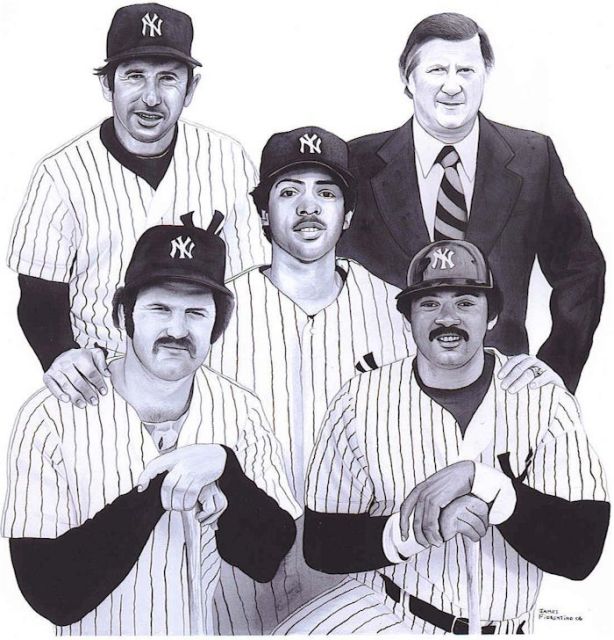 Jackson lived on the corner of 79th Street and 5th Avenue. Negron was friendly with the neighbors, who included Cicely Tyson, Mel Brooks, and especially, Anne Bancroft, who used to chat with him in the lobby during the afternoons when she wasn't working. Negron had the keys to Jackson's place, which he looked after when the Yankees were on the road. He brought friends like Jimmy Madorma and Omar Minaya, a fellow infielder from Stan Musial baseball, to Jackson's pad and the Yankee clubhouse, even got them out on the field shagging flies during bp.
The summer progressed and Ray was in the middle of the Martin-Jackson feud. On Saturday afternoon, June 17th, the Yankees were playing a nationally televised game in Boston when Martin pulled Jackson from right field in the middle of an inning after he felt that Jackson had not hustled after a ball. Negron was sitting on the bench next to Martin when the manager sent Paul Blair out to right to replace Jackson. Negron braced himself for the confrontation that was about to ensue, picked up a white towel and placed it over the dugout camera (a photograph of Negron covering the camera appeared the following day in The Boston Globe but not the New York papers). The center field camera filmed Martin and Jackson having to been restrained from throwing punches. Negron kept the towel over the dugout camera as the operator screamed at him.
"I knew in my heart and in my soul, without Reggie having to tell me, that he didn't see that ball when he was in right field right," Negron says about the play in question. "Billy thought he was loafing. He played it the way he did because he couldn't see it. But I couldn't tell Billy that. Because if I told him that, I know his temper, he's going to jump my ass. I was scared to death that either he or Reggie would be angry at me like I was talking one side over the other."
"Later in the dugout," Negron told Inside Sports four years later. "Billy explained to me why he had to do what he did, and that night Reggie talked to me just to get it out of his system." Negron went back and forth between both of their rooms. That night, Jackson would answer his phone, "Raymond Negron," to fend off the barrage of calls from reporters. "Between the two of them, all I could do was keep my mouth shut and listen," Negron recalled. Jackson spoke at length about his Christianity and about how the New York sports fans were being hurt. Martin, whose job was hanging by a thread, spoke about not being pushed around or shown up by anyone.
But Negron did have moments of insecurity, like the time he was sitting with Jackson in the locker room, talking in Spanish and laughing. Martin walked past them and shot them a look which caused Negron to panic.
"I just had a moment, a bad moment within myself. The next day I remember waiting for Billy in his office and when he walked in I asked him about the look." Negron now speaks slowly and clearly and acts out the scene. "He got up from his desk and he walked over to me and said, 'If I ever find out that you decide not to be Reggie's friend because of me, Ray, you and I will not be friends.' He said, 'You always treat a person the way they treat you. As long as I know that he's good to you, I'm happy for you.' As I was walking out of the office, he said this to me—one of two times he told this to me, the other being after Thurman died. He said, 'Don't ever forget something, Ray. Even if you were Italian, I couldn't love you anymore.'" Negron pauses. "Now, how big was that dude?"
For his part, Jackson wasn't always as understanding.
"There were moments that bothered him," Negron says. "And one moment in particular." When Billy got canned in '78—officially, Martin resigned—Ray was at the Stadium picking up Reggie's mail. He was approached by a New York Times reporter who commiserated with him about divided loyalties. "You're Ray Negron, right? This has got to be a very difficult day for you, isn't it?"
Ray told the reporter, "Yes it is very tough. I cry for Reggie and I cry for Billy."
"So that came out in the Times the next day and Reggie is reading the Times and then looks at me and he reads it again and then just stares at me. I said, 'What's wrong?' 'You know, you're the only friend that I have that is his friend too.' I said, 'What do you want me to do?' He said something to the effect of, 'I don't know, I don't know.' And I got up and walked out of his apartment because I didn't want to say something. It never came up again, but I knew every once in awhile it bothered him."
The Yankees flourished despite—or perhaps because—of the tension that enveloped the team. In the end, they won the World Series in '77, and then won it again the next year, though by that time Martin had been fired. Jackson's three home run performance in the deciding game of the '77 Series cemented his reputation as Mr. October. After his third home run (he swung the bat just three times all night), Jackson's teammates congratulated him in the Yankee dugout. Negron embraced him, and went to sit back down, but then turned back and whispered something in Jackson's ear. Ray nudged Jackson out of the dugout for a curtain call. It was the most thrilling moment of Negron's life but he had the presence of mind to push Jackson out for the money-shot photo op.
The high times didn't last long. "Remember in that movie Boogie Nights when everything in the seventies is rockin and then you get into the eighties and everything turns to shit?" says Negron. "That's how I felt. Without the drugs. I never reached that high again—'76-'77-'78. Never again. Riding the wave and having a blast. In '79, I had a T-shirt made up, 'One more time in 79.' I thought we'd win every year. Then Thurman died, and you get to the eighties and everything was tense and uptight. It wasn't smooth anymore."
When Jackson signed with the California Angels after the Yankees lost the '81 World Series to the Dodgers—a turn of events that Steinbrenner later characterized as the biggest mistake during his ownership—Negron left the Yankees and baseball altogether to pursue an acting career. Negron had appeared in a half-dozen commercials with Jackson—for Panasonic, Volkswagen and Old Spice—had good looks, and a way to get his foot in the door. He had wanted to be a movie star since he was a kid staying up late watching the Late Show every night. Besides, he had exhausted his run with the old Yankees. Without Reggie there, Negron couldn't go back to being a gopher to just anybody.
"When it was clear that Reggie would not be a Yankee in '82," says Negron, "the stadium manager said to me, 'Now that Reggie won't be here next year, you won't be needed to pacify him anymore.' I said, 'The Boss knows about this?' 'He sure does.' But he was lying. The first call to me in spring training in '82 was George. 'Where are you? You are supposed to be here.' The little people per se always have to deal with that kind of abuse. That was my insecurity with the Yankees. 'Do you belong?' After 34-35 years, I still worry about that. That's not right. I've left my heart and soul in this stadium. But George Steinbrenner has always said, "I appreciate you, what you do for my club." He's the only one, with the exception of Billy Martin, who said, "You are a Yankee." That means the world to me because not everybody can be a Yankee. Doesn't matter how long you are working here. It's a matter of your heart and soul."
Photographs appear courtesy of Ray Negron.

Part Three, coming tomorrow