A Four-Part Bronx Banter Exclusive
[Author's Note: This story was written last summer. It covers Ray Negron's life from the spring of 2006 through the spring of '07. Some of the basic facts stated in the piece have changed: Joe Torre is no longer the manager of the Yankees; Hank and Hal Steinbrenner have taken control of the team; Negron has just completed his seventh children's book for Harper Collins. But, despite these events, the essence of Ray's story remains true. I hope you enjoy.]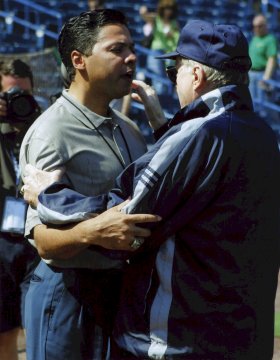 Part One
"Let me show you the Boss's suite," says Ray Negron. It is a cool evening in early May, 2006, and Negron's boss, George Steinbrenner, the principal owner of the New York Yankees, is out of town. Several hours before game time, Negron, 51, is walking down the outer corridor of the loge section at Yankee Stadium, his head cocked like an upper classman with the run of the school. He exudes an insouciant confidence, the kind of man who is used to keeping his cool in hot situations. Negron has short black hair and skin the color of café au lait. His large, liquid brown eyes and long eyelashes are almost feminine; his cheeks sag--the sign of a thin man growing older—and lend a sense of gravity to an otherwise boyish countenance. As usual, Negron looks crisp. He is wearing a gray, patterned suit and slim brown shoes. On his right ring finger is a massive gold World Series ring from the 1996 Yankees.
"I can't wait for the new Stadium," Negron says. "Maybe I'll get an office."
"The ubiquitous Ray Negron," a veteran New York sportswriter calls him. Negron is a gypsy, constantly on the move, from the executive suites through the press box down to the locker room. He does not even have his own desk; instead, he totes everything he needs in a leather-bound book with a Spaulding logo embossed on the cover: Negron serves as a director of community relations for the sporting goods company, one of his many jobs. The book is filled with notes scribbled in different colored inks--reminders, phone numbers and addresses.
Negron knows everybody and stops to say hello to security guards and executives, retired sportswriters, scouts, and current players. Negron works for the Yankees as a special advisor to Steinbrenner and is primarily employed as an all-purpose utility man. He represents the club at the Kip's Bay Boys and Girls club, the Hackensack University Medical Center, and grass roots community centers in the Bronx. Like a greeter in a casino, he escorts business men and their children through the corridors of the Stadium, giving his own private tour, and he schmoozes with celebrity visitors, like Patti Labelle, Regis Philbin and Richard Gere, making sure they are comfortable in their seats. Negron, of Puerto Rican and Cuban ancestry, is an avuncular figure to the team's young Latin players like Robinson Cano and Melky Cabrera. This summer, Negron will enlist the two, along with other Yankee players, to visit classrooms, hospitals and boys and girls clubs around the tristate area, as he promotes his first children's book, The Boy of Steel, a story about a young boy with cancer who becomes bat boy for the Yankees for a day.
Few people know Yankee Stadium as well as Negron and few people have been around Steinbrenner's Yankees longer. And it all happened by chance. In 1973, Steinbrenner's first year as team owner, the Boss caught Negron, a skinny kid with an afro, spray painting an "NY" logo on the outside of Yankee Stadium. But instead of handing him over to the police, Steinbrenner made Negron a bat boy, issuing the kind of punishment that is the stuff of a boy's wildest fantasies. So began a career in baseball that has lasted more than thirty years. Negron has done everything from shine the players' shoes and collect their dirty jockstraps, to bring them food from their favorite restaurants and park their cars. He has been an agent, an actor, an advisor, and a liaison; a confidant, a sounding board and a whipping boy to some of the biggest egos in the game. He is whatever he needs to be.
Negron has founded a career off his serendipitous meeting with Steinbrenner and everything that has happened next—from Billy and Reggie to Doc and Darryl. "The Boss essentially saved my life and I'll never forget that," says Negron, touching my arm. He likes physical contact, and occasionally touches his listener in a jocular, reassuring way to make sure you're listening. He speaks in a measured, cautious manner, his raspy voice tinged with an unmistakable Brooklyn accent. Ray speaks so often in public that in private his conversation sometimes feels rehearsed, like he's an actor repeating the same lines over and over in a play. Yet he is so sincere that it feels as if he's telling you something for the first time, even if it's a variation of something he's said countless times before.
Negron pauses and then adds, "Not saved, really, he gave me a life."
Negron leads me through a cramped office into Steinbrenner's suite. In the corner of the room Joe Scafidi, a middle-aged bald man is tidying up behind a small bar. It is a large place, with a comfortable-looking brown chair in the shape of a baseball glove in the middle of the room. The walls are crammed with framed photographs and paintings of famed Yankee legends, including Ruth, DiMaggio, Mantle, Ford, Jackson, Jeter and Rivera. Some of the images are famous, while others are drawings and paintings that were given to Steinbrenner as gifts by fans and well-wishers over the years. Many look like Leroy Neiman knockoffs, which, from a distance, are hard to differentiate from the original Neiman's on the wall. A large plasma screen TV hangs in the middle of the back wall of the room; above it is an enormous set of bull's horns. Straight ahead, glass windows look out onto the field at Yankee Stadium, and just outside of the windows is Steinbrenner's private box, which can seat as many as forty guests.
Negron walks me through the front door onto the ramp overlooking the owner's box. To the right, the narrow ramp leads to the press boxes.
"This regime," says Negron, who has been with the Yankees on four separate occasions over thirty-three years, "Brian Cashman, Lonn Trost, and Randy Levine are the most loyal to the Boss, the Yankees and to the brand than anyone that I've been around in all my years with the team. Make sure to put that in."
Negron and Scafidi, a blunt yet amiable New Yorker, discuss the current state of the team.
"Ray, how come you always walk in the door after Giambi hits a home run," asks Scafidi narrowing his eyes. "When he's oh-for-three you are nowhere to be found and I gotta get yelled at." Negron's stares blankly out at the field and smiles.
It's all in the timing for Negron, who has a talent for sizing up a situation and instinctively knowing when to make his presence known and when to quietly disappear. "He's able to get in everybody's business and not be in the way," says his old friend Reggie Jackson.
"Ray knows how to dodge his enemies," says the sportswriter Bob Klapisch, who is godfather to Negron's youngest son. "He knows when to be invisible."
Ray Negron is one of George's Guys—he's an inner circle guy, a made man. This doesn't mean he's had it easy. Being close to Steinbrenner means enduring the Boss's abuse. There have been fights and angry breakups, always followed by forgiveness and reconciliation.
"One minute he can tell me, 'Shut up, you don't know what you're talking about,'" says Negron. "Ten minutes later, he's complimenting me." Negron was chiefly responsible for brokering the deals that brought Darryl Strawberry and Doc Gooden to the Yankees in the mid-'90s, and acted as their caretaker once they returned. After Gooden threw a no-hitter in the spring of '96, he enjoyed a rush of good publicity as a redemption story, and was reportedly in talks to sell the story of his life to Hollywood. But after a disastrous performance in mid-August, a livid Steinbrenner called the clubhouse and asked for Negron, who was consoling Gooden at the pitcher's locker.
"That was a fucking disgrace out there," Steinbrenner yelled without introducing himself. "If I have to hear one more thing about that fucking movie, you're both gone!"
Negron did not say a word as Steinbrenner hung up on him. When Gooden asked him who it was, Negron replied, "Ah, nothing. George just wanted to know how your arm felt."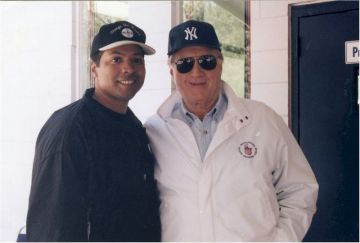 "This is a tough organization," says Vic Ziegel, longtime columnist for the Daily News. "It's difficult to navigate the rapids with so much constant change, but he takes care of staying Ray Negron. That's not easy."
But the Old World Order under the Boss is in a state of flux. Steinbrenner doesn't speak directly to the media anymore. Instead, all communication is handled by his publicist, Howard Rubenstein. And he rarely makes public appearances these days. When he has been seen, he has looked frail and diminished. It is the proverbial elephant in the room that nobody wants to talk about—not even the press. There are whispers that he is sick.
There is a sense of impending loss that hangs over the organization, beyond Steinbrenner's weakened vitality. Joe Torre's contract expires at the end of the year. Mariano Rivera's and Jorge Posada's deals are up at the end of the season. Alex Rodriguez can opt out of his contract and go elsewhere. The House that Ruth Built is being replaced with a newer Stadium a block away after the 2008 season. For George's Guys, it is a time of great uncertainty, and for no one more than Ray Negron, who owes his entire career to the Yankees owner.
"He's the only one who understands me," says Negron. "He's the only one. What makes me tick, that I'm not for sale. A lot of people sell their souls. My soul belongs to God. Hey, I've missed the Yankees when I wasn't here but I've missed the Boss more. I come from a family of addictive personalities. My two brothers are junkies. The Yankees are my drug."
"Thirty years ago when I met Ray Negron he was a scrappy kid on the streets of New York City living without purpose or focus," Steinbrenner offered in an e-mail when I asked Rubenstein for an interview with the Yankee owner. "Today, he's a highly respected and integral member of the New York Yankee organization. He's also a published author, father and esteemed member of his community. He's accomplished all this on his own – he's created his own success story!"
Negron's future with the team may be in doubt but he's never been busier. He and his title are vague. Everybody knows Ray Negron and yet nobody knows him. It is not that he's duplicitous; he's just always on the make. Negron is a hustler, a survivor, and a success story. "I know he's a success because he's still here," says Ziegel. Negron is not rich or famous; he's almost famous. He's made a career of hanging around, making himself useful, creating a niche for himself that nobody expected of him when he was a skinny kid from the streets spray painting Yankee Stadium for kicks one day.
* * * *
When Ray was four years old, his father, Jose Valdez, a volatile young Cuban-American who was enlisted in the Air Force, once struck his mother so badly that he feared he had killed her. Valdez dragged her into a closet of their 13th street apartment. Panicked, he grabbed Ray and fled to Cuba while his wife lay unconscious. "When he got to Cuba, he called New York," says Negron, "to find out what the scenario was. He talked to a cousin of ours and she told him that my mother was okay. Being the kind of person he was, he left me in Cuba with his family and reported back to base. I don't remember much, other than moving around a lot, from house to house, and being told that my mother would come to get me soon. It took her six months to raise the money to get a couple of fares to come down, get me and come back. This was just as Castro was about to take over, so it was some heavy shit down there."
Ray's mother later married, Cirillo Negron, who owned a bodega in Williamsburg, Brooklyn. They had two daughters together, and Negron adopted Ray.
Valdez didn't object. "He didn't have to pay child support. That was my father."
Negron was a good provider but rarely at home. "My mother was the one," says Negron. "She was the anchor, a typical Latin mother. She ironed our clothes and cooked wonderful Spanish food—we never lacked for good food." But she too was distracted, raising two daughters and taking courses at Hunter and later, Queens College, on her way to earning a teaching degree. Ray learned to fend for himself from an early age.
By the time he was in high school, Negron would meet up with his two younger half-brothers at Yankee Stadium to hang out. They would play hand ball or paddle ball in the courts alongside the Stadium, then sneak in and watch the game. "It was easy," says Negron. "Sometimes the guards just let us in. There were 3,000 people in the park. Nobody gave a shit.
"My mother was in denial of my brothers in the Bronx," Negron continues, "and she had a hatred of my father. Remember, this is the man who kidnapped her son. She didn't want me talking to him, I couldn't say anything about him. I had to act like he was dead around her."
But Ray had an aunt who kept in touch with his father and would pass along news about him to Ray—where he was staying, what he was doing--information that he had to keep to himself. "I'd call him sometimes. He was an artist, a painter—not that he ever made any money. Sometimes he didn't have any job and he lived off people. He chased woman, he drank. More than anything I think he was embarrassed around me, but he never apologized, never offered anything. There were no promises. Sometimes you like the false hope, so at least you can bullshit yourself. But there was nothing. When we talked it was strictly about how fucked up my mother was. He would trash her and I would take it. 'I had to do what I had to do,'" he says, his voice scratchy and shrill like his father's. "'Your mother didn't understand things; that is the way it was…' Just raving like a jerk."
Ray had not seen his father for more than a year on the hot July afternoon in 1973 when he and his brothers met their cousins Edwin and Christopher Perez, at the Stadium. Jimmy Madorma, a friend of Ray's from Queens, was there too. At the time, Yankee Stadium was a year away from an extensive overhaul, the South Bronx was a war zone, and the Yankees hadn't mattered in a decade.
Ray's brothers were tough street kids from Hunt's Point, a neighborhood rife with violence, burning buildings and junkies. Ray's cousins were from East New York and they were even tougher than Ray's brothers. "For me, going to the Stadium was just about being with my brothers and my cousins, and act like bad asses," says Ray. "Even though I knew I wasn't tough, I liked the sexiness of my brothers being dickheads per se. I don't mean that in a bad way either; we cared about each other."
On that July night, it was early, well before game time when Ray and his crew arrived uptown. The boys played paddle ball for a while, then wandered over to the Stadium. Later they would sneak in and watch the game. Ray was the oldest, a gaunt teenager with delicate features and a big afro. He was sporting bell-bottom jeans and Converse sneakers. One of his cousins had a can of white spray paint. Ray was a jock, not a graffiti artist, but everywhere you turned in New York, public property was covered with tags like Taki 183; the subway lines were decorated with car-long murals, and inside, they were littered with chaotic scrawls. Ray grabbed the can and started spray painting on the wall of Yankee Stadium, outside what would be the third base line.
A black limousine pulled up behind the boys as Negron painted the "NY" logo. The boys scattered like buckshot, leaping over the limo. Negron heard his brothers' shout, "Look out," but he got a late jump and before he could get far, a hand grabbed him by the scruff of the neck. When he turned around, he saw his brothers and cousins a safe distance away. Then he looked up at a stout, angry man wearing a white dress shirt and a navy blue blazer. A security guard stood next to him. It was George Steinbrenner, a man Negron had never seen let alone heard of before. The Yankee owner grabbed Negron by the arm and marched the vandal into the bowels of the Stadium, directly to a small holding cell, which served as a police outpost. Negron pleaded with the man, "Cut me a break, will ya? I swear, I'll never do anything like that again. Give me a chance, please."
Steinbrenner replied, "No. You are going to learn. You're going to pay the price for this. I'm going to make sure you learn."
He shoved Negron into the cell and left. Negron was terrified. One of the cops taunted him.
"You know what?" Negron remembers today. "It was just, the team was bad, the stadium was corroded. It was just about doing an 'NY' on the wall as far as I was concerned. It was innocent. It wasn't about writing 'fuck you' on the wall or anything."
Less than ten minutes later, Steinbrenner returned. "Get him out of there." Steinbrenner escorted Negron around the corner to the Yankee clubhouse and brought him to Pete Sheehy, the team's clubhouse manager since the Babe Ruth days. Steinbrenner told Sheehy to get Negron a uniform. "He's got damages he's got to work off."
Jimmy Madorma couldn't believe that Ray had gotten caught. He played ball with Ray and looked up to him. Most of all, he was panicked about how he was going to find his way back home to Queens. Ray had gotten him to the Bronx, and Ray was his ticket home. Jimmy's mother would be furious if she knew he was in the Bronx. With no recourse, Jimmy snuck into the park with Ray's two brothers and cousins. They sat in the upper deck for a few innings, watching the game. But Jimmy could not enjoy himself, even as they crept down closer to the action.
More than an hour later, Jimmy looked down at the field with binoculars between innings when he saw Negron. He couldn't miss the afro. Jimmy made his way down close to the field. Negron was wearing former back-up infielder Jerry Keaney's uniform and had borrowed Jimmy Ray Hart's glove. He was having a catch with Yankee right fielder Ron Bloomberg.
"Ray, what are you doing?"
"I can't talk now, I'm working."
"You're working? I'm glad you're alive. What working?"
"I can't talk to you now. I'll tell you about it later."
Negron laughs now when he thinks about how seriously he took first job from the start.
"When I was hanging with my brothers, it was the time that they were ready to let fucking go," Negron says to me. "You talk about kids that grew up in Hunts Point. At that time, I'm telling you, the game kept me from that. Once I got into the Yankees that was everything to me."
Part II, coming tomorrow
Photographs appear courtesy of Ray Negron