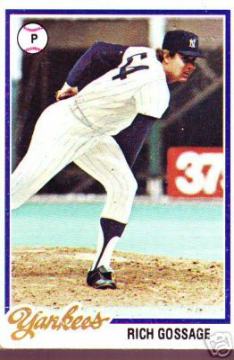 I sometimes refer to the Baseball Writers Association of America (BBWAA) as "masters of the obvious" when it comes to the Hall of Fame elections. Last year, the BBWAA voted in automatic, slam-dunk selections like Cal Ripken and Tony Gwynn, even with misguided writers submitting blank ballots for self-righteous reasons. Yet, when it comes to subtler selections, players who weren't iconic figures but were still dominant stars for extended periods of time, the Baseball Writers haven't shown a similar aptitude.
The writers have a chance to rectify that situation this Tuesday, when the results of the 2008 election will be announced in New York City. (Alex Belth and Cliff Corcoran, will you be attending the press conference at the Waldorf-Astoria?) The litmus test will be provided by Rich "Goose" Gossage (as seen in this odd 1978 Topps card), who has been on the ballot for eight years and has never received more than the 71 per cent of the vote he picked up in 2007. The Goose was the most egregious omission on the 2007 ballot—an omission that serves as a black mark against the writers' voting patterns in recent years. To me, it's patently obvious that Gossage, who led the league in saves three times and finished second two other times, belongs in the Hall of Fame. Here are a few reasons why:
*For nine straight years, Gossage posted ERA's of 2.90 or less. That's right, from 1977 to 1985, Gossage didn't have even one season with an ERA as high as 3.00. That's a pretty long level of peak performances, without any bleak seasons to break up the string. Some of his ERAs were eye-popping during that stretch: 1.62, 2.01, and an unfathomable 0.77 in the strike year of 1981. And it's not like he did that pitching as a situational reliever or in a one-inning, ninth inning, comfort role; he logged large numbers of innings during that time, far more than typical closers do in the current-day game.
*In recent years, Sabermetric research has shown the value of pitchers who can strike out large numbers of batters, thereby putting less pressure on the fielders behind them, reducing the element of bad luck base hits, and preventing baserunners from coming home on sacrifice flies. Well, Gossage was a Sabermetric dream in this respect, reaching 100-strikeout totals five different times as a reliever and matching Rollie Fingers' career total. Bruce Sutter achieved that only three times. When it came to the pure power of the fastball, no relief ace of the 1970s could match The Goose.
*Gossage was an absolute workhorse. Unlike the fashionable pitching trends of today, which require one inning per night from a closer, Gossage often pitched the seventh, eighth, and ninth innings in recording saves. Four times in his career, he accumulated 100 or more innings while pitching out of the bullpen. Pitching for the 1978 World Champion Yankees, Gossage pitched more innings than either Jim "Catfish" Hunter or Jim Beattie, the team's fourth and fifth starters. How many closers in today's game log more innings than their teams' No. 4 starters?
*Except for his legendary tangles with George Brett, Gossage was a superior reliever in the postseason. He generally excelled with the Yankees, but did struggle in his lone postseason showing with San Diego. Still, even with the problems he had facing Kirk Gibson, Goose put up terrific October numbers. Over a span of eight postseason series, he posted a 2.87 ERA with 29 strikeouts in 31 innings. He did his best postseason pitching in the World Series, with an ERA of 2.63 in 13 innings.
*One could make an argument that Gossage was the best reliever of the 1970s. Only Hall of Famers Fingers and Sutter can really take their rightful places in that argument. Is there not room in the Hall for a third reliever from the decade that introduced a spectacular level of relief pitching, a decade that included standouts like Bill Campbell, Gene Garber, John Hiller, Dave LaRoche, Sparky Lyle, Mike Marshall, Tug McGraw, and Kent Tekulve?
In my mind, Gossage was at least the second-best reliever of that era, just behind Fingers and perhaps the equal of Fingers. Gossage enjoyed a longer peak than Sutter, and also had the longer career. It's still not clear to me why Sutter is in the Hall of Fame—and Gossage is not.
Hopefully the writers will rectify this inconsistency in 2008. History favors Gossage; any player who has received as much as 71 per cent of the vote from the writers has eventually breached the 75 per cent barrier. It will be very close, with Gossage likely to finish somewhere in the 73 to 77 per cent range, but I have a feeling that it will happen this time around. And the Hall will be a better place with The Goose nesting in Cooperstown during the final weekend in July.
Bruce Markusen is the author of "Cooperstown Confidential" at MLB.com and has written seven books on baseball.