By Bruce Markusen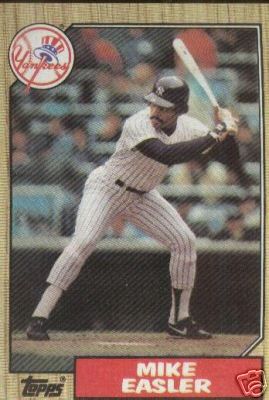 Mike Easler—Topps Company—1987 (No. 135)
As a child of the 1970s, I've always loved wood paneling in a home. I even appreciate the cheap, cardboard-thin wood that lined the basements of many houses in the northeast corridor during the seventies. Given my affection for wood paneling, it's not surprising that Topps' 1987 wood-bordered set ranks as my favorite of the 1980s.
With the wood border providing an ideal framework, Mike Easler's card rates near the top of my list. This card, No. 135 in the set, gives us a clear view of Easler's memorable batting stance. Unlike most power hitters, Easler batted out of a pronounced crouch, a pose usually preferred by singles and doubles hitters the ilk of Pete Rose. After attacking a pitcher's offering with a fierce uppercut, Easler finished off each swing with his signature flourish—an exaggerated rotation of the bat, the equivalent of a helicopter motion. Even as a college student in the 1980s, I used to mimic the Easler "helicopter" during meetings with fellow baseball diehards. No one of Easler's era finished his swing in such a way, and no one since has matched Easler's twirling of the bat.
In addition to his distinctive batting style, Easler also had a descriptive nickname. Although most Yankee fans remember Don Mattingly as "The Hit Man," he was not the first to acquire the nickname. Easler preceded Mattingly as the original Hit Man, a testament to his aggressive style at the plate and his ability to pepper line drives from one outfield gap to another. Unlike most left-handed hitters with power, Easler boasted a particularly effective opposite-field stroke, which he seemed to prefer over pulling the ball to right field. Easler was usually at his best hitting the ball with gusto toward left-center, an ability that he honed during his years at Fenway Park. Easler became particularly adept at hitting "The Wall" at Fenway, an advantage that he would lose during his two stints with the Yankees. Unfortunately, left field at Yankee Stadium has never provided a reachable target for left-handed hitters, and that did not change for The Hit Man, who struggled to fill the shoes of the player for whom he was traded, Don Baylor.
Still, Easler was reasonably productive in his first go-round in Yankee pinstripes. He played well as a platoon DH and left fielder, sustaining a role that he had filled with the Boston Red Sox. Prior to that, Easler had forged a niche as a highly successful part-time player with the Pittsburgh Pirates, which included a cameo during the team's World Championship season in 1979. That Easler sustained a lasting major league career of consequence throughout the 1980s is testament to his perseverance. For most of the 1970s, Easler bided his time in the minor leagues, save for unproductive cups of coffee with the Houston Astros and California Angels. Along the way, he won two minor league batting titles. Yet, major league scouts didn't like Easler; they viewed him as nothing more than a platoon player, incapable of hitting left-handed pitching, and regarded him as a butcher in the outfield. They didn't feel he hit with enough power or possessed enough speed. Even as Easler filleted minor pitching at Double-A and Triple-A, scouts dismissed him as nothing more than a career minor leaguer.
Most players would have been excused for taking their minor league numbers to Japan for a bigger payday, but Easler remained adamant about a career in the major leagues. Easler's persistence started to deliver dividends in 1977, when the Pirates first brought him to Pittsburgh. By 1979, he appeared capable of contributing in a small role to a World Championship club. By 1980, he had convinced everyone that he belonged in the major leagues for the long haul.
Easler also helped his cause by becoming popular in the clubhouse. Teammates liked him, as did the media. Easler always answered questions from the press after games, regardless of the outcome. Even the most jaded Red Sox reporter, weary from having to deal with "unfriendlies" like Jim Rice and Wade Boggs in an exceedingly difficult clubhouse, could find solace at Easler's locker. Easler would always talk—no matter what.
Given his sociability, his relentless determination, and his resplendent hitting style, it's easy to see why Easler became one of my favorites during the 1980s. His 1987 Topps card might not be worth much—it's a common card from an era in which too many cards were produced to begin with—but it's still a nice one to have.
Bruce Markusen is the author of seven books, including A Baseball Dynasty: Charlie Finley's Swingin' A's. His newest book, a revised edition of Tales From The Mets Dugout, is now available from Sports Publishing. Bruce is a resident of Cooperstown, NY.