By Bruce Markusen
Throughout the year, we'll be spotlighting a variety of historic baseball cards at Baseball Toaster. Some will feature former Yankees, and most will be from the sixties, seventies, and eighties. We'll discuss some of the intricacies of the cards--and the players featured on them. We hope you enjoy them.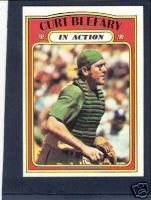 I started collecting baseball cards in 1972. That was 35 years ago, though it seems more like three and a half. I remember well my first trip to Gillard's Stationary Store in my hometown of Bronxville, New York. My first card, the one that was on the top of the pack I purchased, featured Dave Cash of the World Champion Pittsburgh Pirates. That seemed to be pretty good luck to me, obtaining the card of an everyday player for the best team in baseball.
It wasn't until many years later that I happened to pick up another card that turned out to be a favorite of mine, No. 692 in that old Topps set. Back then, Topps issued cards in series, with the high-numbered cards usually released sometime in August. By then, most of us had moved on to collecting football cards for the upcoming NFL season. So I never even saw Curt Blefary's high-numbered action card that year. I didn't pick it up until I had started to become a serious collector, buying it for a few dollars from a local baseball card dealer sometime during the 1980s.
Why did I like that Blefary card? First, it was an action card, which was fairly rare back then. In 1972, Topps heralded every one of its action shots by surrounding it with a bold red border, topped off by the words, "In Action," near the top of the card. Second, I loved the Oakland A's of that era, the height of Charlie Finley's green-and-gold dynasty. And third, Blefary was a former Yankee, always my most favored team.
There's another interesting feature to the card, one that I didn't even grasp until years later. I find it strangely ironic whenever pitchers on baseball cards are shown holding bats in their hands. Similarly, it seems a little incongruous when bad fielders are photographed wearing gloves or mitts. That's exactly the case with Blefary's 1972 action card (one of his final two cards with Topps), which shows him taking a defensive posture as a catcher for the A's. Blefary had long since earned the nickname "Clank," which represented the imaginary sound the ball made when it caromed off his less-than-reliable hands. (We can thank Frank Robinson for the Clank moniker, which he pinned on Blefary during his years in Baltimore.) Yet, Blefary wasn't just a bad catcher; he was an unusually versatile player who was bad at several different positions. In fact, Blefary carried around eight different gloves, in the eventuality that he might catch, play first, second or third base, or patrol the outfield. Although Blefary brought enthusiasm and versatility to the utilityman role, he represented a defensive liability everywhere.
In 1972, Blefary began spring training as Oakland's second-string catcher behind Dave Duncan. After hitting .360 during the spring, Blefary somehow managed to fall to fourth-string catcher behind Duncan, Gene Tenace, and Larry Haney. Although Blefary was an effective backup player for the A's, fourth-string catchers usually don't have much job security on a team's 25-man roster—not even in 1972, when teams carried fewer pitchers than they do today and might have had room for an extra receiver.
In spite of his burial on the team's depth chart, Blefary kept himself ready to play and served the A's well in a backup role, rapping out five hits in his first 11 at-bats of the 1972 season. Then rather mystifyingly, the A's traded Blefary to the San Diego Padres for another colorful veteran, outfielder "Downtown" Ollie Brown.
Blefary's mouth, which often placed him in the center of turmoil, may have played a role in his departure from Oakland. Right before the start of the 1972 season, Blefary had expressed his dissatisfaction with his fourth-string status by issuing a play-me-or-trade-me order. The veteran utilityman had become famous for making such proclamations during his journeyman career with the Yankees, Baltimore Orioles, and Houston Astros. "Sometimes my mouth went into gear before my brain was engaged," Blefary once admitted to the Baltimore Sun. "I had to play every day or I was mad." One day after his latest outburst, Blefary apologized to Dick Williams for putting his manager on the spot right before Opening Day.
A's owner Charlie Finley did not appear to be as forgiving as Williams, as he sent Blefary packing to the National League early in the '72 season. After the announcement of the trade, Blefary made another proclamation; he threatened to retire and become a policeman if the Padres did not renegotiate his contract.
Realizing that he didn't want his career to end so suddenly, Blefary changed his mind and reported to San Diego. Blefary played sparingly with the Padres, who released him after the season. The timing could not have been worse. The move ended Blefary's major league career at the age of 29, only one season before the American League adopted the designated hitter rule—a rule that would have perfectly suited a defensive misfit like Blefary. If there was ever a man born to be a DH, it was the man known as Clank.
Sadly, Blefary's career after his playing days proved equally frustrating. He tried to land a job in baseball as a coach, but no one would hire him, perhaps because of his reputation for being so outspoken. Instead he worked a variety of jobs, putting in time as a bartender, sheriff, and truck driver, among other professions. In his later years, Blefary fell ill with pancreatitis, a disease that took his life at the youthful age of 57. At his request, his wife scattered his ashes at old Memorial Stadium in Baltimore, where Blefary had once played.
Bruce Markusen is the author of seven books, including A Baseball Dynasty: Charlie Finley's Swingin' A's. His newest book, a revised edition of Tales From The Mets Dugout, is now available from Sports Publishing. Bruce is a resident of Cooperstown, NY.