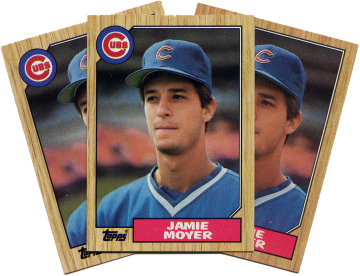 All of the baseball cards that I use to illustrate my posts are from my personal collection, which includes every regular-issue Topps set dating back to 1979. The first complete set I ever owned was the 1987 set. It remains one of may favorites both because of its nostalgic significance to me, and because of its appealing design and fine photography. With the recent quasi-retirements of Roger Clemens and Barry Bonds (the latter of whom was pictured on the first card in the first pack of 1987 Topps cards I ever bought, his .223 average prompting me to think he was some skinny slap-hitting nothing), the last remaining active player who had a card in the 1987 set is Jamie Moyer (Moyer's then-teammate Greg Maddux is the only other active player from the 1986 season, but his first Topps card was a 1987 traded card). I had written Moyer off as a scrub in the early '90s. He was released by the Rangers after the 1990 season and spent most of the 1991 and all of the '92 seasons in the minors, and I figured he was just another anonymous face on a baseball card that I'd never see again.
Instead, Moyer quickly resurrected his career with the Orioles and, after a quick layover in Boston, emerged as an unconventional star with the Mariners just before the turn of the century. Last October, I found myself at his locker in Citizens Bank Park, interviewing him about Coors Field in anticipation of his Game 3 NLDS start, and now, 21 years after I pulled his rookie card out of a pack I bought on a trip to the mall with my mom, he's starting his first World Series game at the age of 45, and I'm writing about how he could cost the team he grew up rooting for a chance at its second championship, for SI.com. I guess we've both come a long way.
Incidentally, the sight of Moyer in a Cubs cap on this card reminds me of the ex-Cub factor, a theory which was popularized in the 1980s stating that the winner of a playoff series could be determined by finding out which team had fewer former Cubs on its roster. The 2001 Diamondbacks (and the 2003 Cubs, who actually won a playoff series themselves) blew a hole in the theory, but for yucks, Phillies Moyer, Matt Stairs, and Scott Eyre outnumber the Rays' lone ex-Cub, Cliff Floyd, three to one.
Finally, here's the factoid from the back of the pictured card: "Jamie pitched 3 consecutive No-Hitters at Souderton Area High Scool, Souderton, Pa. in 1980." Yes, 1980.