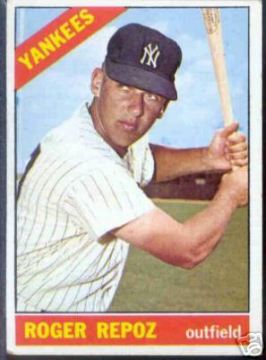 Most baseball fans who navigate the internet know of the man named "Repoz," the pseudonym for Darren Viola, who selects and introduces articles for Baseball Think Factory. But where did that nickname come from? We can thank a former Yankee outfielder from the 1960s for that little invention.
Roger Repoz (pronounced re-POZE, as in someone "lying in repose") not only had a lyrical name, but also seemed destined to become a major league superstar. Some members of the Yankee organization regarded him as the next Roger Maris, but Repoz (seen here in his 1966 Topps card) would end up settling for a career that was more along the lines of Roger Cedeno or Roger Metzger. As if the Maris comparisons weren't stressful enough, many New York writers and fans began referring to Repoz as the "next Mickey Mantle," in part because he shared a blonde crew cut and a powerful uppercut swing with the legendary Mantle.
Playing for the Triple-A Toledo Mud Hens and employing a newfound batting stance in 1965, Repoz emerged as a top-flight Yankee prospect, prompting minor league manager Frank Verdi to call him the best everyday player in the International League. Shortly thereafter, Repoz earned a mid-season promotion to the Yankees, with mediocre old favorite Horace Clarke sent back to Triple-A to make room for the young outfielder. (That exchange, in and of itself, should have been something of a harbinger of doom.) Given his talent, Repoz seemed like a can't-miss superstar in waiting. An excellent defensive outfielder with the speed to play center field, Repoz also owned the kind of left-handed pull hitter's swing that made him a perfect fit for Yankee Stadium.
With everything in place, including an opportunity to play for a team in decline, Repoz should have continued the Yankees' long line of center field greatness. So what the heck happened? Repoz may have had a smooth, picturesque swing that produced 23 home runs over parts of three seasons in pinstripes, but he struck out too much, tried to pull the ball too frequently, tinkered with his batting stance endlessly, and couldn't touch left-handed pitching. Soon realizing that he would never transform himself into the next Mantle or Maris, the Yankees traded Repoz to the Kansas City A's as part of a package for pitcher Fred Talbot and catcher Billy Bryan. When the A's came to the same realization as the Yankees, they sent him to the California Angels for pitcher Jack Sanford and outfielder Jack Warner.
Repoz' fortunes continued to flutter in Anaheim, but he did play better for the Angels than he had for the Yankees or the Athletics. In 1968, Repoz put together his finest season, an ironic development given that it coincided with "The Year of the Pitcher." He batted a not-so-terrible .240 and reached then career highs with 13 home runs and 54 RBIs, totals that would have been even higher if he had not missed nearly 30 games while serving as a private first class in the National Guard. In assessing his 1968 breakout, Repoz gave much of the credit to his use of an Exer-Genie, an exercise machine developed by NASA for astronauts who needed to work out in the confined quarters of a spacecraft. If only the Angels had played their games in outer space.
After a miserable 1969 season—the only bright spot was a career-high 60 walks—Repoz rebounded in 1970, launching a career-high 18 home runs in 407 at-bats. The Angels rewarded his power surge by making a trade with the White Sox for Gold Glove center fielder Ken Berry, which made Repoz the odd man out in the Angels' outfield. With Berry flanked by the enigmatic Alex Johnson in left and the comebacking Tony Conigliaro in right, Repoz' days as an everyday outfielder had come to an abrupt end.
By 1972, Repoz' career reached a crossroads. No longer in California's plans (and now sporting some of the worst sideburns in the game), Repoz found himself exiled to the Orioles' organization, where he resurfaced as an everyday outfielder in Rochester. Playing for the Triple-A Red Wings, Repoz earned the nickname "Rocket Man" because of the lengthening distance of his home runs. But then in August, he took a backward turn, enduring a 4-for-45 slump that resulted in a barrage of boos from Rochester fans.
Repoz' 1972 struggles convinced him to seek employment elsewhere. Like other onetime Yankees Clete Boyer and Joe Pepitone, Repoz signed a lucrative contract for $123,000 with the Taimeiyo Lions of the Japanese Leagues. That might not sound like a lot of money, but it made him more highly paid than many established stars in the major leagues at the time. His new Japanese contract brought a new set of expectations, with Asian fans but merely expecting him to emerge as the "next Sadaharu Oh." That never happened, leaving fans with a sense of disappointment once shared by fans of the Yankees.
So by the end of his playing days, Repoz had managed to disappoint two sets of fans on two different continents. That should have guaranteed that he become forgotten in the baseball world, but thanks to the work of a man now carrying his name at another web site, that won't happen for a long, long time.
Bruce Markusen writes "Cooperstown Confidential" for MLB.com.