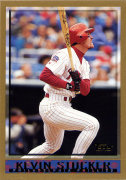 It's strangely fitting that the Phillies and Rays are meeting in the latter's first World Series. When then-Devil Rays general manager Chuck LaMar was assembling what would be the inaugural Rays roster in late 1997, he decided to build his team around pitching and defense. Any good defensive team needs a strong defensive shortstop, so LaMar worked out a deal with the Phillies to draft a young outfielder out of the Astros' system in that November's expansion draft and flip him to Philadelphia for the Phillies good-field/no-hit shortstop Kevin Stocker.
Stocker had taken over the Phillies shortstop job as a rookie in July of their pennant-winning season of 1993 and had since established himself as one of the game's best defenders at the position. A 27-year-old switch-hitter who wouldn't price himself off the team, Stocker was exactly what LaMar was looking for to anchor his new team's infield. The problem was that LaMar had failed to notice the steep drop off in Stocker's defense during the 1997 season. Stocker's glove recovered in 1998, but he had his worst season at the plate, hitting just .208/.282/.313, and his season was mercifully ended a month early when his hand was broken by a pitch. The next year his bat picked up, but his glove work declined again, and knee tendonitis ended his season soon after the All-Star break.
That winter, LaMar scrapped his defense-first concept, signing aging sluggers Greg Vaughn and Vinnie Castilla to join Jose Canseco and original Ray Fred McGriff in the Tampa lineup. Stocker, the symbol of the Rays' abandoned approach of just two years earlier, was released in May. Despite LaMar's shift in focus, the Devil Rays of 2000 once again finished a distant last in the American League in runs scored. Making things worse, the young outfielder Lamar had used as currency to acquire stocker was a 23-year-old Bobby Abreu, who hit .312/.409/.497 as the Phillies' right fielder in the Rays' inaugural season of 1998 and proceeded to perform at a Hall of Fame level over his eight and a half seasons in Philadelphia.
Now, a decade later, LaMar is the Phillies' scouting director, and his team is in the World Series against a Rays' team that produced its first winning season, first playoff berth, first division title, and first pennant in part due to a renewed focus on pitching and defense. The signature player in that renewed focus is Jason Bartlett, a good-field/no-hit shortstop who was acquired for a talented young outfielder. The trick being that Bartlett wasn't the key player in the deal that brought him to Tampa Bay from the Twins, righty starter Matt Garza was, and the outfielder he was traded for, Delmon Young, is no Bobby Abreu, which just goes to prove that intention is only as good as its execution.
To be fair, LaMar deserves to have a better legacy in Tampa Bay. It was under Lamar that the Rays drafted Aubrey Huff, Carl Crawford, Rocco Baldelli, James Shields, B.J. Upton, Andy Sonnanstine, and Young, and it was Lamar who fleeced the Mets in the Scott Kazmir deal. Still, it took a change in ownership and an overhaul of the front office for the Rays to figure out how to make proper use of that bounty.
My point in all of this is that, even in a World Series in which the two combatants have just one prior championship between them (the lowest combined total since 1980 when the Phillies and Royals met, both looking for their first), there is still some history here.
For more from me on this match-up, check out my position-by-position breakdown and preview of Game 1, both up on SI.com.