The current-day Yankees, a former pinstriped shortstop, and a baseball movie at the Hall of Fame have all created interest for your Cooperstown correspondent. Here are the latest musings from upstate New York:
Now that the disappointment of a lost 2008 season has given way to reluctant acceptance, I'm fully ready to embrace an off-season that I hope is filled with activity for the Yankees. The winter plan should begin right now, with the Yankees giving strong consideration to the futures of free agents Jason Giambi, Bobby Abreu, Mike Mussina, and Andy Pettitte.
Of the four, Abreu is the most interesting case, and perhaps the most debatable. At the age of 34, he's nowhere near the player he was during his peak years in Philadelphia, but he's still a viable batter who can contribute mightily to a pennant-winning team. He's a .300 hitter who still reaches base 37 per cent of the time, retains enough speed to make him a factor on the base paths, and still has the kind of 20-home run power that makes him a legitimate middle-of-the-order threat. Given those offensive strengths, I think the Yankees should attempt to re-sign Abreu—but only after two major conditions have been met. First off, Abreu has to accept a maximum of a two-year contract. Absolutely no three-year deals, not for a player who will turn 35 in March, and not even two years with one of those ridiculous player-slanted options, where the team has to buy out his contract for some ungodly amount. If Abreu insists on anything beyond two years, it's time to cut him loose and count the draft picks. The Yankees simply have to stop over-committing to aging players with long-term deals.
Second, the Yankees have to make it clear to Abreu that, if he is to return to the Bronx in 2009, he will have to do so as a DH, or perhaps even as a first baseman. Simply put, his days as an everyday right fielder have come to an end; the Yankees cannot afford his Luis Polonia/Danny Tartabull butcher-boy routine in the outfield anymore. In recent years, the Yankees have been far too reluctant to move players off their original defensive positions once they have surpassed their expiration dates. They dawdled far too long with Bernie Williams, resisting a switch to first base or left field a full three years after he had become a major liability in center field. They've been similarly reluctant with Giambi, who should have been made a fulltime DH years ago. Instead, they simply "wished" that Giambi would improve at first base, as if he could somehow magically counteract the effects of age and a lack of natural athleticism. It's time for the Yankees to change that approach, starting with Abreu. The man can still help offensively. He just shouldn't be allowed to touch an outfielder's glove until there's a ten-run differential on the scoreboard…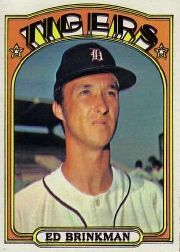 Former Yankee shortstop Eddie Brinkman passed away this week at the age of 66, the cause of death unannounced. If you don't remember Brinkman as a Yankee, that's certainly understandable. He played only part of one season in New York, as a 1975 mid-season pickup purchased for a small fee from the Texas Rangers. Though well past his prime, the Yankees were hoping that Brinkman could help them at the time that preceded the arrival of Bucky Dent. (The Yankees' shortstop situation was so bad in the mid-1970s that Jim Mason ranked No. 1 on the depth chart. Ugh.) Brinkman had enjoyed some of his best seasons in Detroit, where he emerged as a key contributor to the Tigers' 1972 American League East title. Playing in 156 games that summer, he committed only seven errors, setting a major league record for fewest miscues by a fulltime shortstop. He also put together a streak of 72 straight games without an error, particularly impressive given the lack of artificial turf in the American League at the time. Brinkman played so well defensively that he actually finished ninth in the league's MVP balloting, despite hitting .203 with a .279 slugging percentage.
There are two things I'll most remember about Brinkman. First, he was part of the monstrous package that the Washington Senators sent to the Tigers for a fading Denny McLain. That ill-fated deal crippled the Senators, but supplied the Tigers with a newly minted left side of the infield, comprised of Brinkman at shortstop and Aurelio Rodriguez (another onetime Yankee) at third base, along with a competent starting pitcher in Joe Coleman. On a far more esoteric level, I'll always remember Brinkman for having an incredibly long neck. (Acclaimed sportswriter Tom Stanton once wrote that an older Brinkman, with his lengthy neck and bald head, reminded him of a turtle.) He was the antithesis of Walt "No Neck" Williams, yet another former Yankee. It's amazing that no one ever stuck Brinkman with the nickname of "Giraffe."
Frankly, some giraffes might have hit better than Brinkman. And I say that as someone who admired Brinkman as a player. He just couldn't hit. Outside of Ted Williams' first two seasons as the Senators' manager, Brinkman usually struggled to hit better than .220, and did so with little power. He was the kind of player who would have found it tough being an everyday shortstop in today's game, but he was a good fit for the sixties and seventies, when teams willingly gave up offense for defense on the middle infield. A beanpole of a shortstop, Brinkman had excellent range, reliable hands, and a howitzer-like throwing arm that allowed him to make plays deep in the hole. Man, he was fun to watch. Really, he was only a shade inferior to Mark "The Blade" Belanger, the man who epitomized slick-fielding, light-hitting shortstops of that era. Sadly, both Belanger and Brinkman are gone now. Rest in peace, Steady Eddie…
Last month the Hall of Fame staged its latest "Voices of the Game" event, a program celebrating the 20th anniversary of the film, Bull Durham. To the disappointment of some, there was no discussion of politics—absolutely none—during the special program featuring actors Tim Robbins, Susan Sarandon and Robert Wuhl, and Bull Durham director Ron Shelton. After film critic Jeffrey Lyons interviewed the four film notables, the Hall solicited questions from fans, who were asked to write them down. Several fans submitted written questions about the Hall's 2003 boycott of Robbins over his anti-Iraq War stance, but those queries were not used during the program. There was also no opportunity for fans to converse with the actors one-on-one, since no photo session was held afterwards, as has often been the custom at such Hall of Fame events. Instead, Robbins, Sarandon, and company were whisked away to their cars immediately after the program.
I think the decision to avoid political discussion during the program was a smart one. This program was about the film, first and foremost. But the Hall should have at least broached the subject of the 2003 controversy at the beginning of the Durham event. A Hall of Fame spokesman could have briefly explained the reasoning behind the 2003 boycott and how that rationale changed in 2008—and then be done with the issue. I believe that such an announcement, which would have effectively served as a disclaimer, would have satisfied most reasonable fans in attendance. Instead, event organizers chose to whitewash the issue, which only served to further remind everyone of the 1000-pound elephant that was sitting in the corner of the Hall of Fame's Grandstand Theater
Bruce Markusen writes "Cooperstown Confidential" for MLB.com. He can be reached via e-mail at bmarkusen@stny.rr.com.