I thought David Cone was one of the bright spots in the YES booth this year, didn't you? He improved steadily as the season progressed and I hope to hear more of him next year.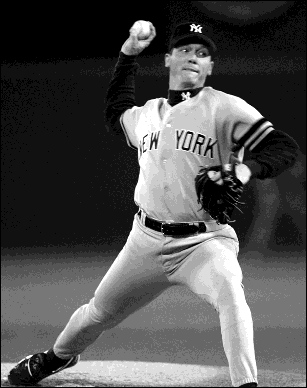 Hey, ever read Scott Raab's Esquire piece on Cone back in '99? Raab caught up with Cone during srping training and the article was a good one: check it out. My favorite part centers around Cone's anxiety about leaving the game:
"I'll miss having that ball in my hand," he says, sitting in the clubhouse before practice. "I'm going to have trouble with it, emotionally. I'd like to say, 'Hey, I'm a little more well-adjusted than that -- I have a future and I have a mind and I have things to look forward to,' but to me it's just about...I love to pitch so much."

..."I love being out there on the mound with the ball in my hand. I can control the game. I'm out there. No clock -- nothing happens until I throw that thing. Nothing happens. I love that feeling."

Something furrows Cone's brow and drops his voice just then, something few men -- athletes or not -- give voice to: fear.

"Maybe I should've left after last year," he says quietly, "but I'm not ready. It scares me."
Oh, and of course, there is this too:
I depart the clubhouse just in time to see Don Zimmer, the Yankees' sixty-eight-year-old bench coach, through the doorway of the coaches' locker room, buck naked. You can call yourself a baseball fan, make the pilgrimage to Cooperstown, and hock your grandma's silver to buy a Mark McGwire rookie card, but you don't truly know baseball until you've seen Don Zimmer's cascade of flesh, led southward by the dowsing rod of his manhood.

Manager Joe Torre, talking to a gaggle of reporters in the hallway outside his office, catches the same panorama and winces. "I'm sorry I turned around," he says.
Zimmer was at the track yesterday when Joe Torre called him. Perfect.