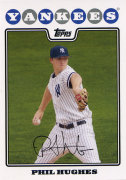 Last night's pitching matchup of Phil Hughes and likely free agent A.J. Burnett almost felt like an open audition for a spot in the Yankees 2009 rotation. I'm happy to report, Phil Hughes passed the audition. Hughes had a nasty curve working last night and used it to great effect, neutralizing yet another dominant outing against the Yankees by Burnett. After lasting just four inefficient innings in his return to the majors his last time out, Hughes stretched 100 pitches (71 of them strikes) across eight full innings, striking out six (all on curveballs), walking none, and allowing just two runs on five hits. Hughes was actually beating Burnett 2-1 with two outs in the bottom of the seventh, but Scott Rolen shot a 1-1 curve over the wall in left center to knot it up at 2-2. Hughes, who was hoping to pick up his only major league win of the season, was furious at himself for allowing Toronto to tie the game, but settled down to retire the next four batters and pass the game to the bullpen.
After Jesse Carlson and Jose Veras swapped zeros in the ninth, Juan Miranda, who started at first and picked up his first major league hit in the fourth, led off the tenth with a double. Chad Moeller failed to bunt Miranda to third, but wound up working an eight-pitch walk, passing the buck to Brett Gardner, who bunted the runners up on the first try. Carlson hit Robinson Cano with his next offering to load the bases, and Bobby Abreu cashed it all in with a grand slam that handed the Yankees a 6-2 win. Sidney Ponson, of all people, pitched a 1-2-3 bottom of the tenth to seal the deal.
"One good outing isn't going to erase an awful season with injuries and being in the minor leagues," said Hughes, "but it's good to end on a positive note and carry that over into next year." Hughes didn't get the win, but he shaved 1.3 runs off his season ERA. He finishes the year having thrown just 69 2/3 innings between the majors and minors and will go on to pitch in the Arizona Fall League in order to get his innings total up to a higher baseline for next season, though he's unlikely to get past 100 innings all together, even with the AFL work.
Still, Hughes looked great last night. Joe Girardi said, "he did everything right tonight." His curveball, which is his put-away pitch, was monstrous, and the cutter he developed this summer is already rivaling his four-seamer. When Hughes is able to locate the latter, he should be able to dominate the way we've all expected him to, which was exactly the case last night. Phil Hughes needed that start, and the Yankees needed that start. True, one good outing won't erase the lost season that preceded it, but it served an important reminder that Hughes is still one of the top pitching prospects in the game.