Phil Hughes was seven years old the last time the Yankees were eliminated during the regular season. Tonight he'll be the first pitcher to start a game for an eliminated Yankee team since Sterling Hitchcock took the Camden Yards mound on September 28, 1993. Like Hughes, Hitchock was a well-regarded 22-year-old pitching prospect at the time, but he never fulfilled his potential due to a combination of injuries and ineffectiveness. Here's hoping Hughes, who pitched well though inefficiently in his last start, won't meet the same fate.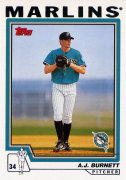 Fittingly, tonight's matchup of Hughes and Yankee killer A.J. Burnett should conjure up a fair bit of hot-stove conversation. Burnett is all but certain to opt out of his contract this fall as he's set career highs in games, starts, innings, strikeouts and wins this season and could finish with 19 victories by beating the Yankees tonight. His 1.78 ERA in four previous starts against New York has certainly piqued the Yankees' interest, but they'd do well to notice that Burnett's season ERA is barely above average and dips below average when you take away his dominance of the Bombers. He's also going to be 32 on Opening Day next year and has a very sketchy injury history. In fact, all of those career highs this year are the result of the fact of that, at age 31, Burnett has been healthy enough to start 30 games for just the second time in his career this year. Burnett has better stuff than former Marlins teammate Carl Pavano, but the Yankees would do well to remind themselves of the similarities between the two pitchers when contemplating the free agent Burnett.
Phil Hughes' one quality start in the majors this season came back on April 3 against the Blue Jays. Another one in this, his last start of the season, would go a long way toward building both his confidence and the team's confidence in him heading into next year, and would reduce the chances of the Yankees making a desperation move for an expensive injury-prone veteran like Burnett or Ben Sheets. In that way, Hughes beating Burnett tonight would be a tremendous victory for the future of the franchise. But, hey, no pressure.