Alfredo Aceves matched Mark Buehrle for six innings last night. Xavier Nady put the Yankees on top with a two run jack to dead center in the second. Aceves uncharacteristically started the fourth by walking leadoff hitter Orlando Cabrera, his only walk of the night, then was made to pay for it when Dewayne Wise turned on an inside cutter and kept it fair into the left field box seats to tie the game. Otherwise, both pitchers kept the game moving (official time: 2:39) and the opposition at bay.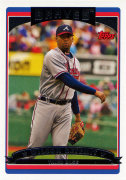 Aceves was inexplicably pulled after just 87 pitches (69 percent strikes and just two three-pitch counts), but Phil Coke worked a 1-2-3 seventh to set up the Yankees breakthrough after the stretch. With Buehrle out after 101 pitches, Xavier Nady led of the bottom of the seventh by coming back from 0-2 to work a walk off sidearming righty Erin Wasserman. Cody Ransom, starting at second base for the still-benched Robinson Cano, then bunted Nady to second, and Joe Girardi sent Wilson Betemit in to pinch-hit for Chad Moeller. Ozzie Guillen called on Horatio Ramirez to turn Betemit around to the right side. Betemit took ball one from Ramirez, fouled a fastball straight back, swung through another, fouled an outside pitch down the right field line, took ball two, then laced ground-rule double over the wall in the left-center field gap to plate Nady with the go-ahead run. Brett Gardner followed with deep fly that moved Betemit to third, and Johnny Damon drove Wilson in with a single through the right side.
Girardi handed that 4-2 lead to Joba Chamberlain, who pitched around an infield single in the eighth striking out two, and Mariano Rivera, who passed Lee Smith for second on the all-time saves list with a 1-2-3 ninth. Rivera's reaction to passing Smith: "S'arright." Pete Abe says, "The closer is furious the team isn't going to the playoffs. Furious."
As with Aceves' first start, it was a nice, quick, clean Yankee win. It also moved the Yankees into a tie for third place with the Blue Jays, for what it matters. Elsewhere, the Red Sox pulled into a technical tie for first place by stomping the Rays 13-5, though Tampa Bay still holds a one-game lead in the loss column.