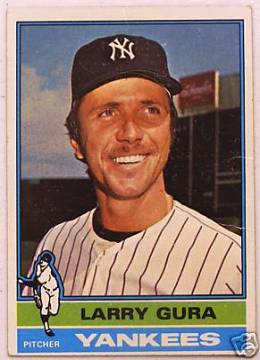 If Shea Stadium had featured a doghouse in 1975, surely Larry Gura would have occupied a prominent place within its walls. Such was life with the Yankees at that time, given the way that the temperamental Billy Martin liked to run his clubhouse.
Gura didn't actually begin his career with the Yankees, but eventually found his way to Queens in 1974 and '75 after beginning his major league days in the National League. Originally taken by the Chicago Cubs in the second round of the 1969 draft, Gura arrived in the Windy City one year later. Pitching sporadically over his first four seasons, Gura failed to impress and never gained the trust of Leo Durocher, who preferred veteran pitchers. With his major league resume spotty, the Cubs traded Gura to the Texas Rangers as the player to be named later for veteran lefty Mike Paul. (Gura has always maintained that he was part of the deal that sent Ferguson Jenkins from the Cubs to the Rangers, but that blockbuster was actually made after Gura had already been traded, so it's a little hard to figure.) Gura never actually appeared in a game for the Rangers, who traded him in May of 1974, sending him to the Yankees for washed up catcher Duke Sims. Much like the Cubs, the Rangers lacked patience with Gura, giving up on him quickly in part because of his lack of velocity and the absence of a dominating out-pitch.
In the midst of the 1974 season, the Yankees called Gura up from the Syracuse Chiefs of the International League. The Yankees gave Gura eight starts. He rewarded them with an ERA of 2.41, a record of 5-1, four complete games, and a mere 12 walks in 56 innings. With manager Bill Virdon and pitching coach Whitey Ford in his corner, no one seemed to mind that Gura struck out only 17 batters in those appearances.
Convinced that his 1974 performance was no fluke, the Yankees penciled in Gura as their first starter in 1975, behind a quartet of Jim "Catfish" Hunter, George "Doc" Medich, Rudy May, and Pat Dobson. Gura responded by pitching reasonably well, certainly better than the standard by which most No. 5 starters are judged. All of that began to change in August, when the Yankees fired Virdon and replaced him with Martin, who had just become available after being ousted by the Rangers. Martin was already somewhat familiar with Gura, having watched him pitch in one game during spring training of 1974, when both were still with the Rangers. Based on one inning of work, Martin had determined that Gura was not ready, saying that he lacked good control, and demoted him to the minor leagues. With those first impressions solidly entrenched, apparently based on the smallest of sample sizes, Martin had little interest in watching Gura pitch meaningful regular season games. Adopting a four-man rotation, Martin removed Gura from the starting staff and dumped him in the bullpen.
So why did Martin seemingly detest Gura? First, the manager didn't believe that Gura had enough "stuff" to succeed in the major leagues. Martin regarded him as a junkballer who lacked the smarts or experience to overcome the absence of a dominating fastball or a powerhouse slider. In some ways, Martin's assessment sounded reasonable. After all, the Cubs had given up on Gura for virtually the same rationale. But Martin's secondary criticism of Gura bordered on the bizarre. For some reason, Martin didn't like Gura's fascination with physical fitness. Gura, who observed a strict diet and workout regimen and eventually became a green belt in tae kwon do, believed strongly in his personal conditioning program. Martin just found it weird, an unorthodox fad that had nothing to do with real preparation for playing baseball. And then there's the infamous "tennis whites" story. Martin supposedly saw Gura wearing a white tennis outfit one day and didn't like it—not at all. (Billy sure did have some strange pet peeves, didn't he?)
Gura actually started the 1976 season on the Yankees' 25-man roster, but that didn't mean that Martin had to use him. In fact, he didn't—not even once in the five weeks that marked the start of the season. Finally, the Yankee front office ended Martin's siege by trading Gura. On May 16, the Yankees sent Gura to the Kansas City Royals in a giveaway that brought backup catcher Fran Healy to New York. Other than Reggie Jackson, who came to trust Healy as his sole ally on the Yankee teams of the late seventies, not a single person connected to the franchise would dare call this trade a victory for the pinstripes.
After first establishing himself as an able-bodied reliever, Gura would later emerge as the top left-hander in the Royals' rotation. Leading with his curve ball and slider, Gura learned to mix his pitches, master the strike zone, and overcome his pedestrian fastball. From 1978 to 1983, he logged at least 200 innings a season. A two-time 18-game winner, Gura posted ERAs of less than 3.00 on four occasions. Now let's project what his performance might have meant to the Yankees. In 1980, Gura might have helped the Yankees fare better in the postseason, when they lost three straight games to, you guessed it, the Royals. One of those Yankee losses involved a complete-game effort by Gura. Take Gura away from the Royals and put him on the Yankees, and things might have turned out differently. Gura also could have helped in the 1981 World Series, which saw the Yankees lose four straight games after claiming the first two games against Los Angeles. Additionally, Gura tormented the Yankees in regular season play throughout his career, winning 11 of 17 decisions against the Bombers.
Billy Martin knew a lot of things about baseball. He knew about strategy, about the running game, about staying three steps ahead of the opposing manager. He knew how to motivate players, including guys like Rickey Henderson. But he didn't always know about evaluating talent. And he certainly didn't know about Larry Gura.
Bruce Markusen writes "Cooperstown Confidential" for MLB.com and can be reached via e-mail at bmarkusen@stny.rr.com.