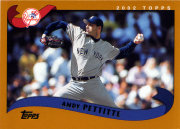 The Angels entered this series with a chance to clinch the AL West and have closer Francisco Rodriguez tie or even break Bobby Thigpen's single-season saves record, but they exchanged blowouts with the Yankees in the first two games, forcing Rodriguez, stuck at 55 saves to Thigpen's 57, to wait to make history against some other team. Meanwhile the second-place Rangers failed to help the Angels out last night, and it's only with a Rangers loss that the Angels could clinch with a win today. The Rangers' game in Seattle starts more than an hour after today's afternoon tilt in Anaheim, so even if the Angels do clinch today, they'll likely be back in their clubhouse when it happens, sparing the Yankees the indignity of watching another team celebrate.
Andy Pettitte, who is now officially in line to start the final game at Yankee Stadium two turns from now, takes the hill for the Bombers. Pete Abe has a story on Pettitte today that blames Andy's recent struggles on the disruption of his usual off-season conditioning caused by his inclusion in the Mitchell Report:
The workout regime that he believes has been the base of his success was not abandoned. But Pettitte did not put in the amount of time he usually does.

"There were times I didn't want to leave the house, much less go work out and focus on baseball," he said last night before the Yankees played the Angels.

Pettitte tried to catch up in spring training, scheduling early-morning workouts and pestering teammates to join him and provide a push. For a while, it appeared to work. Pettitte was 12-7 with a 3.76 ERA through his first 22 starts. Pettitte's history suggested that he would only improve as he season went on.

He has struggled instead. He is 1-5 with a 6.57 ERA over his last eight starts, putting 82 runners on base via hit or walk over 49 1/3 innings. Opponents have hit .325 against him.

"I was very happy with the first half I put together, then I won my first two starts after the break and I thought, 'Here we go.' Personally, it's been frustrating," he said.
Though he doesn't come right out and say it, Pettitte strongly suggested to Abraham that he wants to return to the Yankees next year both to pitch in the new Stadium, and because he believes he can recover his form of a year ago by avoiding any other interruptions to his offseason program. If he does, he stands a very good chance of moving past Lefty Gomez into third place on the franchise's all-time wins list. Gomez isn't quite Babe Ruth, but I'd be all for bringing Andy back next year given the struggles of the team's pitching prospects this season.
In other news, Ivan Rodriguez and Torii Hunter will both serve two-game suspensions starting this afternoon as punishment for their dust-up on Monday night.