It was nice to see the Yankees take two of three from the division leading Rays. It was nice to see them score 33 runs in their last four games. Unfortunately, neither really means much. They Rays still have a double-digit lead on Bombers, and the Red Sox are still 7.5 games ahead of them in the Wild Card chase, now with just 22 games left in the regular season.
Tonight, after a 3,000-mile flight, the Yanks take on the only team in the league that has been mathematically eliminated, the 54-85 Seattle Mariners. The M's are back in spring training mode, using their meaningless September to audition some of their minor leaguers and try some others out in new roles. The big story tonight is 23-year-old fireballer Brandon Morrow, who will make his first major league start after having made 100 relief appearances for the M's over the last two seasons. Morrow posted a 1.47 ERA in relief this year, has struck out 10.17 men per nine innings in his big league career, and supposedly has a six-pitch repertoire.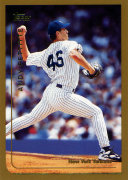 If that sounds like a recipe for a frustrating night of Yankee baseball, focus on the fact that the Yankees are also auditioning a starter tonight. Andy Pettitte is pitching on a one-year deal, so the Yankees will likely be watching his last few starts for signs that it would be worth offering him another one-year deal for 2009. Last year, Pettitte's strong second half helped propel the Yankees into the playoffs, but this year, the veteran lefty has posted a 5.54 ERA since the All-Star break, a 7.04 ERA in three season starts against the Red Sox, and his ERA+ on the season is below league average for the first time in his 14-year career. In his last two starts, Pettitte has been roughed up for 12 runs in 11 innings.
Pettitte's value this season has been largely tied up in his ability to take the ball every five days and pitch deep into games. He and Mike Mussina are the only Yankees not to have missed a start this season, and the 36-year-old Pettitte is averaging more innings per start (just less than 6 1/3 innings per turn) than the 39-year-old Mussina. Given that, the solution to the Pettitte question ultimately has more to do with how the rest of the 2009 rotation shapes up than how Pettitte himself performs this September. If the Yankees can fill up the five rotation spots without him, they should probably do so, but if they're going to need an innings-eater to take one spot, bringing back fan favorite Pettitte on a discounted one-year deal would be the smartest and safest option.
The other options for next year's rotation include Chien-Ming Wang (who will be returning from the foot injury that ended his season in June), roughly 150 innings of Joba Chamberlain (minus any that might be used in another workload-limiting stint in the bullpen), the 40-year-old Mussina (who looks likely to re-sign), a big-ticket free agent the team might not land, and a group of youngsters and minor league vets led by Phil Hughes and Alfredo Aceves. Given that, having Pettitte on hand to eat up 200 innings would likely be worth the one-year investment, particularly as a backup plan to that big-ticket free agent, but if Andy's unable to pull out of his current slump, it will force the Yankees to think much harder about whether or not they really want him occupying a rotation spot that a prospect could emerge to fill and Darrell Rasner or his like could fill in the interim.
Seattle Mariners
2008 Record: 54-85 (.388)
2008 Pythagorean Record: 58-81 (.414)
Manager: Jim Riggleman
General Manager: Bill Bavasi
Home Ballpark (multi-year Park Factors): Safeco Park (96/96)
Who's Replaced Whom:
Bryan LaHair (minors) has replaced Richie Sexson
Jeff Clement (minors) has replaced Jose Vidro
Tug Hulett (minors) has replaced Willie Bloomquist (DL)
Ryan Feierabend (minors) has replaced Erik Bedard (DL)
Roy Corcoran (minors, no relation) has replaced Arthur Rhodes
25-man Roster:
1B - Bryan LaHair (L)
2B - Jose Lopez (R)
SS - Yuniesky Betancourt (R)
3B - Adrian Beltre (R)
C - Kenji Johjima (R)
RF - Ichiro Suzuki (L)
CF - Wladimir Balentien (R)
LF - Raul Ibañez (L)
DH - Jeff Clement (L)
Bench:
R - Miguel Cairo (IF)
L - Jeremy Reed (OF)
L - Tug Hulett (IF)
R - Jamie Burke (C)
R - Matt Tuiasosopo (IF)*
L - Luis Valbuena (IF)*
R - Rob Johnson (C)*
Rotation:
R - Felix Hernandez
L - Jarrod Washburn
R - Brandon Morrow*
L - Ryan Rowland-Smith
R - Carlos Silva
Bullpen:
R - J.J. Putz
R - Roy Corcoran
R - Sean Green
R - Miguel Batista
L - Cesar Jimenez
L - Jake Woods
R - R.A. Dickey
L - Ryan Feierabend
R - Mark Lowe*
R - Jared Wells*
R - Randy Messenger*
L - Justin Thomas*
15-day DL: L - Erik Bedard
60-day DL: R - Willie Bloomquist (UT), R - Mike Morse (UT)
*September call-up
Typical Lineup:
L - Ichiro Suzuki (CF)
R - Yuniesky Betancourt (SS)
L - Raul Ibañez (LF)
R - Adrian Beltre (3B)
R - Jose Lopez (2B)
L - Jeff Clement (DH)
R - Wladimir Balentien (RF)
L - Bryan LaHair (1B)
R - Kenji Johjima (C)