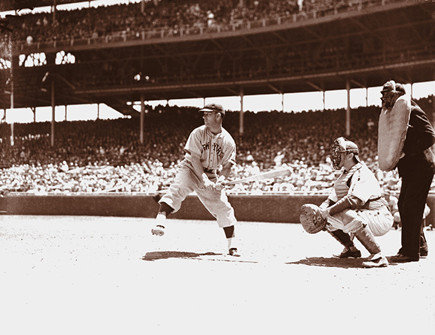 I became a fan of the New York Giants when I was nine years old. It was during the 1972 season.
Fifteen years after the New York Giants played their last game.
In an All in the Family episode called "Edith Finds an Old Man," Edith does exactly as the title describes. She brings home an elderly loner she found wandering through the supermarket, Archie blusters, we learn some valuable lessons about how society should treat senior citizens and Gloria declares toward the end that since she didn't know her own grandparents, we can adopt Mr. Quigley (and his girlfriend, no less) as honorary Bunkers.
I recall that sitcom moment here because I suppose I did the same thing as Gloria Stivic. I adopted the displaced New York Giants as my own grandpa: my own baseball grandpa.
Never mind that I never saw the New York Giants play. Never mind that the New York Giants ceased to exist five years before I began to commence. Never mind that there is no trace of Giants fandom in my biological lineage. Never mind that I don't care a whit for the San Francisco Giants. To me as a real-time New York Mets fan, the San Francisco Giants are just some windy stopover on the way to getting swept in San Diego.
I'm a New York Mets fan in my heart and a New York Giants fan in my soul. Those are my teams. Earlier this season, I prematurely wrote off the 2008 Mets as dead. But the Giants, they're actually deceased since 1957.
Your team being dead at the present time, however, is no excuse for not remaining loyal to it.
It could be a little creepy, rooting for a squad that is now and always will be defunct. I'm reminded of Gregg Jefferies' declared obsession with all things Ty Cobb when he was a phenom and every word he said was recorded diligently. Gregg Jefferies was born six years after Ty Cobb died. As one cynical Met teammate of Jefferies grumbled, "Yeah, and he wants to marry Marilyn Monroe."
But my affection for those Giants who preceded my Mets — and whose demise indirectly created my Mets — is genuine. It saddens me that one had to depart for the other to arrive, but such is the on-deck circle of life. Life goes on for me as a latter-day Giants fan even if there is permanently No Game Today. The Giants live on in my heart to a great extent because they live on in print. They seem in such easy range via words and pictures, just as they did when I was nine, when I began to learn who they were, when I began to appreciate where they played. There are days when I'm very sad I can't go up to the Polo Grounds and see them. More are the days I'm happy to imagine I can.
The big bang that brought me to the Giants exploded in the spring of 1972. The spirits were calling me home to the banks of the Harlem everywhere I looked. In the third grade library, there was a soft-soap biography of Mel Ott. I liked to read about presidents and ballplayers: FDR, Cobb, Ruth, Gehrig, Ott...Ott? I had never heard of Mel Ott until I found him in the stacks.
I had heard of Willie Mays. I even got a Willie Mays in my very first pack of cards of that April (same pack as Cleon Jones — what a day!). Willie was the best in the game. Nobody had to tell me that. I had dreamed of getting a Willie Mays since I was seven. I never, however, dreamed of getting Willie Mays. But it happened. Horace Stoneham, in need of money (for Scotch, I presume), sold him to Joan Payson. Mrs. Payson made Willie a Met.
Willie Mays was a Met! It was no coincidence, the papers said, that he didn't become an Astro or a White Sock or anything else. Mrs. Payson loved the Giants when they were in New York. She really loved Willie Mays when he was a Giant in New York.
Willie Mays was a Giant in New York? I checked the back of that card and, yup, he sure was: New York (N.L.), same notation they used for Cleon and the rest of the Mets. Who knew?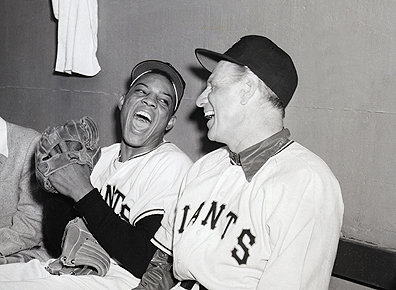 Life did. To celebrate Willie's homecoming — celebrated pretty wildly when Mays homered to beat the Giants at Shea in his first game as a Met on May 14 — the magazine printed a photo of every one of Willie's Topps cards. Did you know that in the first few he wore a black cap with an orange NY that resembled almost exactly the NY the Mets wore on their blue caps? This was news to me. It drew me closer to Willie, closer to the Giants as the Mets' direct ancestor. I'd heard something about Giants and Dodgers in the distant past, but this was the most tangible proof I'd come across that we were related.
The topper was an article in the June 1972 edition of Baseball Digest. In "The Battle for New York," written by Richard Watson, I learned about feisty John McGraw and how his Giants swaggered their way to pennants and popularity at the Polo Grounds, ruling New York with no discernible competition, how the Giants were the toast of the town until some brewer bought some slugger and somebody built a new house or something. My disposition toward New York's American League entry — defined since my introduction to baseball in 1969 by a vague dissatisfaction that somebody saw the need for another local team besides the Mets — hardened into unshakable enmity. I resented that Babe Ruth had stolen John McGraw's thunder fifty years earlier and I held it against Ruth's team fifty years later (and, in the interest of full disclosure, still do).
The Giants maintained order in the first two Subway Series, but with 1923 championship crossing north and east over the Macombs Dam Bridge, Watson wrote, "the Yankees were now definitely stamped as number one in New York City and [McGraw] was forced to accept it. Any argument to the contrary had become useless."
That was 1923. That was John McGraw. That was New York (N.L.). That became me, acting on behalf of the ghosts in the article, making the useless arguments for the 3½ decades that followed 1972. I felt obligated to guffaw (ha!) when anyone brought up tradition as a core Yankee equity. Tradition? Tradition was the Giants. They were first. They were in business from 1883 on. They were the team to which the immigrants and the stockbrokers and the theatre crowd flocked. They were the gold standard for baseball in this country. They were America's team. The Polo Grounds, however many of them there were, was the greatest name a ballpark was ever given. Mathewson, Hubbell, Terry, Ott all the way into the late glories of Irvin and Thomson and the same Say Hey Kid who bowed out as a Met: they were my and New York's true baseball legacy.
Never mind that the Giants mostly let down their loyalists, that they stopped winning pennants as a matter of course in the mid-'20s, that they hit an arid spell by the late '30s, one so entrenched by the time my dad was attending Newtown High School in Queens during and after World War II that he remembered almost nobody rooting for the Giants. This came up between us in incidental conversation in 1981, a year more or less like those that preceded and succeed it, days when I stuck out as the lone Mets fan in most every crowd in our South Shore Long Island town. I reminded my father, he said, of the one Giants fan he knew at Newtown in the 1940s.
That guy was an oddball, too.
That sealed it. I wore the symbiosis of Giants-Mets futility with pride. The more I read, the more I discerned what we got from the Dodgers and what we got from the Giants. The Dodgers were the over-the-top element in the Met DNA. Their Sym-Phony set the stage for our Banner Day. That was fine, but it was the quiet, dignified fealty to a team that never went anywhere that came from the Giants. Sure there was '51 and '54, and those miracles certainly echoed in '69 and '73, but those were exceptions, not norms. I read Noel Hynd's Giants of the Polo Grounds in 1990 and it ratcheted up my appreciation for my adopted heritage that much more. I gleaned from Hynd that Giants fans didn't make a lot of noise — outwardly. But boy did they stick with their team. That's what I had been doing in the early 1980 with the Mets. When I was rewarded with a renaissance and eventually a championship, it was in Flushing, as it was under Coogan's Bluff, that much sweeter for those who hung in there for no reason other than that's what you're supposed to do.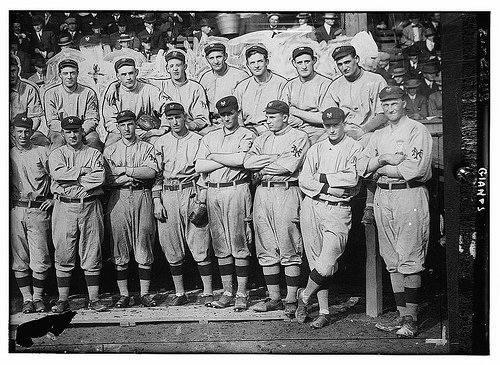 A shrine to Ebbets Field goes up in the Shea Stadium parking lot. It is an article of faith to Mets fans that Fred Wilpon would change the name of his team to Dodgers if he could get away with it. It annoys many of us for the sheer inanity of ignoring almost a half-century of Met lore and it gets on the nerves of not a few of us that the Giants' role in birthing the Mets is being steamrolled. An acknowledgement of some kind would be nice. Willie Mays played for the Mets. Jackie Robinson didn't. The Mets called the Polo Grounds, not Ebbets Field, their first home. The franchise's paternity test always comes back with the same results: Mr. Met has two daddies.
As a latter-day New York Giants rooter, I'm spared the burden of hating the Brooklyn Dodgers. They're an overbearing nostalgic presence to be sure, but how can I hate the team that brought integration and Gil Hodges to the fore in the same historical swoop? To the extent that my parents cared for baseball when they were growing up, they cared for the Dodgers. Hell, I was born in Brooklyn (and would have, had I been raised in an earlier era, regularly run for my life given my inevitable Giant allegiance). But the Dodgers in death do not need me. Others have adopted them. The Giants were the ones wandering alone out there in the baseball ether. I had to take them in.
There's only so much I can do for them, but I do what I can. I made a pilgrimage one summer's day eight years ago to check up on their and my ancestral home. Took the LIRR into the city on a vacation day and the D from 34th Street to 155th, hitching a ride on a train filled with, of all things, Yankees fans. Wandered about looking for the plaque Vic Ziegel, the News' resident Giant torch-bearer, coincidentally wrote up that very morning. My wife, always up for an adventure, asked a lady cop if she could direct us to the marker. She couldn't, but she confirmed, referring to the housing project of the same name, that "this is the Polo Grounds."
No, I thought. It's not. But we did find the plaque.
I continue to read a lot, about the ballpark and about the team. I talk to whomever has something to say about both. I've been attending various meetings of various old Giants fans, Giants fans who, unlike me, cheered for and suffered with the New York Giants at the actual Polo Grounds. Bobby Thomson showed up at one such luncheon. A half-century after making Ralph Branca famous, one Giants fan after another thanked him for allowing them to stick it to "break the balls" of some Dodgers fan who lived down the block in 1951. It was an honor to shake Thomson's hand. It was probably a bit more of a thrill to hear from those he thrilled.
Those lucky people, at any time up to and including September 29, 1957, were privileged enough to get off a train at 155th Street and they didn't need to ask where the Polo Grounds was. It was right there. You couldn't miss it. There was a game today.
In The Final Season, Tom Stanton's recounting of the last year they played ball at Tiger Stadium, he traces the path of his Detroit fandom back a couple of generations, to his father, to his uncles, to his grandfather. They all took in games at the corner of Michigan and Trumbull. They passed their attachment to the Tigers on to him. It struck me how different that was from my experience as a Mets fan. I grew up in chronological concert with my team. We're the same age. And because baseball interest ran lukewarm at best in my family, I kind of brought myself up alongside the Mets. My parents didn't raise me to appreciate baseball — books, magazines and Ralph Kiner did. I've never minded.
But we all come from somewhere and, ultimately, I suppose, that's where the Giants come in for me. They are my baseball grandpa. They're the ones from whom I inherited the oddball gene. They gave me the orange NY and Willie Mays and the longing to schlep uptown and touch a plaque that certified I was standing where home plate at the Polo Grounds long ago rested.
Look at it this way: At least one of my teams is undefeated since 1957.