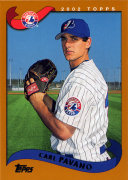 Joe Girardi got some heat for taking Carl Pavano out of his last start after just 72 pitches despite the fact that Pavano had allowed just one run on three hits through six innings. I had no problem with it. The Yankees had a slim one-run lead, the one run Pavano gave up came in the sixth, he'd only struck out one batter, and the Blue Jays had been hitting the ball hard but right at the Yankee fielders all night. The Yankees won the game 2-1, but that didn't seem to take much heat off the Yankee manager.
Pavano was actually better in his first start, when he struck out five and got nine ground balls (as opposed to the three he got against the Jays). In his two starts, Pavano has walked just two and allowed no home runs. It's tempting to argue that letting Pavano audition for a contract for 2009 is against the Yankees' best interests right now, but he's actually been the Yankees second-best starter the last two times through the rotation.
Pavano takes a clean 2-0 record and a fine 3.27 ERA into tonight's game against the Rays. He'll be opposed by Edwin Jackson, who is one of the unsung heroes of the first-place Rays. A failed Dodger prospect acquired for relievers Danys Baez and Lance Carter prior to the 2006 season, Jackson entered this season with a 5.64 career ERA and a 5.02 career BB/9. This season, he's boasting a 3.81 ERA and an improved 3.98 BB/9. Over his last seven starts, he's 6-1 with a 2.59 ERA; over his last 12 starts, he's 7-2 with a 3.07 ERA. In four starts against the Yankees this year, he has a 2.59 ERA, a 3.33 BB/9, and has allowed just one home run (to Hideki Matsui), though the Rays are just 2-2 in those games. One of those loses was by a score of 2-1 in a game started by Jackson and Sidney Ponson. Tonight's game could prove to be a similarly unlikely pitchers duel.