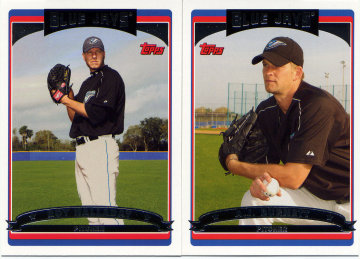 The Yankees are 1-6 in games started by A.J. Burnett and Roy Halladay this season. Burnett (3-0, 1.61 ERA vs. NYY this season) starts again tonight against former rotation-mate Carl Pavano. Halladay (3-1, 2.48 ERA vs. NYY this season) starts Sunday against Andy Pettitte. That is a major reason why the Yankees' failure to sweep the Red Sox this week all but officially eliminated them from the playoff hunt.
No Excuses
The Jays lost Dustin McGowan for the season in early July, Shaun Marcum hit the DL a few weeks later and is currently back in the minors trying to straighten himself out. Second baseman Aaron Hill suffered a season-ending concussion on May 30. Vernon Wells broke his wrist in May and strained his hamstring in July, missing a month with each injury. Scott Rolen broke a finger at the end of spring training, which cost him most of April, and he just got back from a second stint on the DL earlier this week. B.J. Ryan made a quick and successful return from Tommy John surgery, but within weeks of his return, last year's closer, Jeremy Accardo, was lost for the season. Set-up man Casey Janssen has missed the entire season. Several les- significant relievers have also missed less-significant time due to injury. Shortstops David Eckstein and John McDonald landed on the DL on the same day in early May, and Gregg Zaunn, Shannon Stewart, and now Brad Wilkerson have also spent time on the DL. Rolen has been barely league average when healthy, and Stewart and Matt Stairs slumped their way off the team entirely.
Despite all of that, the Blue Jays could pull even with the Yankees by sweeping this weekend's series, which given the fact that both Burnett and Halladay are due to pitch, isn't as unlikely as it might sound. Meanwhile, the Jays' Pythagorean record is already four games better than the Yankees'.
Though the Yankees just left Toronto a week and a half ago, the Blue Jays have made four roster moves since we've last seen them, including acquiring utility man Jose Bautista from Pittsburgh (where he was the starting third baseman), demoting Marcum, activating Rolen, and calling up top prospect Travis Snider, who could make his major league debut tonight. A lefty-hitting outfielder, the 20-year-old Snider has hit .299/.375/.513 in his three-year pro career and moved from high-A through double-A to triple-A and now the majors this season. In 18 games for triple-A Syracuse he hit .344/.386/.516.
Toronto Blue Jays
2008 Record: 68-65 (.511)
2008 Pythagorean Record: 74-59 (.560)
Manager: Cito Gaston
General Manager: J.P. Ricciardi
Home Ballpark (multi-year Park Factors): Rogers Centre (100/99)
Who's Replaced Whom:
Scott Rolen (DL) has replaced Matt Stairs
Travis Snider (minors) has replaced Brad Wilkerson (DL)
Jose Bautista has replaced Kevin Mench (minors)
John Parrish (minors) has replaced Shaun Marcum (minors)
25-man Roster:
1B - Lyle Overbay (L)
2B - Joe Inglett (L)
SS - John McDonald (R)
3B - Scott Rolen (R)
C - Rod Barajas (R)
RF - Alex Rios (R)
CF - Vernon Wells (R)
LF - Adam Lind (L)
DH - Scott Rolen (R)
Bench:
R - David Eckstein (IF)
L - Travis Snider (OF)
R - Jose Bautista (UT)
S - Gregg Zaun (C)
Rotation:
R - Roy Halladay
L - David Purcey
R - Jesse Litsch
R - A.J. Burnett
L - John Parrish
Bullpen:
L - B.J. Ryan
L - Scott Downs
R - Jason Frasor
L - Jesse Carlson
R - Shawn Camp
R - Brandon League
L - Brian Tallet
15-day DL: L - Brad Wilkerson (OF), R - Dustin McGowan, R - Jeremy Accardo
60-day DL: R - Aaron Hill (2B), R - Casey Janssen
Typical Lineup:
L - Joe Inglett (2B)
R - Marco Scutaro (3B)
R - Alex Rios (RF)
R - Vernon Wells (CF)
L - Adam Lind (LF)
L - Lyle Overbay (1B)
R - Scott Rolen (DH)
R - Rod Barajas (C)
R - John McDonald (SS)