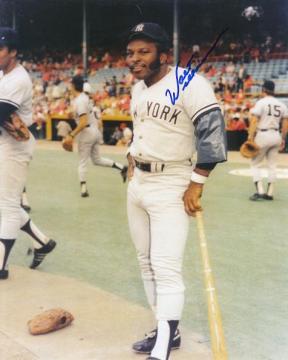 With Yankee Stadium's long run coming to an end, apparently in September and not October, it might be fitting to look at those Yankees who never played a single home game at Yankee Stadium during their careers. How is that possible, you might ask? The answer is Shea Stadium, which housed the Yankees for two mostly forgettable seasons in the mid-1970s and is simultaneously closing its doors this fall after a stretch of four and a half decades. At the suggestion of Bronx Banter chieftain Alex Belth, we've decided to launch a series on those players whose Yankee careers coincided only with the Shea Stadium seasons of 1974 and '75.
During the spring of 1974, Yankee GM Gabe Paul engineered an unusual three-team deal with the Indians and Tigers. The swap sent backup catcher Jerry Moses to the Tigers and brought back pitchers Ed Farmer (from Detroit) and Rick Sawyer along with outfielder Walt Williams, the latter two coming from Cleveland. Concerned about their lack of right-handed bats, the Yankees planned to use the singles-hitting Williams as a backup outfielder, giving him occasional starts against left-handers and also employing him as a pinch-hitter.
At five-feet, six-inches, Williams didn't look like a typical major league outfielder. (My goodness, even Luis Polonia is taller than Williams!) Built like a fireplug, Williams was extraordinarily well developed in the chest, with muscles in his upper torso seemingly obscuring the length of his neck. That's why Williams' former Houston Colt .45s teammate John Bateman came up with the nickname of "No Neck" for the stocky outfielder. Given his unusual build, including the nearly complete absence of a neck, Williams became an iconic figure, especially in the Markusen household, in the 1960s and seventies. When I first became interested in weightlifting, my father admonished me, offering a cautionary tale. He told me repeatedly, "Don't overdue it lifting those weights. You'll end up looking like No-Neck Williams!"
With stories of his neck preceding him, Williams joined the Yankees during spring training in 1974. He also came with a reputation as a free swinger—one who rarely walked, but also rarely struck out. Defensively, Williams possessed a weak arm, but had worked diligently to make himself an adept outfielder capable of playing all three positions in the "outer pasture," as Art Rust, Jr. used to say.
Williams immediately impressed his teammates and coaches with his upbeat personality, everlasting smile, and sincere enthusiasm for the game. He hustled at every turn, running out ground balls and pop-ups with equal degrees of verve. He also took time to talk to fans, making him a popular figure at Shea Stadium. Clearly, no faults could be found with Williams' personality.
His physical well being proved a bit more problematic. Williams couldn't stay healthy in 1974, as he appeared in only 43 games and took only 53 at-bats. When he did play, he didn't hit. A .113 batting average and a matching slugging percentage left everyone around the Queens ballpark disappointed with his first year in pinstripes.
Duly motivated by a season lost to injury and futility, Williams reported to spring training in Ft. Lauderdale determined to make a far better second impression. Toiling as hard as a 24-year-old rookie trying to prove the merits of being included on the 25-man roster, Williams sweated his way to a spot on the team. In an effort to make himself more versatile, he even learned how to play second base, a position he had never played in nine previous seasons.
Hard labor paid off. Filling a valuable role as a utility outfielder, DH, and occasional infielder, Williams batted a respectable .281 with five home runs in 185 at-bats. He appeared in six games at second base, predictably showing little range but handling all chances without an error. With his attitude, versatility, and revived bat all weighing as plusses, Williams made himself into an effective bench player.
During his two seasons in New York, Williams also firmed up his reputation as one of the most voracious eaters in the game. Williams regularly accompanied Yankee first baseman-DH Ron Blomberg and shortstop Gene "Stick" Michael on trips to local Burger King restaurants, where they gladly consumed large quantities of hamburgers at 39 cents a pop. The burgers blended well with No-Neck's 185-pound frame.
Williams' legendary appetite stood out as one of the highlights of his brief term in the Bronx. Although he hit fairly well in his 1975 bench role, the Yankees surprisingly released him prior to the 1976 season. That decision robbed him of an opportunity to play in the newly renovated Yankee Stadium. It also denied him his first postseason, as the Yankees went on to win the AL East and the League Championship Series before bowing to the power-packed Reds in the World Series.
Spurned by the Yankees, Williams took his amiable act to Japan, where he played for two seasons. Beginning in 1980, he played in the Mexican League and throughout the winter leagues before finally calling it quits in 1985, 18 years after making his major league debut. He then coached briefly for the White Sox and Rangers in the late 1980s.
Now out of baseball, Williams is doing his best to help out youngsters in the Houston area, where he resides. An employee of the Houston Youth Recreation Center, Williams also performs volunteer service in and around the city. Still the hard worker after all these years, Williams sounds like the same fan-friendly, down-to-earth guy who made those two seasons at Shea Stadium a little more enjoyable.
Bruce Markusen writes "Cooperstown Confidential" for MLB.com.