In recent years, as the Yankees have found themselves fighting an uphill battle toward the postseason in the final weeks and months of the regular season, I've often stressed the importance of the team controlling it's own destiny. Any time a team either holds a potential playoff position, or has more games remaining against the team they're trailing than the number of games by which they trail that team in the standings, they control their own destiny. In those cases, all the team in question needs do to make the playoffs is match their rival's record against third-party opponents and take care of business in their head-to-head matchups.
Right now, the Yankees do not control their own destiny.
| Team | Record | Games Ahead | Games v. NYY |
| --- | --- | --- | --- |
| Tampa Bay Rays | 79-50 | 9.5 | 6 |
| Boston Red Sox | 75-55 | 5 | 6 |
| Chicago White Sox | 75-56 | 4.5 | 4 |
| Minnesota Twins | 74-57 | 3.5 | 0 |
| New York Yankees | 70-60 | - | - |
Despite having six games left against the Yankees, the Rays have put the AL East out of reach. Meanwhile, it would behoove Yankee fans to root strongly for the second-place Twins to overtake the division-leading White Sox in the Central, as there's some chance of the Yankees gaining control over their Wild Card destiny before the Chisox visit the Bronx in three weeks provided it's Chicago and not Minnesota that they're chasing. As it stands, however, the only opposing team over which the Yankees have any meaningful control is the Boston Red Sox, who come to the Bronx tonight for a three-game series that will be the last meeting between the two rivals at Yankee Stadium.
The Red Sox are limping into town. Josh Beckett was supposed to start tonight, but has been scratched due to numbness in his pitching arm. J.D. Drew hasn't played in more than a week due to back pain and is likely headed to the DL. Already on the disabled list is third baseman Mike Lowell, and replacing Beckett tonight is Tim Wakefield, who will be activated from the DL to make the start. Despite these set-backs, the Sox have played well in August, posting a .667 winning percentage, their best single-month mark of the season. Still, they remain vulnerable. The Yankees took two of three from the Sox at Fenway at the end of July. This week, the Bombers really need to sweep.
Consider that idea of controlling one's own destiny. If the Yankees sweep the Sox, they'll wake up Friday morning two games behind Boston with three games remaining at Fenway and right in the thick of the Wild Card race (the White Sox are off Thursday, so a sweep would also move them within four games of Chicago with those four head-to-head games remaining). However, if the Yankees lose just one game in this series, they'll wake up on Friday four games behind Boston with those three left to play. With a single loss in this three-game series, the Yankees will forfeit their control over their rivals, leaving them completely at the mercy of the teams ahead of them in the standings.
No Excuses
It's been a rough season for the New York Yankees, but if they think the Red Sox have had it any easier, they're wrong. It all started with Curt Schilling's season-ending biceps injury at the outset of spring training. Since then, Beckett, Wakefield, Daisuke Matsuzaka, Clay Buchholz, and Bartolo Colon have all spent time on the DL. Lowell is currently on the DL for the second time this season, he's joined there by Julio Logo, who has missed more than a month with a quad tear. Drew has avoided the DL thus far but could land there any day, and David Ortiz missed two months due to a wrist injury. In the bullpen, Mike Timlin and David Aardsma have made repeat visits to the DL. Both Alex Cora and Sean Casey hit the DL for several weeks as April turned in to May, and Casey has sat out the last week with a stiff neck.
That's just the injuries. Buchholz, the Red Sox's answer to Joba Chamberlain, struggled upon his return from injury and has since been demoted due to poor performance. Julian Tavarez pitched his way off the team entirely. Though he enters this series coming off a solid week and a half, Jason Varitek was hitting just .212/.304/.338 for the season on Aug 15. David Ortiz came off the DL to face the Yankees on July 25 and hit well in his first week, but without Manny Ramirez hitting behind him, he's batted .237/.376/.421 in August with just three home runs.
Of course, Ortiz's struggles likely have more to do with his wrist than who's hitting behind him. To begin with, it's not Jason Bay, Ramirez's replacement in left field, but Kevin Youkilis who is now hitting behind Ortiz, and Youkilis has hit .333/.397/.621 since moving to that spot in the order. Bay bats behind Youkilis and has thus far done an excellent job of matching Ramirez's production for the Sox this season:
Manny w/ BOS: .299/.398/.529
J. Bay w/ BOS: .333/.385/.529
The Sox have turned over their four, five, and six-place hitters since last facing the Yankees in late July--replacing Ramirez, Drew, and Lowell with Youkilis, Bay, and Jed Lowrie--but their offense has only improved over that span, with Lowrie chipping in with a .343/.425/.600 line since taking over for Lowell two weeks ago.
Still, the Red Sox are vulnerable. With Lowrie and company moved into the middle third of the order, the bottom third looks like what the Yankees had been running out there much of the season. Also, with Beckett out of this series, the pitching matchups give the Yankees hope.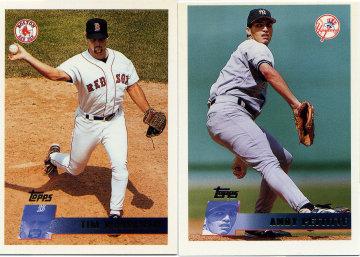 Wakefield and Pettitte debuted with their current teams in 1995. They first faced each other in May 1997.
Wakefield comes off the DL tonight to face Andy Pettitte. The Yanks touched up Wakefield for six runs in 5 1/3 innings on July 26. In that same game, Pettitte struck out seven Sox in six innings and surrendered just one earned run. Over his last three starts, Pettitte has posted a 3.00 ERA and struck out 14 in 21 innings against six walks and no homers. Tomorrow, Sidney Ponson faces Paul Byrd. Ponson's two worst outings as a Yankee were his last and his last against the Red Sox, but the Yankees scored nine runs in 12 innings against Byrd over two starts earlier in the year, when Byrd was with Cleveland.
Those two games set up a potential pitching duel on Thursday as Jon Lester, who was rocked by the Blue Jays in his last start but has dominated the Yankees in two starts this year (17 IP, 14 H , 2 R, 3 BB, 16 K), takes on Mike Mussina, who has a 3.00 ERA, and 24 Ks against 4 walks and a homer in 33 innings over his last five starts and threw six shutout innings at the Sox in early July, the last time he faced them at the Stadium.
This is easily the most important series the Yankees have played all season, which is exactly as it should be. Whatever happens, the Red Sox's final visit to Yankee Stadium will be one worth watching.
Boston Red Sox
2008 Record: 75-55 (.577)
2008 Pythagorean Record: 77-53 (.590)
Manager: Terry Francona
General Manager: Theo Epstein
Home Ballpark (multi-year Park Factors): Fenway Park (106/105)
Who's Replaced Whom:
Jason Bay has replaced Manny Ramirez
Alex Cora has replaced Mike Lowell (DL) in the lineup
Jeff Bailey (minors) has replaced Lowell on the roster
Coco Crisp has replaced J.D. Drew (back) in the lineup
Paul Byrd has replaced Clay Buchholz
David Pauley has replaced Craig Hansen
25-man Roster:
1B - Kevin Youkilis (R)
2B - Dustin Pedroia (R)
SS - Jed Lowrie (S)
3B - Mike Lowell (R)
C - Jason Varitek (S)
RF - Jacoby Ellsbury (L)
CF - Coco Crisp (S)
LF - Jason Bay (R)
DH - David Ortiz (L)
Bench:
L - Sean Casey (1B)
R - Jeff Bailey (1B/OF)
R - Kevin Cash (C)
L - J.D. Drew (RF)*
Rotation:
R - Josh Beckett
R - Tim Wakefield
R - Paul Byrd
L - Jon Lester
R - Daisuke Matsuzaka
Bullpen:
R - Jon Papelbon
L - Hideki Okajima
R - Manny Delcarmen
L - Javier Lopez
R - Mike Timlin
R - Justin Masterson
R - David Pauley
15-day DL: R - Mike Lowell (3B), R - Julio Lugo (SS), R - Bartolo Colon, R - David Aardsma
60-day DL: R - Curt Schilling
Typical Lineup:
L - Jacoby Ellsbury (RF)
R - Dustin Pedroia (2B)
L - David Ortiz (DH)
R - Kevin Youkilis (3B)
R - Jason Bay (LF)
S - Jed Lowrie (SS)
S - Jason Varitek (C)
L - Alex Cora (SS)
S - Coco Crisp (CF)
*unlikely to play due to back spasms