With last night's win, the Blue Jays improved to 5-1 this season in games against the Yankees started by their top two pitchers, A.J. Burnett and Roy Halladay. It was Burnett's turn last night, as he struck out 13 Yankees while allowing just one run on five hits and a walk over eight innings.
The one run came right away in the first inning as Johnny Damon took the first five pitches of the game to draw a walk and Bobby Abreu doubled him home. Abreu has faced Burnett more than any other hitter in Burnett's career and seemed to be the only Yankee not overmatched by him last night, cracking another double in his second at-bat leading off the fourth (Burnett then struckout Alex Rodriguez and Jason Giambi and got Xavier Nady to ground out) and a sinking liner nabbed by a sliding Adam Lind in the sixth. After Abreu's second double, which was also the Yankees' second hit of the game, the Bombers managed just three singles off Burnett, one of which didn't leave the infield.
Remarkably, Darrell Rasner nearly made that first-inning run stand up. Though he struck out ten fewer men than Burnett, Rasner limited the Blue Jays to just three hits and a walk over 6 2/3 innings. Unfortunately, the last hit was a seventh-inning solo homer by Lind that tied the game. Jose Veras replaced Rasner a batter later, finished the seventh and struck out the first two men in the eighth. Toronto leadoff man Joe Inglett picked up a single with two outs in the eighth, but it seemed an insignificant hit until Marco Scutaro blasted Veras's next pitch to the wall in dead center.
Here's where things went from tense to traumatic. Back in the first inning, following the only walk Rasner issued in the game (to Scutaro), Alex Rios hit a deep fly to the gap in left center. Damon and Nady converged at the ball, but Damon called off Nady and camped under the ball only to have it hit off the outside of his glove and roll away for a two-base error. Fortunately, Scutaro was held at third base and Rasner picked up his center fielder by striking out Vernon Wells and getting Lind to ground out to end the inning. Now, with the game knotted at 1-1 in the bottom of the eighth and Jays closer B.J. Ryan warming up for the ninth, Damon drifted back on Scutaro's blast, turned toward his left to catch the ball a foot shy of the wall, then suddenly turned back to his right stretched and had the ball tip off his glove again, this time for what was ruled a double, but a game-winning RBI double.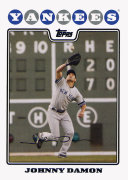 Damon was in disbelief. After the game, he remained, to use his word, "baffled." "I just dropped two balls," he said almost to himself, shaking his head and laughing at the absurdity of that fact as if he had to remind himself it actually happened. "Just . . . just . . . awful."
Damon also scored the Yankees' only run of the game, but it was particularly striking to see Damon make two such plays on the day he'd been essentially named the Yankees regular starting center fielder due to the return of Hideki Matsui (who went 0-for-3 with a fly out, a pop out, and a strikeout).
Adding insult to injury, Alex Rodriguez led off the ninth against Ryan by lifting a flare over Lyle Overbay's head at first base. The ball dropped in fair and rolled toward the retaining wall in foul territory with Overbay losing ground in pursuit. Seeing that, Rodriguez sped up and headed for second base, but Overbay made a great play, sliding past the ball to stop it and, in one motion, rising to his feet and firing a one-hop strike to second base to nail Rodriguez by several feet. Jason Giambi then struck out for the fourth time on the night and Xavier Nady hit the first pitch he saw to left field for the final out. 2-1 Blue Jays, as the Yankees continue to find new ways to lose.