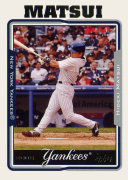 For the second time in as many series, the Yankees open a three-game set with a significant roster change. On Friday, they promoted Brett Gardner and Cody Ransom at the expense of Melky Cabrera and Richie Sexson. Today, they've activated Hideki Matsui from the disabled list and optioned Justin Christian back to triple-A.
Matsui has been on the shelf since late June due to inflammation in his left knee, but was one of the Yankees best hitters over the first three months of the season, going .323/.404/.458 and failing to reach base in just eight of his 69 games before succumbing to his injury. Matsui has slowly and steadily rehabilitated his knee since then, concluding his work over the weekend by playing in three rehab games with high-A Tampa in which he went 2 for 8 with a solo homer and two walks.
With Matsui back in the fold, two big questions need to be answered. The first is, obviously, "will he hit." The second is, "if he hits, who sits?"
There's no question that Matsui will DH and DH only, that's been stated explicitly by the team, but with Gardner having just been installed in center field and having picked up five hits (including a double, a triple, and a game winner) in the final two games against the Royals, the big question is whose at-bats will Matsui might be taking.
Tonight the answer is Gardner, as Johnny Damon starts in center flanked by Xavier Nady and Bobby Abreu with Jason Giambi at first. To his credit, Joe Girardi has put his best offense on the field (including Ivan Rodriguez behind the plate) against A.J. Burnett, turf be damned. Still, one suspects that if that lineup was intended to be permanent, Gardner, who's being groomed to start, would have been sent down in stead of Christian, who has emerged as a viable bench player. Instead, Gardner's continued presence suggests an intended rotation that will see Girardi continue to rest his stars, be it by giving Damon or Matsui days off, or giving Nady some work at first base in place of Giambi.
No one really knows what to expect from Matsui any more than they know what to expect from Gardner 2.0. If Matsui picks up where he left off and Gardner continues to hit .400 with runners in scoring position, resting Damon and Giambi won't hurt. If Matsui struggles and Gardner's weekend proves to be a fluke, resting Damon and Giambi could undermine what little fight this team seems to have left in it.
Still, replacing Cabrera and Christian with Matsui and Gardner sure feels like a hefty upgrade, even if the offense's biggest problems remain the catchers, Robinson Cano, and Jason Giambi's poor performance with runners in scoring position (which has allowed teams to pitch around Alex Rodriguez in such situations).
The Yanks will need all the pop they can get in Toronto as they have to face not only Burnett tonight, but Roy Halladay on Thursday. The last series between these two teams was also played in Toronto with Burnett and Halladay pitching the bookend games. The Jays won both of those games, while the Yankees pounded Jesse Litsch in the middle match. On the season, the Jays, who are just two games behind the Yankees in the standings, have won four of the nine games between the two teams, with either Halladay or Burnett getting the win in all four victories. The Yankees have won just one game started by either of the Jays' top two starters all year, that coming on Opening Night, when Chien-Ming Wang out-dueled Halladay, 3-2.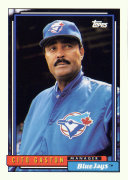 The Jays are a better team than they seem. Since Cito Gaston returned to the site of his past glories by replacing John Gibbons as manager at the end of a miserable June for the Jays, Toronto has won at a .580 clip. Had they done that over the rest of the season, they'd be leading the Red Sox in the Wild Card race (only one team in the NL has a winning percentage higher than .580). Over the same stretch, the Yankees have played .520 ball, which is actually worse than their overall winning percentage of .532.
Halladay and Burnett have obviously been key to that run under Gaston (Burnett is 9-2 under Gaston, Halladay has a 2.24 ERA since Cito's return), as has the Jays' dominant bullpen (a MLB-best 3.02 ERA). As for the offense, Vernon Wells spent most of Gaston's first 50 games back at the helm on the DL and has only recently returned. Scott Rolen hit .229/.338/.382 under Gaston before landing on the DL himself. Instead it's been left fielder Adam Lind who has been sparking the lineup, hitting .329/.363/.587 since being recalled two days after Gaston's return. Gaston's other big lineup change was to bench David Eckstein in favor of starting first Marco Scutaro and, with Scutaro now needed in Rolen's place at third base, John McDonald at shortstop. Neither player provides much offense, but Scutaro has out-hit Rolen under Gaston, and McDonald's defense makes Halladay all the more dominant.
Every little bit helps, which brings us back to Matsui. The last time he returned from a long DL stay he went 4 for 4 on his first night back. Of course, that was in mid-September 2006, when the Yankees had a double-digit lead in the AL East. Things are a bit different this year.
2008 Record: 64-60 (.516)
2008 Pythagorean Record: 68-56 (.549)
Manager: Cito Gaston
General Manager: J.P. Ricciardi
Home Ballpark (multi-year Park Factors): Rogers Centre (100/99)
Who's Replaced Whom:
Vernon Wells (DL) has replaced Scott Rolen (DL)
Marco Scutaro has repalced David Eckstein in the lineup
John McDonald has replaced Brad Wilkerson in the lineup
Shaun Marcum (DL) has replaced John Parrish (minors)
David Purcey (minors) has replaced Brian Tallet in the rotation
Tallet has replaced Brian Wolfe (minors)
Opening Day Roster:
1B - Lyle Overbay (L)
2B - Joe Inglett (L)
SS - John McDonald (R)
3B - Scott Rolen (R)
C - Rod Barajas (R)
RF - Alex Rios (R)
CF - Vernon Wells (R)
LF - Adam Lind (L)
DH - Matt Stairs (L)
Bench:
R - David Eckstein (IF)
L - Brad Wilkerson (OF)
R - Kevin Mench (OF)
S - Gregg Zaun (C)
Rotation:
R - Roy Halladay
R - Shaun Marcum
R - Jesse Litsch
R - A.J. Burnett
L - David Purcey
Bullpen:
L - B.J. Ryan
L - Scott Downs
R - Jason Frasor
L - Jesse Carlson
R - Shawn Camp
R - Brandon League
L - Brian Tallet
15-day DL: R - Scott Rolen (3B), R - Dustin McGowan, R - Jeremy Accardo
60-day DL: R - Aaron Hill (2B), R - Casey Janssen
Typical Lineup:
L - Joe Inglett (2B)
R - Marco Scutaro (3B)
R - Alex Rios (RF)
R - Vernon Wells (CF)
L - Matt Stairs (DH)
R - Rod Barajas (C)
L - Adam Lind (LF)
L - Lyle Overbay (1B)
R - John McDonald (SS)