The Yankees' last victory was Mike Mussina's 15th of the season. Now, after a four-game losing streak, Mikey Moose is back to try to make it sweet sixteen and save the sad sack Yanks from slipping into the cellar (or shake them from their slumber, so to speak). To break this bummer, he'll have to beat Nick Blackburn who takes the ball for the bad guys.
The Yanks have faced Blackburn twice this year, once they beat him badly, touching him up for six runs on seven hits (including an Alex Rodriguez homer) in just 1 2/3 innings. The other time, they just broke his nose. Blackburn has a 2.25 ERA in three starts since last facing the Yanks, and I can't imagine he's thrilled to see them again, no matter how poorly they've been playing.
Speaking of which, what's the deal with Robinson Cano? Over the past week or so I've noticed a number of ground balls to both his left and right scoot past him when I was convinced he was at least going to knock them down. As recently as a month or so ago, Cano was one of the best defensive second baseman in the game, and it's quite possible that his fine play has created unrealistic expectations on my part (certainly most if not all of the grounders of which I speak would have required above average to great plays to turn them into outs, but it seems Cano had been making those plays until recently), but what appeared to be one or two well-placed hits "past a lunging Cano" (note: he's not diving) a week or so ago now seem to be regular occurrences. Perhaps not coincidentally, Cano has hit just .222/.276/.352 since the Yankees' eight-game winning streak was snapped in Boston. This team has a lot of problems right now, and that has allowed what seems to be a lackluster effort on Cano's part to go largely unnoticed, but it's worth keeping and eye on and, if real, needs to be addressed by Joe Girardi and his coaching staff.
Johnny Damon is back in the lineup and in center field tonight. Jason Giambi is back in the lineup and at DH. Wilson Betemit plays first base. Melky Cabrera rides pine. As always, Jose Molina catches Mussina.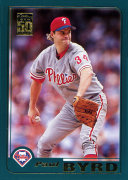 Meanwhile, the Red Sox picked up Paul Byrd from the Indians for a player to be named later. The roughly league-average, contact-pitching Byrd will replace struggling rookie Clay Buchholz (0-5, 7.42 ERA in six starts since being recalled in early July) in the rotation. Over that same stretch, Byrd, who is a free agent after the season, has gone 4-0 with a 1.80 ERA in five starts, but the Yankees didn't bother to put a waiver claim on him, allowing him to slip through to the Red Sox. Bri-Bri, you got some splain' to do.