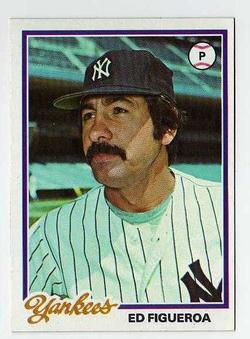 Perhaps we should call him "Forgotten Figueroa." For most Yankee fans, the 1978 season triggers memories of Ron Guidry's Cy Young performance, Reggie Jackson's stirring presence in the lineup and locker room, the mid-season transition from Billy Martin to Bob Lemon, and, of course, the looming specter of "The Boss." Yet, no one ever talks about Ed Figueroa's contribution to the cause. Pitching in the thin but substantial shadow of Guidry, Figueroa (as seen here on his 1978 Topps card) quietly won 20 games, gobbled up 253 innings, and gave the Yankees a perfect right-handed complement to "Louisiana Lightning." Heck, on most teams, Figueroa would have qualified as a full-fledged ace, a natural to start a one-game playoff tiebreaker or the first game of a World Series. But on the '78 Yankees, Figueroa was the proverbial second banana—the Vida Blue to the A's Catfish Hunter, the Dave McNally to the Orioles' Jim Palmer, the Frank Tanana to the Angels' Nolan Ryan.
Aside from the obvious Guidry factor, why has Figueroa faded so much in our collective memories? Several factors may be conspiring against Figgy. First, he wasn't overpowering, lacking the strikeout ability that both mainstream and Sabermetric types seem to favor. By the time that Figueroa traded in his Angels halo for Yankee pinstripes (as part of the Bobby Bonds for Mickey Rivers swap), he had become a four-pitch pitcher: fastball, slider, curve, and change-up. He threw mostly a sinking fastball, which he liked to mix and match with his breaking and off-speed pitches. That didn't add up to a lot of strikeouts, just a lot of quiet effectiveness during his halcyon days from 1976 to '78.
Then there was Figueroa's lack of staying power. As good as he was during the Yankees' mini-dynasty, topped off by his peak in 1978, he faded quickly from the scene. He threw a lot of innings in the mid-1970s. Over a four-year span, he averaged 248 innings per season, a substantial workload that became exacerbated by an awkward motion. In his wind-up, Figueroa tucked his left leg and left arm in toward his mid-section; by the time he put himself in position to deliver the pitch, he was throwing the ball across his body. It was a fun delivery to imitate (as I know well from hours of throwing a ball up against a boulder outside of my house), but it sure did appear to put extra stress on the arm and shoulder. Figueroa's arm problems began in 1979; by 1981, he was fully cooked.
Finally, Figueroa's personality may have soured any hopes of long-term appreciation. Figgy had his share of run-ins with Billy Martin (then again, who didn't?) and the manager's enforcment of his own strict set of policies regarding his pitchers and their approach against each batter. Portrayed as surly by some of the New York media (which may or may not be fair, given the treatment of Latino players by some writers), Figueroa came across as dour to a young fan like me. When I think of Figueroa, I envision the "Lieutenant Castillo" character that Edward James Olmos once portrayed on "Miami Vice." Yes, he was highly effective and very good at his job, but not exactly someone you'd send an invitation to amidst hope that he'd enliven the atmosphere at your local block party.
Given Figueroa's mix of pitching style, longevity (or lack thereof), and personality, we are left with a retired pitcher who often attends Old-Timers' Day at the Stadium but remains a figure wrapped in obscurity. With that in mind, here are a few things that you may or may not know about Ed Figueroa.
*A veteran of the Vietnam War, Figueroa saw the start of his major league career delayed by military service in 1969. He missed all of that minor league season while in the war, losing a valuable year of development. Figgy didn't make the major leagues until 1974, when he was already 25 years of age. He probably would have arrived a year or two sooner, if not for Nam.
*By winning 20 games for the '78 Yankees, Figueroa became the first Puerto Rican pitcher to achieve the milestone, ending a drought that began with Hiram Bithorn's debut in 1942. Juan Pizarro, a 131-game winner for his career, never won 20. Neither did Ruben Gomez. Today's winningest Puerto Rican pitcher, former Yankee Javier Vazquez, has never won more than 16 in a single season. Figueroa might have reached the milestone even sooner, had a late-season game in 1976 not been rained out. Figueroa settled for a 19-10 mark that year, emerging as a major factor in securing the Yankees' first pennant in a dozen years.
*Because of arm troubles, Figueroa's prime ended by his 28th birthday. After the 1978 season, he never pitched more than 104 innings and never had another winning season. By the time he was 32, Figueroa had thrown his final major league pitch as a member of the Oakland A's.
Figueroa will never make the Hall of Fame, never receive the loudest cheers at Old-Timers' Day, and never have his number retired by the Yankees. But he deserves to be remembered as an essential piece—the right-handed anchor—of the '78 Yankees. Without him, there would have been no tiebreaker against the Red Sox, no playoff appearance against the Royals, and no World Series date with the Dodgers. It's long overdue, but we just want to say thanks, Figgy.
Bruce Markusen, an avid fan of the '78 Yankees, writes "Cooperstown Confidential" for MLBlogs at MLB.com.