Of the seven four-game series the Yankees have completed this year, six have been splits (the other was a 1-3 loss to the Rays in May). With a win tonight, the Yankees will make it seven of eight. The good news is that there's just one four-game series left on their schedule.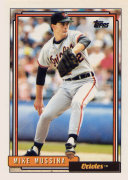 The Yankees have the right man on the mound for the job tonight, as Mike Mussina looks to pick up his 15th win of the season. Moose won 15 or more games in nine of the 12 seasons from 1992 to 2003, but has won 15 just once since then. If he stays healthy, he'll have nine more starts after tonight to see just how high he can get his win total this year.
Opposing Mussina is Scott Feldman, who beat Mussina in the Rangers' 2-1 victory at the Stadium on June 30. The only Yankee run of that game came on an Alex Rodriguez solo homer off Feldman in the fourth inning. Fortunately, runs have been more plentiful in the Texas heat (the average score in this series thus far has been 6.7-5.3 Rangers). Even better, the Yankees are averaging 6.2 runs per game in the second half to go with their .632 winning percentage since the break. All of that syncs up nicely with the fact that Feldman isn't that good (6.67 ERA and 11 Ks against 16 walks in his five starts since facing the Yankees).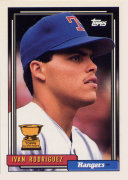 With Ivan Rodriguez nursing the knee he bruised in last night's home plate collision with David Murphy, Jose Molina's turn as Mussina's personal catcher is well timed. He's joined in the lineup by Wilson Betemit, who will give Derek Jeter a half-day off by manning shortstop while the Captain DHes. With the DH spot again used in that manner, Johnny Damon will start in center for the second day in a row while Melky Cabrera rides pine for the fourth straight game. Rodriguez hopes to be back in the linup tomorrow.
As for Murphy, he's on the DL with a strained posterior cruciate ligament (PCL) in his right knee. Brandon Boggs will likely replace him in left field, as he did last night. Jason Ellison, a marginal righty-hitting outfielder who spent time with the Mariners last year, replaces Murphy on the roster. Also, for those who missed it, displaced Rangers closer C.J. Wilson was placed on the DL after Tuesday night's game due to bone spurs in his pitching elbow. He was replaced by Joaquin Benoit, who was activated off the DL and pitched in last night's game. Eddie Guardado, who picked up the save on Tuesday night, appears to be the team's new closer.