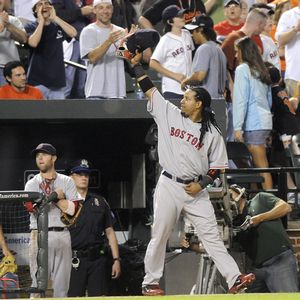 According to SI.com, Manny Ramirez has been traded to the Dodgers in a three-way deal that also moves Jason Bay to Boston. According to Ken Rosenthal:

The Pirates will receive Andy LaRoche and right-hander Bryan Morris from the Dodgers and outfielder Brandon Moss and releiver Craig Hansen from the Red Sox.
My first impression is that Boston did well for themselves. Bay is a very good hitter who is likely to be even better with the Red Sox. He might not be as great as Ramirez but he's a lot younger. He's also cheaper--a lot cheaper. I don't think the drop-off is that drastic to be honest. Looks like a solid move by a team in a tough spot.
Still, no Manny in Boston leaves an emptiness in the Yankee-Sox rivalry.