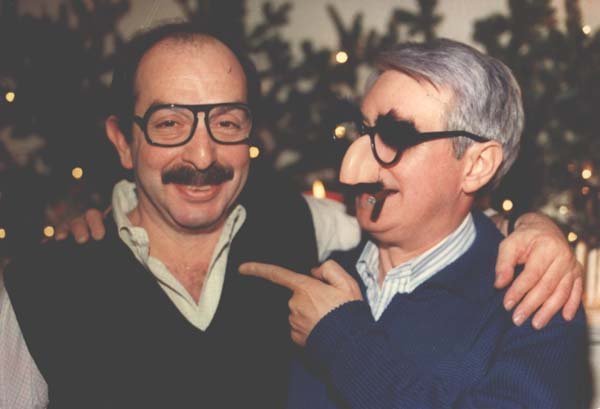 I have a friend at work who has been goading me to grow a mustache for a few years now but my wife won't have any of it. I've never had a mustache, only a dirty upper-lip when I'm too lazy to shave for a few days. In fact, I knew an Italian kid in the seventh grade who had to shave more then than I do today. My father (pictured above in the late '80s with his old friend Wally Hill), on the other hand, always wore a mustache. It was as much a part of him as his nose. There are only a few occasions I can remember when he didn't have a 'stache, and he looked odd, not himself, without it.
Jason Giambi looks great with a mustache. (So awful, it's great, as Scott Rolen said.) The greasier and scrubbier Giambi looks, the better, as far as I'm concerned. (From Page 2, here is David Puner's look at the great Yankee 'staches of all-time.) Of course, Giambo's mustache has caught on and become a real hit. This afternoon, the Yankees are giving away fake black mustaches to the first 20,000 fans that pass through the turnstiles.
The Bombers are going to need more than an amusing promotional gimmick to survive another start from Sir Sidney Ponson. It would be great for the Yanks to take another game from the first-place Rays, but I'm sorry if I'm not brimming with confidence in New York's starting pitcher.
It could be a long, hot afternoon. Let's hope the 'stache power kicks in for the home team and they roll to their fourth-consecutive win. The offense needs to get the Led out.
Let's Go Yan-Kees!