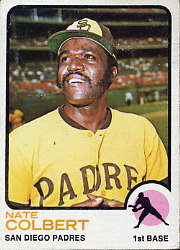 Admit it, you like those yellow and brown uniforms the San Diego Padres wore during the 1972 and '73 seasons. There's just something especially captivating about those yellow jerseys and pants. So colorful, so bright and cheery. Oh, who am I kidding? As much as I loved baseball in the seventies, those uniforms may have been the worst creation in on-field fashion this side of the Houston Astros' rainbow uniforms and the short pants worn by the Chicago White Sox for three games in 1976.
In spite of having to wear those hideous polyester monstrosities, Nate Colbert is doing his best to maintain a happy face while posing for his 1973 Topps card. As the former Padres slugger pointed out to me during his recent visit to Cooperstown, those duds were major league uniforms, far superior to anything that he would have endured wearing in the Pacific Coast League. "Well, the brown didn't bother me," says Colbert. "The yellow ones, which were called 'Mission Gold'—I don't know where they got that name from—when I first put them on, I felt really embarrassed. But I looked at it like this is the major leagues; this is the uniform I was required to wear. I took a lot of ribbing, especially from the Reds and Pirates players. Even my mother used to tease me. She said I looked like a caution light that was stuck. You know, it was a big league uniform. I'd rather have that than one with the Hawaii Rainbows on it, that being the Triple-A team for the Padres [at the time]."
In many ways, that's just Nate being Nate. Just as he appears on his Topps card—smiling, positive, and upbeat—Nate tends to looks at the bright side of things. If Colbert had chosen a different path, he could have worn the more dignified pinstriped uniforms of the Yankees. As an amateur ballplayer in 1964, Colbert was offered a lucrative contract by the Yankees. They promised to double any offers given to him by any of the other 19 major league teams, but Colbert had his heart set in another direction.
If the Yankees had signed Colbert, they presumably would have brought him to the majors by the late 1960s. That would have been good timing for the struggling franchise, considering the instability the Yankees had at first base. Given Mickey Mantle's impending retirement and Joe Pepitone's imminent departure, the Yankees endured a period of mediocrity at the position. Patchwork players like Danny Cater, Johnny Ellis, and Mike Hegan, and the oft-injured Ron Blomberg could have given way to Colbert, who put up big slugging numbers from 1970 to 1972. Colbert also would have supplied some much-needed right-handed power, balancing a lineup that had Bobby Murcer (and later Graig Nettles) from the left side of the plate.
It was not to be. Colbert briefly considered the Yankees' offer, but opted to sign with his hometown St. Louis Cardinals. That fulfilled a dream for Colbert, who wanted to play for the same team as his idol, Stan Musial. Unfortunately, the Cardinals had such depth at first base and in the outfield that Colbert faced major roadblocks. After the 1965 season, the Redbirds left Colbert unprotected in the Rule Five draft.
The Astros jumped in and picked Colbert, bringing him to the major leagues in 1966. As it turned out, Colbert would cross paths with the Yankees one more time. Prior to the start of the season, the Astros hosted the Yankees in an exhibition game at the Astrodome, giving Colbert his first glimpse at a Yankee legend. "Mickey Mantle was taking batting practice," says Colbert, recalling his boyish enthusiasm that day. "I said to my teammates, 'Oh my gosh! Hey guys, that's Mickey Mantle.' The other guys on the team just said calmly, 'I know.' "
Colbert made his major league debut in 1966. Two years later, he met his most colorful teammate ever, Doug Rader. "When we were with the Astros, he and one of the guys, another player on the team, went down to the pet store. That's when it was legal to own alligators. And they bought three alligators, baby alligators. They waited until we were all in the shower, and they let them loose in the shower, down in Cocoa, Florida. We were trying to climb the walls, these little baby alligators all around us."
With teammates like Rader, Colbert found fun away from the field, but found little playing time beyond pinch-hitting and filling a utility role in Houston. Then came his big break. After the 1968 season, the Astros left Colbert unprotected in the expansion draft. As one of the two new National League teams, the Padres selected him in the expansion draft. After starting the season in a platoon role, Colbert caught the attention of his new manager, Preston Gomez. "I was going to platoon with Bill Davis. And then, I got hot and hit home runs in five straight games. Preston Gomez came up to me and told me that I had earned the right to play every day." Davis was soon traded, cementing Colbert's newfound status.
From 1969 to 1972, Colbert put up huge power numbers, twice hitting 38 home runs in a season and twice posting slugging percentages of better than .500. In 1972, his best year, he collected 111 RBIs, accounting for an incredible 23 per cent of the pathetic Padres' run total for the season. That 23 per cent figure remains a major league record. He was never better than he was on August 1 that season, when the Padres played a doubleheader in Atlanta. Colbert hit two home runs in the first game, and then smacked three more in the nightcap. The record-tying fifth home run (matching a mark set by his boyhood hero, Musial) came in the ninth inning against Cecil Upshaw, who would pitch for the Yankees two years later. "I always had trouble against Cecil Upshaw, who threw underhanded," Colbert explains. "For some reason, he threw me an overhand fastball [in Atlanta]. Years later, I asked him why he did that. He said that he thought he could surprise me with it… Surprise!"
Colbert's prime years with the Padres provided other memorable moments, including the infamous night when team owner Ray Kroc took to the microphone at San Diego Stadium. "Well, we had just gotten thumped in LA," says Colbert, setting the scene. "And we came home and got thumped the first night. And we were getting thumped again. So I was the hitter, and somebody comes on the mike and says, 'People of San Diego...' It scared me, I thought it was God. You know, I thought, oh gosh, the rapture was coming, and I'm not ready. And he said, 'I want to apologize for such stupid baseball playing. And about that time, a streaker ran onto the field, a guy with nothing on but a Viking helmet. And he did a little dance at second. Ray lost it and said, 'Get him out of here! Get him out of here! People like that should be arrested and the key thrown away.' Then he got composed again and said, I just want you to know that we had more fans than LA and San Francisco tonight...but I never saw such stupid ballplaying in all my life.' So in protest, I said to myself, I'm not swinging.' I just stood there and I walked. The next guy did the same thing and he walked. So I yelled to the next guy, 'We got a rally going.' We scored five runs. He apologized to us later. And I told him, 'You own us. You can say what you want.' "
After putting up a final productive season for the Padres in 1973, Colbert's chronically bad back began to give him major problems. He spent short stints with the Detroit Tigers and Montreal Expos before finishing his career with a cup of coffee in Oakland. Although he went hitless in five at-bats for the A's, he loved playing for another controversial owner, one who made Kroc look like a wallflower. "As far as Charlie Finley, I loved Charlie Finley. I thought he was awesome. When he traded for me, he told me that he always wanted me to play for him. He told me couldn't afford me the next year [1977], but he wanted me to have a good time that year [1976]. He told me if I needed anything, just call him. He treated my wife and I very well."
Colbert met his wife Kasey during that memorable stopover with the A's. Nine children and 22 grandchildren later, the two remain together. They are both ministers (Colbert served as a chaplain for the Padres after his retirement) and co-owners of a company that provides advice and counseling to amateur athletes considering careers at the professional level. Now 62, Colbert hopes to write a book about his experiences, including his work as a minister. "I love to pray," says the affable but soft-spoken Colbert. "And I love to teach. I love the involvement with other people."
Bruce Markusen, who writes "Cooperstown Confidential" for MLBlogs, occasionally meets retired players when visit Cooperstown. Former Yankee Mickey Rivers will be among those visiting the area as part of Hall of Fame Weekend, coming up at the end of July.