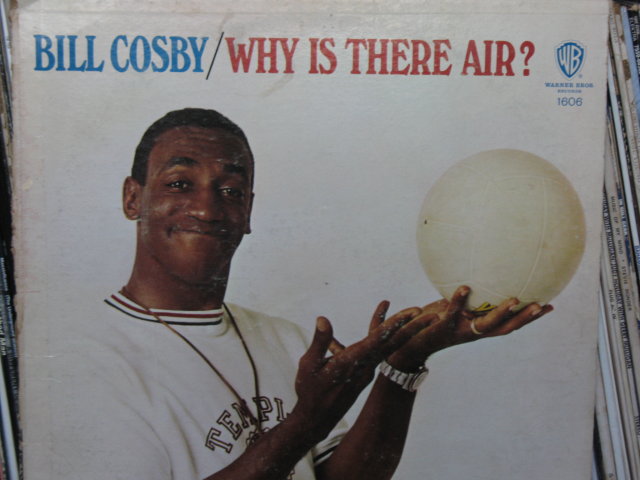 I always wanted an older sybling as a kid. That wss the best way to learn about cool music, or so it seemed to me. My parents had a decent-sized record collection but my father did not like Rock n Roll. He was always too grown for that. My mom did, however, she didn't buy many albums, so the hardest-rockin records we owned were Simon and Garfunkel, Judy Collins and A Hard Day's Night (and the only reason we had that was because Dad was friends with one of the actors in the movie). Most of the vinyl in our house was comprised of original cast recordings--My Fair Lady, Oklahoma, The King and I, West Side Story, A Chorus Line. My twin sister became an avid fan of the Musical Theater, while I...did not.
There were a handful of comedy records however (Tom Leherer, Peter Sellers, Mel Brooks and Carl Reiner), none more enticing than this one, Bill Cosby's third album, released in 1965. First of all, there is cover, with a young Cosby, the most amiable-looking of guys. Two, the title fascinated me. I mean, when you are seven-years old there aren't many deeper philosophical questions than the simple ones--"Yeah, why is there air anyway?" (One of the other Cosby records we had, I Started Out as a Child, struck me as being very deep too.)
Above all, there was Cosby's material, instantly accessible and appealing. The man simply sounded funny. He made my father laugh and that was a big deal. At a time when my father was often sullen, his moods increasingly dark due to too much drink, listening to him laugh was a thrill. It was exciting to see him happy, if only for a moment. My father laughed from the gut--it was an almost violent reaction. He laughed loudly and his face would turn red. I remember being both charged-up by the force of his laughter and also frightened. Mostly, I recall sharing something with him. Being connected by laughter. If he thought Cosby was funny, it was okay for me to laugh as well. To this day, when I listen to this record, I can tell you where my dad laughed.
Here is one routine from the album. Enjoy.