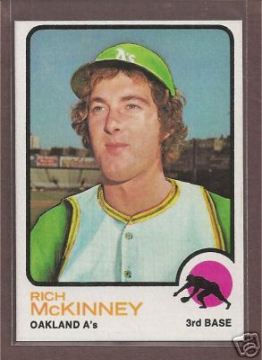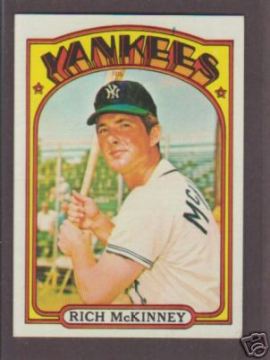 Generally speaking, I enjoy the cards featured in the 1973 Topps set. There are plenty of action shots (even if some of them seem like they've been taken from a distant parking lot), and there's something groovy about the shadowed figure of a ballplayer transposed against a colored circle. Yet, not all of the cards featured in the set are attractive.
Like this one. As you can see, former Yankees and A's third baseman Rich McKinney was one of the wilder looking athletes of the 1970s. There's that large chin, prominent enough to make Jay Leno and Bruce Campbell blush. Coupled with his long, curly hair (a classic 1970s perm that some have called a "white Afro"), McKinney looked anything like a Yankee. Even his 1972 Topps card shows him wearing only an airbrushed Yankee cap alongside an actual White Sox uniform. Nonetheless, the Yankees and their suffering fans had to endure "Curly Mac's" presence for all too much of the 1972 season.
After the 1971 season, the Yankees acquired McKinney from the White Sox for pitcher Stan Bahnsen in a deal that was panned by Pinstriped fans almost from the start. While McKinney had excelled in a pinch-hitting and backup infield role for the '71 White Sox, he had never been an everyday player and had never exhibited the defensive skills needed to play third base on more than a part-time basis. For this, the Yankees parted with the 26-year-old Bahnsen, a reliable young starter who filled a vital role as the team's No. 3 starter behind Mel Stottlemyre and Fritz Peterson. It hurt that much more when Bahnsen won 21 games in his first season with the White Sox.
Strangely, Yankee management expected McKinney, his chin and his Afro to fill the third base void that had been created five years earlier by the trade of Clete Boyer to the Braves (for another failed Yankee, Bill Robinson). Reality soon set in. Within days of his Yankee debut, it became evident that McKinney was overmatched—especially in the field. On Saturday afternoon, April 22, with the Yankees less than a week into the strike-delayed season, the Bombers played the rival Red Sox at Fenway Park. McKinney hit well that day, with three hits in four at-bats, including his first pinstriped home run. Yet, no one remembers any of that. In attempting to field his position, McKinney made four miscues at third base. In the first inning, he booted Danny Cater's ground ball, permitting an unearned run to score on the play. Later that inning, McKinney made his second error, allowing two more unearned runs. In the second inning, McKinney mishandled another Cater ground ball, with an unearned run scoring on the play. And then in the sixth inning, McKinney committed a fourth error, this time on a Rico Petrocelli grounder, with yet another unearned run scoring on the play.
In addition to the five runs that scored directly on McKinney misplays, four other Red Sox runs came across as unearned runs. In other words, of Boston's 11 runs that day, nine were unearned—all attributable to McKinney. Final score: Red Sox 11, Yankees 4, McKinney –9.
McKinney's offense soon fell by the wayside, too, after historic game against the Red Sox. He would never again hit a home run as a Yankee. By season's end, his slugging percentage rested at .256, which was actually two points worse than his paltry on-base percentage. He would finish the season with a .917 fielding percentage, a grotesque mark for a third baseman.
This is why McKinney remains part of the Yankees' legacy of infamy, wholly representative of the mediocre-to-poor teams of the early 1970s. He's still best remembered for committing those four errors in six innings at Fenway, and when that's your legacy in New York, you won't be recalled quite as fondly as later third basemen like Graig Nettles, Mike Pagliarulo, Wade Boggs, Scott Brosius, or Alex Rodriguez.
Thankfully, the Yankees cut their losses with McKinney very quickly. After the season, they traded him to the A's for the serviceable Matty Alou (uncle of Moises). I don't know what Charlie Finley, normally an astute trader, could have been thinking when he agreed to make that deal.
Although McKinney's on-field performance fell flat in New York and other ports of call, he did leave some vivid impressions with his off-the-field demeanor. Teammates nicknamed him "Orbit," a label that he earned for his aloof, detached-from-reality personality. (Hey, when you make four errors in a game, it helps to be detached from reality.) He shared the nickname with former Royals and Seattle Pilots outfielder Steve Hovley, one of the most memorable of Jim Bouton's strange cast of characters from Ball Four.
It's too bad that McKinney isn't an active player today. If he were, his "Orbit" moniker would have made him a perfect spokesman for the gum company of the same name, the one that seems to specialize in peculiar commercials. (I have no idea what's going in some of those advertisements.) McKinney would have been a perfect fit for the gum, which he then could have applied to his glove to make at least a few of those wayward ground balls stick to his hands.
Bruce Markusen, a Yankee fan since at least 1968, writes "Cooperstown Confidential" for MLB.com.